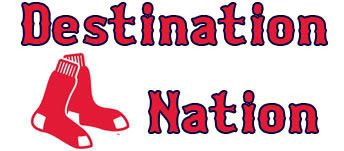 Destination Red Sox Nation is our look at how the minor league teams of the Boston Red Sox fare each night. Game story and box score links as well as links to team rosters, team stats and league standings can be found by clicking on the read more button below if you're on the home page.
If you would like to listen to any of the Red Sox minor league affiliates' games, MiLB.com offers them for free.
To open the links up in a new tab or window, use Control+click
Draft Analysis: Day 2 Picks [espn boston]
Best Players Available: Day Three [espn boston]
Pawtucket Red Sox
The PawSox were rained out on Friday night. The game will not be made up.
Friday's PawSox/Knights game cancelled due to rain [pawsox.com]
R.I. native Grenier enjoying life as PawSox batting practice pitcher [providence journal]
International League 2013 Standings

Portland Sea Dogs:
The Sea Dogs were spanked by the Akron Aeros 12-3.
Akron uses a 6-run seventh to beat Portland 12-3 [portlandseadogs.com]
Aeros ground Sea Dogs, 12-2 [portland press herald]
Portland Sea Dogs @ Akron Aeros 6/7/13 box score [milb.com]

Salem Red Sox:
The doubleheader between Salem and the Lynchburg Hillcats was rained out on Friday. The games will be made up as part of a doubleheader starting at 4:05 p.m. this afternoon and Sunday at 2:05 p.m.
Salem-Lynchburg Doubleheader Rained Out Friday [salemredsox.com]
Three Salem Sox Named Carolina League All-Stars [salemredsox.com]
Red Sox report: Pitching can turn a team around [roanoke times]
3 Salem Red Sox players make Carolina League All-Star team [roanoke times]
Carolina League 2013 standings
Greenville Drive:
The Drive beat the Hickory Crawdads 17-8 in the completion of a suspended game from 5/22. The Drive then won the regularly scheduled game 10-5.
Drive rip Hickory for two wins [greenville news]
Drive Win Both Friday Games over Crawdads [oursports central]
Greenville Drive @ Hickory Crawdads 5/22/13 box score [milb.com]
Hickory Crawdads @ Greenville Drive 6/7/13 box score [milb.com]
South Atlantic League 2013 Standings

Lowell Spinners:
The Spinners will open their 2013 season on June 17th against the Connecticut Tigers in Norwich, CT.
Final Lowell Spinners 2012 Roster
Final Lowell Spinners 2012 stats
Final NY-Penn League 2012 Standings

Gulf Coast League Red Sox
The GCL Red Sox will begin their 2013 season on June 21 against their crosstown rivals the GCL Twins.
Final Gulf Coast League 2012 Standings
Follow Ian on Twitter @soxanddawgs. And be sure to like us on Facebook as well.