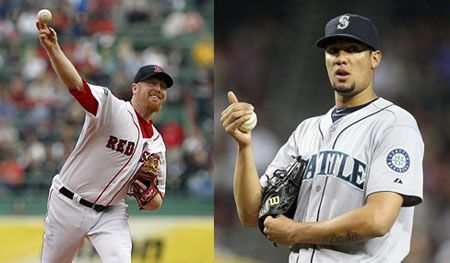 After falling 1-0 last night, the Boston Red Sox look to get back on track tonight in the second game of a four-game set with the Seattle Mariners at Safeco Field in Seattle, WA.
First pitch is scheduled for 10:10 p.m. and will be broadcast on NESN in the Red Sox television market. If you live in the Mariners television market, you can catch the game on ROOT Sports. If you can't catch the television broadcast, you can always listen to it on the Red Sox radio network.
Aaron Cook will makes his second start since returning from the disabled list and third overall this season. In his previous two starts, Cook is 1-1 with a 9.39 ERA (8 ER/7.2 IP). Tonight marks his first career start against the Mariners.
Hector Noesi has struggled in his 15 starts for the Mariners this season after coming to them in an offseason trade from the New York Yankees. In his previous 15 starts, Noesi is 2-9 with a 5.50 ERA. His two career appearances against the Red Sox came last year as a member of the Yankees. In those two appearances, Noesi had no record with a 6.43 ERA (5 ER/7 IP).
Click on the read more button below to see today's lineups, batter/pitcher matchups and links from the overnight and day if you're on the home page.
Here are today's lineups:
And here is how the hitters have fared against today's starting pitchers: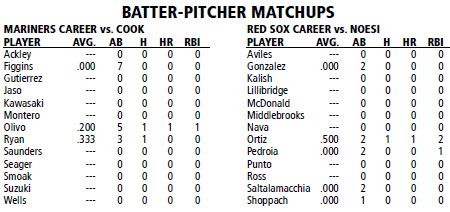 NOTES:

REFRESH OR CHECK BACK OFTEN AS MORE LINKS WILL BE ADDED BEFORE GAMETIME IF/WHEN THEY BECOME AVAILABLE AND WILL BE BOLDED
To open the links up in a new tab or window, use Control+click
Millar: Youk still here if Tito was manager [rob bradford – weei.com]
Jacoby Ellsbury, Carl Crawford team up in Gulf Coast League game [clubhouse insider]
Will Middlebrooks adjusting to life with the Red Sox after Kevin Youkilis [clubhouse insider]
Sox Notes: Beckett; Crawford & Ellsbury; Sweeney [csn new england]
SoxProspects: Top 10 in Red Sox system [espn boston]
Bobby V discusses Youk and more [espn boston]
Red Sox OFs finish rehab game in Florida [extra bases]
The Wall takes over The Wall at Fenway [extra bases]
Nuggetpalooza: A few notes from the Red Sox loss late last night [full count]
Where does Scott Podsednik fit in the Red Sox' potential outfield logjam? [full count]
Does Franklin Morales Deserve a Permanent Spot in the Red Sox Rotation? [nesn.com]
Tim Wakefield to Join NESN Team as Red Sox Analyst [nesn.com]
Jenny Dell Visits Seattle's Famous Space Needle During Red Sox Road Trip (Video) [nesn.com]
Switch in workout program has PawSox reliever Wilson cruising [projo sox blog]
Still on DL, Prior working his way back [projo sox blog]
Beckett ready for return Saturday [projo sox blog]
Ellsbury, Crawford play in rehab game in GCL [projo sox blog]
Valentine impressed in many ways by Ortiz [projo sox blog]
Bard walks three, hits one in awful outing for PawSox [projo sox blog]
Facing Mariners, Cook aiming for second win [redsox.com]
Follow Ian on Twitter @soxanddawgs. And be sure to like us on Facebook as well.
photo credits: reuters pictures, getty images