To boo or Youuuuk? That is now the question upon us.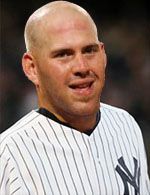 On the one hand, if you Youuuuk, it's going to sound like you're booing anyways. On the other hand, is it warranted?
According to Ken Rosenthal of FoxSports.com, the New York Yankees and Kevin Youkilis have agreed to a one-year deal worth $12 million.
The Yanks had a need for Youk at third base with Alex Rodriguez out for 4-6 months with a hip injury.
But that leads to us the question, do we boo Youk when the Yankees make their first visit to Fenway Park to take on the Boston Red Sox on July 19, 2013?
When Wade Boggs left for the Yankees, he was booed. Same with Roger Clemens even though he was forced out of Boston. Even Johnny Damon after winning the 2004 World Series with the Red Sox was booed by the Fenway faithful.
So with Youk willingly signing with the Yankees, based on past precedent, he should be booed.
But given how much he's done for the Red Sox in his career, should we boo?
That's the question I'll leave you with to answer.
Follow Ian on Twitter @soxanddawgs. And be sure to like us on Facebook as well.