While Daniel Nava emerged last season in the outfield and with Ryan Kalish being injury prone, the Boston Red Sox have only have one outfielder who they view as an everyday outfielder. And that is Jacoby Ellsbury.
They do also have Ryan Sweeney but you have to wonder if he'll be offered a contract for next year. As for now, he's still on the 40-man roster.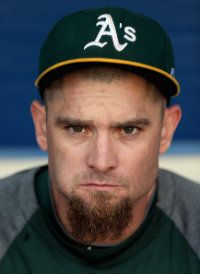 And like I said yesterday when the 40-man roster was released, if the Red Sox decided to sign someone, a move would have to be made. Now that appears to be the case.
According to multiple media reports, the Red Sox and Jonny Gomes have agreed to a two-year deal. According to Susan Slusser of the San Francisco Chronicle, it's worth $10 million over the two seasons.
Gomes spent the 2011 season with the AL West champions, the Oakland A's. In 99 games, he hit .262 with 18 home runs, 47 RBIs and three stolen bases.
Over 10 MLB seasons with Tampa Bay, Cincinnati, Washington and Oakland, Gomes is hitting .244 with 136 home runs, 411 RBIs and 43 stolen bases.
It's expected that Gomes will play left field for the Red Sox. So as right of now, the Red Sox outfield will probably be Gomes in left, Ellsbury in center and Sweeney in right with Nava as the fourth outfielder.
There's still plenty of time in free agency for the Red Sox to sign another outfielder. And I don't think you can't rule out the Red Sox re-signing Cody Ross just because of the Gomes signing.
Only time will tell that though. And we'll just have to sit back and watch.
Follow Ian on Twitter @soxanddawgs. And be sure to like us on Facebook as well.
photo credit: getty images