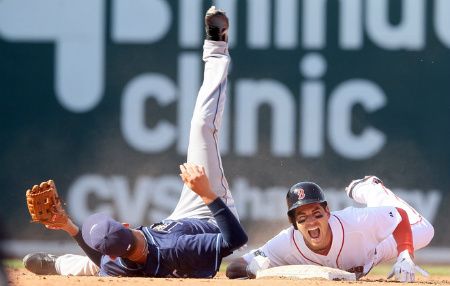 The news isn't so pretty for the Boston Red Sox even after their 12-2 home opening day win over the Tampa Bay Rays.
It appears that Jacoby Ellsbury, who was injured when Reid Brignac came down on him after he tried to break up a double play, will miss 6-8 weeks with a possible shoulder dislocation according to Alex Speier of WEEI.com. That same injury report was also confirmed by Gordon Edes of ESPN Boston.
The Red Sox are already thin in the outfield with Carl Crawford still out with an elbow strain.
It's expected that Che-Hsuan Lin will be called up to replace Ellsbury in the outfield. Lin was a late scratch before Triple-A Pawtucket's game against the Rochester Red Wings. It's quite possible that Lin will have the best arm in the outfield judging by this throw he had last year.
Lin is off to a slow start with the PawSox as he is just 3-for-20 to start the season.
This is a big loss from the Red Sox as there were high expectations from him coming off of his almost MVP season of 2011. Now the Red Sox will have to play without him.
We can only hope that the injury isn't serious after more tests are done and that he's out the minimum time and not the maximum.
Follow Ian on Twitter @soxanddawgs. And be sure to like us on Facebook as well.