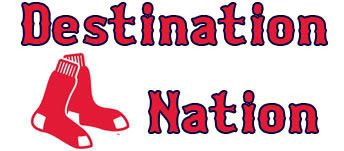 Destination Red Sox Nation is our look at how the minor league teams of the Boston Red Sox fare each night. Game story and box score links as well as links to team rosters, team stats and league standings can be found by clicking on the read more button below if you're on the home page.
If you would like to listen to any of the Red Sox minor league affiliates' games, MiLB.com offers them for free.
To open the links up in a new tab or window, use Control+click
Before moving on to Cubs, Michael Bowden reflects on Red Sox tenure [Pawtucket Times]
Pawtucket Red Sox
The game between the Durham Bulls and PawSox was rained out yesterday. They will play a doubleheader today beginning at 5:05 p.m.
Iglesias learning the power of patience [Pawtucket Times]
International League 2012 Standings

Portland Sea Dogs:
The Sea Dogs slide continued in a 7-2 loss to the Binghamton Mets.
Mets Complete Sweep of Sea Dogs with 7-2 Win in Finale [PortlandSeaDogs.com]
Sea Dogs play … yada, yada, yada – 4-14 [Portland Press Herald]
Portland Sea Dogs @ Binghamton Mets 4.22.12 box score [MiLB.com]

Salem Red Sox:
The doubleheader between Salem and the Potomac Nationals was rained out. The two teams will make up the games later in the season.
Daisuke Matsuzaka Set to Rehab with Salem on Monday [SalemRedSox.com]
Carolina League 2012 standings
Greenville Drive:
The game between the Augusta Greenjackets and the Drive was rained out on Sunday. They will make up the game sometime in May.
South Atlantic League 2012 Standings

Lowell Spinners:
The Spinners season will begin on June 18th against the Connecticut Tigers.
Lowell Spinners 2011 final stats
NY-Penn League 2011 Final Standings

Gulf Coast League Red Sox
The GCL Red Sox season will begin on June 18th against the GCL Rays.
Gulf Coast League 2011 Final Standings
Follow Ian on Twitter @soxanddawgs. And be sure to like us on Facebook as well.