After falling in extra innings yesterday, the Boston Red Sox look to avoid being swept this afternoon in the finale of a three-game set with the Baltimore Orioles at historic Fenway Park.
First pitch is scheduled for 7:10 p.m. and the game will be broadcast on NESN in the Red Sox television market. If you live in the Orioles television market, you can catch the game on MASN. If you can't catch the television broadcast, you can always listen to it on the Red Sox radio network.
Felix Doubront steps to the hill for the 28th time in 2012. In his previous 27 starts, Doubront is 11-9 with a 5.08 ERA. He took the loss in his only start against the O's this season after allowing two runs in six innings of work back on May 22nd. Doubront has made four career appearances (one start) against the Orioles and is 0-1 with a 4.00 ERA (4 ER/9 IP). Two of those appearances have come at the Fens where he hasn't allowed a run in two innings of work.
Chris Tillman looks to keep the Orioles rolling in his 13th start of 2012. In his previous 12 starts, Tillman is 8-2 with a 3.22 ERA. He picked up a no decision in his only start of the season against the Red Sox after allowing three runs in 4.2 innings back on August 16th. Tillman has made three career starts against the Red Sox and is 0-1 with a 5.73 ERA.
Click on the read more button below to see today's lineups,batter/pitcher matchups and links from the overnight and day if you're on the home page.
Here are today's lineups:
And here is how the hitters have fared against today's starting pitchers: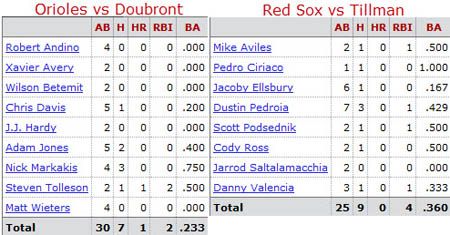 NOTES: Che-Hsuan Lin has been recalled from Triple-A Pawtucket. Jacoby Ellsbury was in the original lineup but was scratched with a lat strain.
REFRESH OR CHECK BACK OFTEN AS MORE LINKS WILL BE ADDED BEFORE GAMETIME IF/WHEN THEY BECOME AVAILABLE AND WILL BE BOLDED
To open the links up in a new tab or window, use Control+click
'Pen falters after 4 perfect frames [boston herald]
Extra-bad Aceves [boston herald]
Orioles following Showalter's lead [boston herald]
Future comes to visit Fenway [boston herald]
Undone and un-won [boston herald]
James big part of Red Sox re-Bill-ding effort [boston herald]
Pregame notes: Kalish out for the season [rob bradford – weei.com]
Jacoby Ellsbury scratched from Red Sox' lineup for finale vs. Orioles [clubhouse insider]
Andino angry at Sox over Friday beaning [csn baltimore]
Red Sox in danger of affecting draft position [csn new england]
O's outlast Sox in extras 9-6 [csn new england]
Valentine on Aceves: "He's like a box of chocolates" [csn new england]
Time to send Aceves home? [csn new england]
Sox continue to struggle in extra innings [csn new england]
Sox bullpen offers glimpse of dominance [csn new england]
Lackey returns to mound in Fort Myers, throws two shutout innings [csn new england]
Red Sox activate Che-Hsuan Lin [csn new england]
Red Sox notes: Kalish not likely to play for rest of year [csn new england]
Ellsbury, bothered by 'throwing situation,' scratched from lineup [csn new england]
Announcing the 2012 ex-Sox all-stars [espn boston]
Action, reaction: O's streak, Sox skid [espn boston]
Ellsbury remains out of the lineup [espn boston]
Sox to shut down Kalish for rest of season [espn boston]
Ellsbury in the lineup . . . for a few minutes [extra bases]
Xander Bogaerts 'Humbled' By Comparisons to Hanley Ramirez, Hopes to Stay at Shortstop [nesn.com]
Mauro Gomez Flourishing Under the Radar, Production Could Result in Reps in Left Field [nesn.com]
Jackie Bradley Convinced That Jacoby Ellsbury, Carl Crawford's Example Will Benefit His Development [nesn.com]
Jarrod Saltalamacchia One Step Away From Being 'Extremely Productive Offensive Player', Bobby Valentine Says [nesn.com]
Alfredo Aceves' Unpredictable Nature Gives Way to Another Unpleasant Loss for Boston [nesn.com]
Johnny Pesky Ceremony Live on NESN Sunday at 6 p.m., Open to All Fans at Fenway Park [nesn.com]
Alfredo Aceves Could Have Been Latest Character to Carry Red Sox, But Instead He (and the Season) Are Just Crazy [nesn.com]
Jacoby Ellsbury Scratched From Lineup as Red Sox Try to Avoid Sweep by Baltimore [nesn.com]
Bobby Valentine Caught Sniffing Baseballs During Pitching Changes, Acknowledges Habit Is 'Weird' [nesn.com]
Ryan Kalish Likely Out for Rest of the Season as Effects of Offseason Surgeries Linger [nesn.com]
The last hitter to be pinch-hit for mid-at-bat? Scott Podsednik [projo sox blog]
Ellsbury scratched [projo sox blog]
Unheralded pitcher Brandon Workman refining repertoire as he piles up the innings [projo sox blog]
Kalish not expected to play again in 2012 [projo sox blog]
PawSox pitching coach Sauveur has big-league aspirations [projo sox blog]
Doubront faces O's looking for 12th win [redsox.com]
Fenway faithful see future Sox stars feted [redsox.com]
Dice-K likely to start season finale [redsox.com]
Gomez quietly having good September [redsox.com]
Red Sox playing it safe with Ellsbury [redsox.com]
Follow Ian on Twitter @soxanddawgs. And be sure to like us on Facebook as well.
photo credits: getty images, getty images