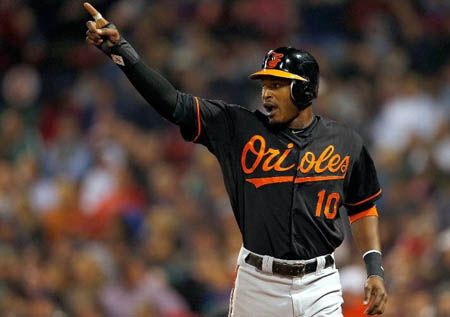 I think we all thought that when the Baltimore Orioles got off to their hot start to the 2012 MLB season, we all thought they'd fade away. Of course, we are the same people who thought the Boston Red Sox would turn their season around.
Well folks, the Orioles haven't gone away and we all know what's happened with the Red Sox.
Behind three RBIs from Matt Wieters, the O's were able to beat the local nine 4-2 to keep pace in the AL East race. Last night also marked the first time that Jon Lester had ever lost a start to them. He was 14-0 in 20 career starts before that.
With the New York Yankees walking off with the win in 10 innings, the Orioles stay one game behind in the AL East. The Orioles are one game ahead of the Oakland A's, who were the victims of the Yankees' walkoff, in the AL Wild Card standings. The Los Angeles Angels of Anaheim are 3.5 games out of the second wild card spot.
Honestly, I didn't think Lester pitched all that badly. He certainly looked a lot better than he had earlier in the season. But with the Orioles much improved offensively, they took advantage of Lester when he did make mistakes.
He left a few pitches up in the zone in the 4th inning after his team had given him a 1-0 lead in the 3rd and that resulted in two runs for the visiting nine. And after the offense tied it back up in the 5th, he gave it back in the 6th.
After Lester had gotten J.J. Hardy to ground out to start the inning, he walked Adam Jones, who then scored on a Wieters double. A wild pitch from Lester moved Wieters up 90 feet and then he came around to score on a Mark Reynolds single to finish off the scoring for the evening.
Offensively, the Summer of Pedro Ciriaco came to a close (it's fall today) with two more hits. Scott Podsednik added two hits as did Daniel Nava.
There was a scary moment in the 9th when Mark Melancon hit Robert Andino in the head with a pitch. Andino did take exception with it as he's been a thorn in the Red Sox side, especially since the last game of 2011. I can tell you that I personally don't think it was done on purpose. We've all seen how wild Melancon has been this season at times. Plus he wasn't even with the Red Sox when all that went down last year.
To see today's lineups, batter/pitcher matchups and links from the overnight and morning, click on the read more button below if you're on the home page.
After falling last night, the Boston Red Sox look to try and play spoiler this afternoon in the second game of a three-game set with the Baltimore Orioles at historic Fenway Park.
First pitch is scheduled for 1:10 p.m. and the game will be broadcast on NESN in the Red Sox television market. If you live in the Orioles television market, you can catch the game on MASN. If you can't catch the television broadcast, you can always listen to it on the Red Sox radio network.
Aaron Cook makes his 17th start of a disappointing 2012 season. In his previous 16 starts, Cook is 4-10 with a 4.93 ERA. Both of his career starts against the Orioles have come this season in which he is 0-2 with a 9.00 ERA (8 ER/8 IP). He allowed six runs in 2.2 innings of work in his lone Fenway start against them.
Randy Wolf makes his 25th start (30th appearance) but just his second start (fifth appearance) in an Orioles uniform. In 29 combined appearances (24 starts), Wolf is 5-10 with a 5.66 ERA. In four appearances (one start) with the O's, Wolf is 2-0 with a 5.22 ERA. He's made six career starts against the Red Sox and is 3-1 with a 2.70 ERA. Four of those starts have come at the Fens where he is 2-1 with a 2.73 ERA.
Here are today's lineups:
And here is how the hitters have fared against today's starting pitchers: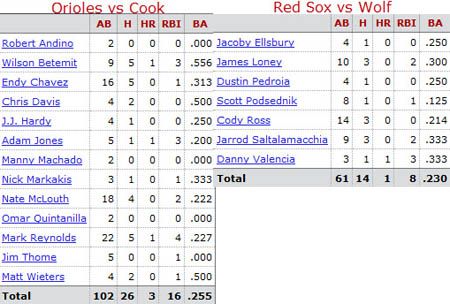 NOTES:
REFRESH OR CHECK BACK OFTEN AS MORE LINKS WILL BE ADDED BEFORE GAMETIME IF/WHEN THEY BECOME AVAILABLE AND WILL BE BOLDED
To open the links up in a new tab or window, use Control+click
O my, Jon Lester loses [boston herald]
Dan Duquette's Birds rise as Sox hit bottom [boston herald]
Lester: End inevitable [boston herald]
Middlebrooks trying to stay busy [boston herald]
Professor uses Red Sox to teach philosophy [boston herald]
A league of their own [csn new england]
Lester suffers first career loss to Orioles [csn new england]
Lester: All about adjustments [csn new england]
Sox Notes: Ellsbury, Matsuzaka, rotation, minor leagues [csn new england]
O's beat Lester for 1st time, 1 back in East [espn boston]
Trying to avoid some dubious history [espn boston]
Which Boston Red Sox position players will be back in 2013? [espn boston]
Ellsbury out again with undisclosed injury [espn boston]
Ellsbury out of the lineup again [extra bases]
Matsuzaka lined up for Game 162 [extra bases]
Jon Lester finally loses to Orioles [full count]
Jacoby Ellsbury Dealing With Cryptic 'Situation' That Will Keep Outfielder Out of Red Sox Lineup [nesn.com]
Jon Lester Suffers First Career Loss to Orioles After Red Sox Offense Fails to Deliver [nesn.com]
Cook looks to snap Red Sox's three-game skid [redsox.com]
Valentine: Ciriaco makes sense in leadoff slot [redsox.com]
Stewart called up, likely to get one more start [redsox.com]
Iglesias: 'Every day you're learning something' [redsox.com]
Cherington: 'Good step forward' for minors [alex speier – weei.com]
For more slices of Red Sox goodness, head over to the Boston Globe, Boston Herald, CSN New England, ESPN Boston, NESN, Providence Journal, RedSox.com and WEEI websites.
And if you must check out the enemy news, be sure to head over to the Baltimore Sun and MASN websites. Also be sure to check out our Bloguin brother the Oriole Post for all of your Orioles needs.
Follow Ian on Twitter @soxanddawgs. And be sure to like us on Facebook as well.
photo credit: getty images, getty images, getty images