After splitting their four-game series with the Tampa Bay Rays, the Boston Red Sox return home to host their final homestand of the 2012 season. Tonight, they'll kick off the five-game homestand with the first game of a three-game set with the Baltimore Orioles at historic Fenway Park.
First pitch is scheduled for 7:10 p.m. and the game will be broadcast on NESN in the Red Sox television market. If you live in the Orioles television market, you can catch the game on MASN. If you can't catch the television broadcast, you can always listen to it on the Red Sox radio network.
Jon Lester makes his team-leading 31st start and what should be his final Fenway Park start of 2012 tonight. In his previous 30 starts, Lester is 9-12 with a 4.95 ERA. He's made two starts against the O's this season and has no record with a 3.75 ERA (5 ER/12 IP). Lester has not lost to the Orioles in 20 career starts as he is 14-0 with a 2.49 ERA. Half of those starts have come at the Fens where he is 7-0 with a 2.47 ERA.
Rookie Miguel Gonzalez makes his 13th start (16th appearance) for the still very relevant Orioles. In his previous 15 appearances (12 starts), Gonzalez is 6-4 with a 3.57 ERA. Both of his two career appearances (one start) against his former organzation have come this season where he is 1-0 with a 2.70 ERA (3 ER/10 IP). His one lone Fenway appearance came back on June 7th when he allowed one run in four innings of work.
Click on the read more button below to see today's lineups,batter/pitcher matchups and links from the overnight and day if you're on the home page.
Here are today's lineups:
And here is how the hitters have fared against today's starting pitchers: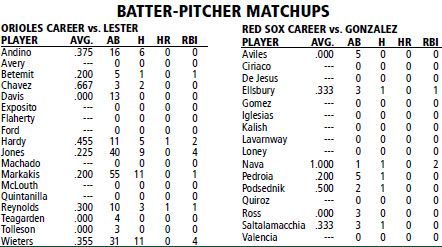 NOTES: The Red Sox have called up Pedro Beato, Zach Stewart and Danny Valencia from Triple-A Pawtucket.
REFRESH OR CHECK BACK OFTEN AS MORE LINKS WILL BE ADDED BEFORE GAMETIME IF/WHEN THEY BECOME AVAILABLE AND WILL BE BOLDED
To open the links up in a new tab or window, use Control+click
First Pitch: Sox need revitalized Lester to help with turnaround [csn new england]
Pedroia 'insistent' on playing Friday night [csn new england]
Valentine: No intention of sitting starters [csn new england]
Pedroia plays, Ellsbury sits against Orioles [espn boston]
Red Sox give Ellsbury a rest [extra bases]
Bobby Valentine: Jacoby Ellsbury dealing with 'a little situation' [full count]
Greenville Drive 2012 review: Catchers rally from slow starts [goupstate.com]
The second coming of Dan Duquette [tony massarotti – boston globe]
Red Sox-Orioles Series Has Plenty of Playoff Implications, for Baltimore At Least [nesn.com]
Jose Igelesias' Bat Finally Heats Up as Red Sox Open Series With Magic Orioles [nesn.com]
Daisuke Matsuzaka to Be Skipped Over in Red Sox Rotation in Favor of Zach Stewart Starting [nesn.com]
Red Sox Promote PawSox Players, Coaches in Last Stretch of Season [nesn.com]
Dustin Pedroia Opts Against Taking Day Off to Spend With Family, Commits to Playing Friday [nesn.com]
Winning by losing in the final two weeks [projo sox blog]
Ellsbury out of lineup again [projo sox blog]
PawSox coaches join Red Sox staff [projo sox blog]
Triple-A call-up Stewart to get one more start [projo sox blog]
Lester, O's Gonzalez square off in series opener [redsox.com]
Follow Ian on Twitter @soxanddawgs. And be sure to like us on Facebook as well.
photo credits: getty images, getty images