After winning 5-2 last night, the Boston Red Sox look to continue to play spoiler in the second game of a four-game set with the Tampa Bay Rays at Tropicana Field in St. Petersburg, FL.
First pitch is scheduled for 7:10 p.m. and the game will be broadcast on NESN in the Red Sox television market. If you live in the Rays television market, you can catch the game on Sun Sports. If you can't catch the television broadcast, you can always listen to it on the Red Sox radio network.
Felix Doubront looks to keep his record above .500 in his 27th start of 2012. In his previous 26 starts, Doubront is 10-9 with a 5.11 ERA. He's made two starts against the Rays this season and is 1-0 with a 4.22 ERA (5 ER/10.2 IP). In his career, Doubront has made six appearances (three starts) against the Rays and is 1-1 with a 3.72 ERA. Five of those appearances (two starts) have come at the Trop where he is 1-1 with a 2.51 ERA.
Jeremy Hellickson looks to keep the Rays alive in the playoff race in his 28th start of the season. In his previous 27 starts, Hellickson is 8-10 with a 3.22 ERA. He's made four starts against the visiting nine this season and is 1-1 with a 4.38 ERA. Hellickson has made nine career appearances (eight starts) against the Red Sox and is 3-2 with a 4.29 ERA.
Click on the read more button below to see today's lineups,batter/pitcher matchups and links from the overnight and day if you're on the home page.
Here are today's lineups:
And here is how the hitters have fared against today's starting pitchers: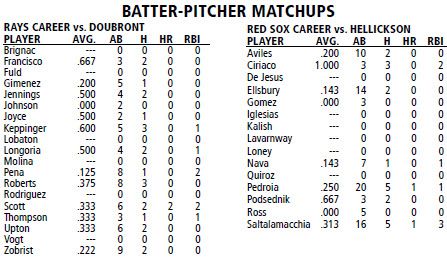 NOTES:
REFRESH OR CHECK BACK OFTEN AS MORE LINKS WILL BE ADDED BEFORE GAMETIME IF/WHEN THEY BECOME AVAILABLE AND WILL BE BOLDED
To open the links up in a new tab or window, use Control+click
John Lackey set to pitch intrasquad game Sunday in Fort Myers [clubhouse insider]
First pitch: Tazawa a revelation for Red Sox [csn new england]
PawSox play for Triple-A title tonight [espn boston]
Bogar to meet with Astros on Wednesday [espn boston]
Lackey's latest session goes well [espn boston]
Hits and misses for the 2012 Red Sox [extra bases]
Bogar to interview with Astros on Wednesday [extra bases]
Podcast: Conversation with Jim Kaat [extra bases]
Pre-game notes from the Trop [extra bases]
Potential Red Sox draftees: Stanford RHP Mark Appel [full count]
Jarrod Saltalamacchia Adjusts in Batter's Box, Behind Plate to Keep Up With Rigors of Everyday Catching [nesn.com]
Red Sox Have to Make Due With Trying to Spoil Seasons of Rays, Other AL East Foes [nesn.com]
Jacoby Ellsbury's Future With Red Sox Another Intriguing Storyline for Offseason Sure to Contain Many [don orsillo – nesn.com]
As one LaRoche takes field in title game, other LaRoche might be in Red Sox sights [projo sox blog]
Bogar to interview for Astros opening [projo sox blog]
Doubront confident as he prepares to face Rays [redsox.com]
PawSox trying to earn first Triple-A crown in 28 years [redsox.com]
Bogar to interview for Astros' manager job [redsox.com]
Tim Wakefield, Larger Than Life: An Interview with the Directors of "Knuckleball!" [surviving grady]
Follow Ian on Twitter @soxanddawgs. And be sure to like us on Facebook as well.
photo credits: getty images, getty images