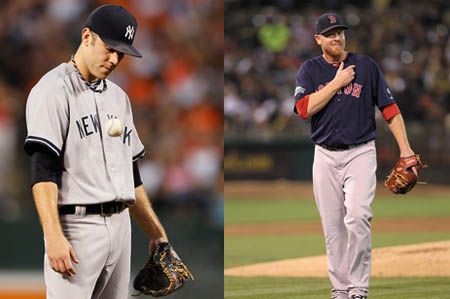 After walking off with a win last night, the Boston Red Sox look to make it two in-a-row in the middle game of a three-game set with the New York Yankees at historic Fenway Park.
First pitch is scheduled for 7:10 p.m. and the game will be broadcast on NESN in the Red Sox television market. If you live in the Yankees television market, you can catch the game on YES. And if you don't live in either market you're in luck as the ESPN will have coverage of the game (outside of Red Sox and Yankees television markets). The game will also be available online and for your mobile device (where available) on WatchESPN. If you can't catch the television broadcast, you can always listen to it on the Red Sox radio network.
Aaron Cook looks to turn his dismal season around in his 15th start of 2012. In his previous 14 starts, Cook is 3-9 with a 5.17 ERA. He suffered the loss in his only start of 2012 against the Yanks after allowing six runs in four innings of work back on July 27th. He's made just two career starts against the Yankees and is 0-2 with a 10.24 ERA (11 ER/9.2 IP). This will be the first time Cook has faced the Evil Empire at the Fens.
David Phelps makes his sixth start (28th appearance) for the Yankees tonight. In his previous 27 appearances (five starts), Phelps is 3-4 with a 3.55 ERA. His three career appearances (one start) against the Red Sox have come this season. In those, Phelps is 0-1 with a 4.26 ERA (6 ER/12.2 IP). His lone Fenway appearance came on April 21st when he allowed three runs in four innings of work.
Click on the read more button below to see today's lineups, batter/pitcher matchups and links from the overnight and day if you're on the home page.
Here are today's lineups:
And here is how the hitters have fared against today's starting pitchers: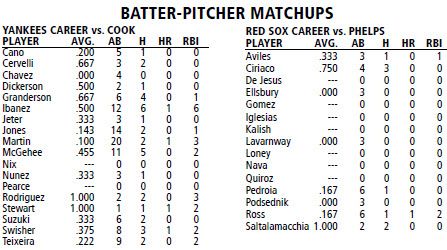 NOTES: Scott Atchison has been activated from the 15-day disabled list.
REFRESH OR CHECK BACK OFTEN AS MORE LINKS WILL BE ADDED BEFORE GAMETIME IF/WHEN THEY BECOME AVAILABLE AND WILL BE BOLDED
To open the links up in a new tab or window, use Control+click
How David Ortiz wants to help fix the Red Sox [rob bradford – weei.com]
Red Sox look to make their misery contagious [csn new england]
Red Sox to celebrate Pesky's life at Fenway Sept. 23 [csn new england]
Bobby V: I think I'll be here in '13 and beyond [espn boston]
Saltalamacchia returns to lineup [espn boston]
Pedro Ciriaco: Scourge of the Yankees [extra bases]
Valentine's WEEI appearance more cordial this time around [extra bases]
Podcast: Spoilers allowed [extra bases]
Atchison returns to roster, Salty to the lineup [extra bases]
For big spenders, it's money for nothing [tony massarotti – boston globe]
Jerry Remy 'Wouldn't Be Surprised' If Bobby Valentine Returns Next Season [nesn.com]
Jacoby Ellsbury, Dustin Pedroia Batting for Red Sox' Future After Picking Off Yankees With Timely Hits [nesn.com]
Dustin Pedroia's Second Half Performance Has Been One of Few Bright Spots in Red Sox' Tailspin [nesn.com]
Red Sox Can Repay Years of Yankees Misery, Redeem Poor Season With Well-Placed Wins [nesn.com]
Dustin Pedroia Leads Charge With Yankee-Killer Pedro Ciriaco Looking to Continue Spoiler Ways [nesn.com]
Pedro Ciriaco Credits Training With Robinson Cano for Yankee-Killing Reputation, Career Year [nesn.com]
Junichi Tazawa Has Evolved Into Reliable Reliever After Long Road From Tommy John Surgery [nesn.com]
Leiter: "Same cauldron" for '12 Sox as '02 Mets [projo sox blog]
Bryce Brentz could be on the Will Middlebrooks track [projo sox blog]
Valentine says he expects to be back in 2013 'and beyond' [projo sox blog]
Saltalamacchia returns to Red Sox lineup [projo sox blog]
Atchison activated [projo sox blog]
Healthy and throwing hard, Tazawa justifying what teams saw in him in Japan [projo sox blog]
Ciriaco handling third without a problem [projo sox blog]
Five questions with Nomar Garciaparra [touching all the bases]
Follow Ian on Twitter @soxanddawgs. And be sure to like us on Facebook as well.
photo credits: getty images, getty images