After being swept in Baltimore, the Boston Red Sox head to the Big Apple for their final three games of their miserable 2012 season. Tonight, they'll take on the New York Yankees in the first game of a three-game set at Yankee Stadium in the Bronx.
First pitch is scheduled for 7:05 p.m. and the game will be broadcast on NESN in the Red Sox television market. If you live in the Yankees television market, you can catch the game on YES. If you don't live in either market you are in luck as well as the MLB Network will coverage of the game (outside of Red Sox and Yankees televison markets). If you can't catch the television broadcast, you can always listen to it on the Red Sox radio network.
Clay Buchholz looks to finish up the season strong in his 29th and final start of 2012. In his previous 28 starts, Buchholz is 11-7 with a 4.22 ERA. He took the loss in his only start of 2012 against the Yanks after allowing six runs (five earned) in six innings of work back on April 20th. Buchholz has made eight career starts against the Yankees and is 2-4 with a 5.84 ERA. Four of those starts have come in the Bronx where he is 2-1 with a 5.25 ERA.
CC Sabathia looks to keep the Yankees AL East title hopes alive in his 28th start of the season. In his previous 29 starts, Sabathia is 14-6 with a 3.42 ERA. He picked up a no decision in his only start of the season against the visiting nine in which he allowed six runs in six innings of work back on July 28th. Sabathia has made 21 career starts against the Red Sox and is 7-9 with a 4.35 ERA.
Click on the read more button below to see today's lineups, batter/pitcher matchups and links from the overnight and day if you're on the home page.
Here are today's lineups:
And here is how the hitters have fared against today's starting pitchers: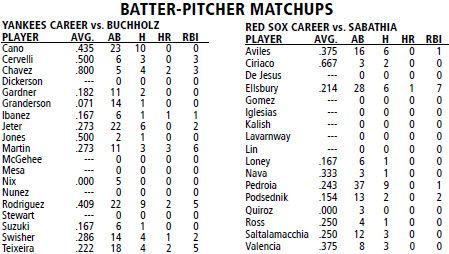 NOTES:
REFRESH OR CHECK BACK OFTEN AS MORE LINKS WILL BE ADDED BEFORE GAMETIME IF/WHEN THEY BECOME AVAILABLE AND WILL BE BOLDED
To open the links up in a new tab or window, use Control+click
Pedroia out with finger injury [rob bradford – weei.com]
Dustin Pedroia playing coy about injury, likely to his left ring finger [clubhouse insider]
Notes: No Pedroia, no Ellsbury in lineup [csn new england]
Boston Red Sox's Dustin Pedroia, Jacoby Ellsbury not starting against New York Yankees [espn boston]
No Red Sox among popular jerseys [extra bases]
Pedroia, Ellsbury out of the lineup [extra bases]
Jacoby Ellsbury, B.J. Upton and the Red Sox' protected draft pick [full count]
Dustin Pedroia Has Hottest Bat in Boston as Sox Head Into Final Series With Yankees [nesn.com]
Eddie Bane's Hiring Shows Red Sox Are Tweaking New-School Approach to Talent Evaluation [nesn.com]
Nick Cafardo Checks in With Adrian Gonzalez, Josh Beckett as Dodgers Make Last Playoff Push [nesn.com]
Dustin Pedroia Seemingly Sidelined With Finger Injury, But Bobby Valentine Playing Coy [nesn.com]
Bobby Valentine Respects Yankees' Ability to Make a Run, Says They're 'Built To Play' Through September [nesn.com]
Ryan Lavarnway Improved 'An Awful Lot' Defensively, Looks to Regain Stride at Plate [nesn.com]
Sea Dogs' Liz Riley Nominated for National Award [oursports central]
A Series Matter: Red Sox-Yankees and Conclusions [projo sox blog]
Is it possible for the sad-sack Sox . . . [projo sox blog]
What did teams like this year's Orioles do the next year? [projo sox blog]
Pedroia out with finger injury [projo sox blog]
Valentine taciturn before first game at Yankee Stadium [projo sox blog]
Andrew Miller finishing off his best season in majors [projo sox blog]
Red Sox can hurt Yanks' playoff drive [redsox.com]
Cashman: Sox struggles 'won't last long' [alex speier – weei.com]
Follow Ian on Twitter @soxanddawgs. And be sure to like us on Facebook as well.
photo credits: getty images, getty images