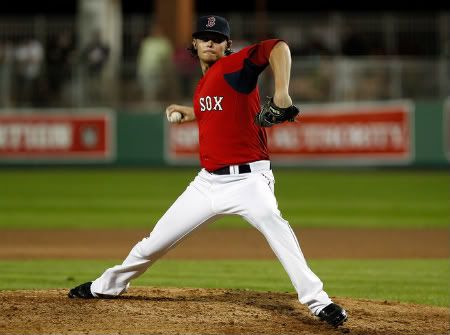 I think that sometimes we forget that spring training isn't about winning. We always are expecting the Boston Red Sox to win every time they take the field.
But that's not what spring training is about.
For a good portion of the 25-man roster, it's about getting ready for the season. For some, it's about performing well to try and make the 25-man roster or to even position yourself to be one of the first callups if needed.
So when we see Clay Buchholz give up a few runs in his three innings of work, we might think something's up with him. It's not folks, he's just perfecting everything to be ready for the season.
One of the concerns for Buchholz was the back injury he suffered last year. On a wet mound at JetBlue Park last night, there was a worry he might slip again. He didn't. The back even held up well when Pittsburgh Pirates outfielder Andrew McCutchen called timeout at the last possible second.
Buchholz gave up two runs in three innings of work. He threw 51 pitches, 34 for strikes. He allowed three hits and had one strikeout with no walks while working on his changeup last night.
Vicente Padilla, however, didn't fare as well out of the bullpen.
The Pirates teed up on his slow curve and fastball to the tune of four runs on five hits in two innings of work. Will Inman struggled with his command walking three while allowing a run on three hits in two innings. Michael Bowden and Brandon Duckworth had a strikeout each in an inning of work.
David Ortiz had a home run for the Red Sox as did Darnell McDonald off the bench who was 2-for-2 and is making a nice impression to be one of the outfielders for the season.
It's a little too early in spring training right now to get any inkling of what the Red Sox lineup will look like. For now, it's all about getting at bats in games and getting the work in. The rest will come as we draw closer to the opener in Detroit.
We'll be back later with tonight's lineups for and links from the day. But for now, enjoy the overnight links by clicking on the read more button below if you're on the home page.
To open the links up in a new tab or window, use Control+click
Michael Bowden's crossroads spring [Alex Speier – WEEI.com]
Proving to be a lifetime job [Boston Globe]
A smart move by Bailey [Boston Globe]
Clay Buchholz' back looks to be back [Boston Herald]
Bailey a smart bet for Red Sox [Boston Herald]
Intrigue in Florida [Boston Herald]
Carl Crawford gets active [Boston Herald]
Padilla shaky in relief [CSN New England]
Buchholz crisp in second outing [CSN New England]
Valentine: Crawford won't play Opening Day [CSN New England]
Takeaways from the Fort: Mixed bag for Buchholz [ESPN Boston]
Buchholz pleased with changeup [Extra Bases]
Bowden, McDonald take some steps forward [Extra Bases]
Grapefruit gleanings: Noteworthy stuff from Red Sox' loss to Pirates [Full Count]
Sox set future pitching schedule [Projo Sox Blog]
Buchholz continues week of change [Projo Sox Blog]
Bailey to make Red Sox debut Monday [RedSox.com]
Middlebrooks relishing first big league camp [RedSox.com]
Buchholz no longer thinking about back woes [RedSox.com]
Padilla struggles in second relief appearance [RedSox.com]
McDonald makes loud impression on Valentine [RedSox.com]
For more slices of Red Sox goodness, head over to the Boston Globe, Boston Herald, CSN New England, ESPN Boston, NESN, Providence Journal, RedSox.com and WEEI websites.
Follow Ian on Twitter @soxanddawgs. And be sure to like us on Facebook as well.
Photo credit: Getty Images