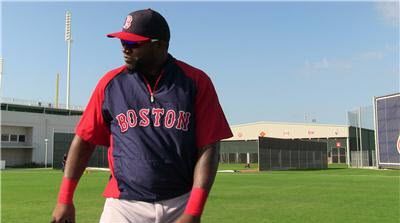 Despite the fact there is at least two feet of snow, three in my case, around New England, the smell of fresh cut grass and manicured ball fields is coming. Well at least in Florida and Arizona for the time being.
That's right folks, spring training kicks off today as pitchers and catchers are scheduled to report. For the Boston Red Sox, a good portion of them have already been at Fenway South working out.
The team will welcome some new faces pitching wise as Ryan Dempster, Koji Uehara and Joel Hanrahan have joined the club. On the catching side, David Ross looks to be to thet backup to Jarrod Saltalamacchia with Ryan Lavarnway being the odd man out, at least for now.
And when the rest of the team reports, other new faces include Mike Napoli, Stephen Drew, Jonny Gomes and Shane Victorino.
And we cannot forget that John Farrell has returned to the club as the new manager replacing that douchebag Bobby Valentine. Farrell knows a good portion of these players as spent time as the Red Sox pitching coach from 2007-2010.
We're going to do our best here to keep with all of the news that comes out of spring training. The normal plan is to do the post in the afternoon when the workouts are done and interviews are done. Today we'll be doing a post that will provide the links from yesterday and early this morning.
Later in the day we'll return with another post and going forward any updates unless they are major will come in the afternoon.
To continue reading, please click on the continue reading button below if you're on the home page.
To open the links up in a new tab or window, use Control+click
Red Sox owner John Henry gives his thoughts on ex-managers [boston globe]
Bobby Valentine writing a book [boston globe]
John Henry refutes bad image with his Sox [boston herald]
Ailing Felix Doubront unconcerned [boston herald]
John Henry reflects on baseball memories [boston herald]
David Ortiz says he's at '90 percent' [rob bradford - weei.com]
Dustin Pedroia: 'Goal is to win the World Series every year' [clubhouse insider]
Ryan Dempster: 'Fun, exciting challenge' to be pitching in AL with Red Sox [clubhouse insider]
Felix Doubront, Craig Breslow to be "held back" early in Red Sox camp [clubhouse insider]
Middlebrooks eager to play after last season's injury [csn new england]
World Baseball Classic to cut short Victorino's Sox camp [csn new england]
Red Sox take 'precautionary' approach with Doubront, Breslow [csn new england]
Unlike Red Sox, Phillies don't prescribe Toradol [csn philly]
Quick hits from Farrell [espn boston]
Lester likes what he sees from Lackey [espn boston]
Buchholz pulls up lame with hamstring [espn boston]
Jon Lester says Boston Red Sox reviewing Toradol policy [espn boston]
The catcher and the chef [extra bases]
Big Papi among the early arrivals [extra bases]
Pedroia is sexy and he knows it [extra bases]
Overbay says swing corrected [extra bases]
How a few talks with John Henry may have cemented Dustin Pedroia's future with Red Sox [full count]
John Lackey Convinced He'll 'Be Fine' in Boston With Good Health Backing Him (Video) [nesn.com]
Mike Napoli Says He Was Surprised to Learn of Hip Injury, Hasn't Ever Felt Any Symptoms From Condition (Video) [nesn.com]
Henry fine with free-agent targets [projo sox blog]
Fortnotes*: Henry's complex ownership, Dempster's adjustments, Farrell's aggressiveness [projo sox blog]
Henry: Red Sox strayed from core beliefs [redsox.com]
Doubront, Breslow to take it slow early in camp [redsox.com]
Farrell looks forward to running Red Sox [redsox.com]
Victorino to work extensively with Ellsbury [redsox.com]
Dempster looking forward to facing AL lineups [redsox.com]
Sporting new-look roster, Red Sox open camp [redsox.com]
The blueprint: Defining the path to the 'next great Red Sox team' [alex speier - weei.com]
For more slices of Red Sox goodness, head over to the BostonGlobe, Boston Herald, CSN New England, ESPN Boston, NESN, Providence Journal, RedSox.com and WEEI websites.
Follow Ian on Twitter @soxanddawgs. And be sure to like us on Facebook as well.
photo credit: boston.com