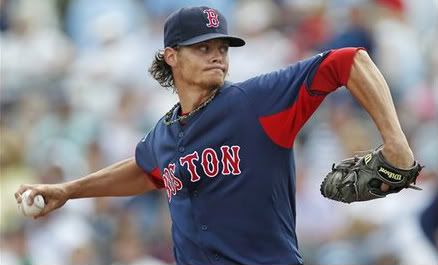 As we move closer to the start of the 2012 MLB season, pitchers are throwing more pitches in games as they build up their arm strength. But when you're facing a divisional opponent, you need to show them something a little different than what you might normally do during the regular season.
That's what Boston Red Sox starter Clay Buchholz did on Sunday afternoon against the Tampa Bay Rays, a team he'll probably face 3-5 times this season. Buchholz threw 76 pitches, 58 for strikes in his team's 8-4 win over the Rays.
We all know Buchholz has a nice changeup in his repertoire but he stayed away from it for the most part on Sunday, using his curve and cutter more. His curveball was probably his best pitch and was as good as I've seen it.
The most important thing though is the health of his back. He's definitely not showing any ill effects from last year's back injury and that is good news. If he can stay healthy for the entire season, that can only mean good things for the Red Sox pitching staff.
We're still not any closer to having any idea of who will be the fourth and fifth starters for the Red Sox this season but we do know that Carlos Silva won't be a part of it. He was released by the Red Sox on Saturday after missing most of the spring with shoulder inflammation.
With Carl Crawford out for the time being, there's still some competition for the outfield spots. And with Ryan Sweeney nursing an injury, it looks as though Cody Ross could win the starting RF job. Ross is putting together a nice little spring as he is hitting .455 after going 1-for-2 with a home run on Sunday.
The position battles will be something to watch over the final 2½ weeks of spring training.
Can Jose Iglesias win the starting shortstop position? Who will join Jacoby Ellsbury in the outfield on opening day? Who will be the final two starters in the rotation? Who will be in the bullpen with Andrew Bailey and Mark Melancon?
That's what we need to be watching for.
But one thing we don't need to be watching for anymore is who will be the Red Sox starter on Opening Day in Detroit. That honor will go to Jon Lester as Bobby Valentine made the announcement before today's game. Josh Beckett is in line to start the home opener barring a rainout.
To see today's lineups as well as the overnight links, click on the read more button below if you're on the home page.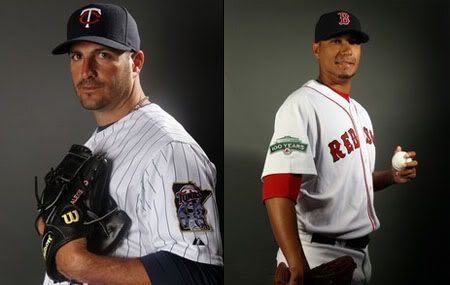 After beating the Rays 8-4 yesterday, the Red Sox return back to JetBlue Park for a Mayor's Cup matchup with the Minnesota Twins.
There is no television or radio for today's game.
Doubront will be followed by RHP Mark Melancon, RHP Andrew Bailey, LHP Justin Thomas and RHP Scott Atchison.
Marquis will be followed by RHP Alex Burnett, RHP Jared Burton, RHP Anthony Swarzak and RHP Jeff Manship.
To open the links up in a new tab or window, use Control+click
MORE LINKS WILL BE ADDED BEFORE GAMETIME IF/WHEN THEY BECOME AVAILABLE

Different signs [Boston Globe]
Lavarnway makes progress for Sox [Boston Globe]
Ryan Lavarnway likely to go to PawSox [Boston Herald]
From sandlot to Game 7 [Boston Herald]
Pedroia mentors Iglesias [Boston Herald]
Video: Handicapping Jose Iglesias' chances of making Opening Day roster [Clubhouse Insider]
Jon Lester to start Opening Day; Josh Beckett to start Fenway opener [Clubhouse Insider]
Injury updates: Ryan Kalish swings, Ryan Sweeney gets closer [Clubhouse Insider]
Lucchino close to contract extension with Red Sox [CSN New England]
Ciriaco, Padilla continue strong springs [CSN New England]
Buchholz hasn't felt anything 'negative' from back [CSN New England]
Valentine on catching options [CSN New England]
Versatility could make impact in roster battle [CSN New England]
Lester to start Opening Day, Beckett gets home opener [CSN New England]
Takeaways from the Port: Roster musings [ESPN Boston]
Maddon on Lackey, Shoppach, AL East [ESPN Boston]
Lester gets nod for Opening Day [ESPN Boston]
Kyle Farnsworth remembers living the life of Daniel Bard [Full Count]
Clay Buchholz threw a bunch of curveballs, and felt good doing it [Full Count]
What we learned about the Red Sox Sunday: Pedro Ciriaco is on fire [Full Count]
Red Sox name Jon Lester Opening Day starter, Beckett gets home opener [Full Count]
Red Sox get to phenom Moore [Projo Sox Blog]
How Jose Iglesias could make the Opening Day roster [Projo Sox Blog]
Buchholz not even thinking about his back [Projo Sox Blog]
Kalish takes frst swings off tee since surgery [Projo Sox Blog]
Inman reassigned to minor-league camp [Projo Sox Blog]
No spot assured, but Lavarnway not letting up [RedSox.com]
Lester named Red Sox's Opening Day starter [RedSox.com]
Ross' hot bat continues to show firepower [RedSox.com]
Back behind plate, Salty has no injury issues [RedSox.com]
Sharp Buchholz 'feels good' after latest start [RedSox.com]
Prospect Q&A: Carpenter's trade-off [RedSox.com]
Ray(s) of hope: The Red Sox' starters' new blueprint for success [Rob Bradford – WEEI.com]
Weems eager for his first professional season [SoxProspects.com]
For more slices of Red Sox goodness, head over to the Boston Globe, Boston Herald, CSN New England, ESPN Boston, NESN, Providence Journal, RedSox.com and WEEI websites.
Follow Ian on Twitter @soxanddawgs. And be sure to like us on Facebook as well.
Photo credits: AP Photo, Getty Images, Getty Images