One of the biggest questions the Boston Red Sox had coming into spring training in 2012 was who were going to be the fourth and fifth starters in the rotation. Daniel Bard and Alfredo Aceves were told to prepare as starters and that they would be given a chance to win those jobs.
The Red Sox also signed a slew of pitchers to minor league contracts to compete with the pair but if both continue to pitch like they did on Saturday night against the Tampa Bay Rays, it's likely they could win the spots.
That is of course unless skipper Bobby Valentine decides they'd be better off helping the Red Sox in the bullpen.
It'd been a long time since Bard had pitched three innings in a baseball game. But as he continues to build up arm strength, he'll throw more pitches and innings in games than he has before in the big leagues.
He had some struggles in the first inning when he said he lost his focus but quickly regrouped. He ended up allowing two hits and two walks while striking out over three innings of work. Bard worked some his changeup last night, seems to be the recurring theme lately, throwing it 12 times out of his 48 pitches.
Aceves followed Bard with three shutout innings of own. He also also allowed two hits and had two strikeouts. He did a great job of mixing in all of his pitches last night and had pretty good command and control of all of them.
Given how valuable Aceves was to the bullpen last year though, it makes you wonder if Valentine is hesitant to use him in the starting rotation. We know pitching and defense wins ballgames. But if Aceves continues to pitch like has so far this spring, I think it's going to be really hard not to use him in the rotation.
Click on the read more button below if you're on the home page to see the lineups for today's game plus links.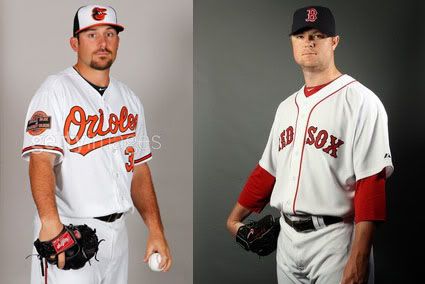 After beating the Rays 5-0 last night, the Red Sox head north to Sarasota for a Grapefruit League matchup with the team that ended their 2011 season, the Baltimore Orioles.
Today's game is scheduled to start at 1:05 p.m. and the game will be broadcast on NESN in the Red Sox television market. It will also be available on the MLB Network. There is no radio broadcast for this game.
Lester will be followed by RHP Aaron Cook, RHP. RHP Doug Mathis, RHP Justin Germano, LHP Justin Thomas, and RHP Tony Pena Jr.
Eveland will be followed by RHP Chris Tillman, RHP Luis Ayala, and RHP Darren O'Day.
To open the links up in a new tab or window, use Control+click

MORE LINKS WILL BE ADDED BEFORE GAME TIME AS THEY BECOME AVAILABLE
Making sense of the Red Sox bullpen puzzle [Alex Speier – WEEI.com]
Kalish is shouldering emotional load [Boston Globe]
Reflections from the sunny side [Boston Globe]
Pitching Change [Boston Globe]
Checking to see how this division adds up [Boston Globe]
What they were thinking: Darnell McDonald slides home [Boston Globe]
Don't go away Maddon [Boston Herald]
Hear to make arm mends [Boston Herald]
Club aims to boost battery power [Boston Herald]
Daniel Bard starts to feel good [Boston Herald]
Diamond collection unveiled [Boston Herald]
Video: Dice-K, catching and at least one "giddy" AL East manager [Clubhouse Insider]
SS Jose Iglesias (groin) out for a few days [Clubhouse Insider]
Bard pleased with longest outing [CSN New England]
Takeaways from the Fort: Bard on a mission [ESPN Boston]
Iglesias out with groin strain [Extra Bases]
What's the Oriole been doing? [Extra Bases]
Daniel Bard proclaims his role 'still up in the air' [Full Count]
Andrew Bailey, Mark Melancon Appear to Have Set Roles, But Questions Still Surround Rest of Red Sox Bullpen (Video) [NESN.com]
Bard goes where he hasn't gone in four-plus years [Projo Sox Blog]
Iglesias out with groin strain [Projo Sox Blog]
B-game notes: Wilson, Carpenter, Linares [Projo Sox Blog]
Bard's transition to starter remains seamless [RedSox.com]
Every spring outing a milestone for Bard [RedSox.com]
Aceves has become indispensable to Sox [RedSox.com]
For more slices of Red Sox goodness, head over to the Boston Globe, Boston Herald, CSN New England, ESPN Boston, NESN, Providence Journal, RedSox.com and WEEI websites.
Follow Ian on Twitter @soxanddawgs. And be sure to like us on Facebook as well.
Photo credits: AP Photo, Getty Images, Getty Images