It's been a busy day for Boston Red Sox general manager Ben Cherington his staff on Yawkey Way in Boston.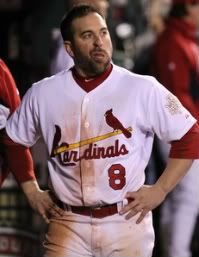 Shortly after acquiring Mark Melancon from the Houston Astros for Jed Lowrie and Kyle Weiland, Cherington dipped his feet into the free agent pool by signing Nick Punto to a two-year contract.
The contract is worth $3 million for two-years and according to Alex Speier of WEEI.com, Punto can earn an additional $500,000 in incentives.
With Lowrie gone, the Red Sox needed a utility infielder. He has also played the outfield in the past as well. He is also a much better defensive player than Lowrie having committed just three errors this past season in 63 games for the St. Louis Cardinals. Punto hit .278 with one home run and 20 RBIs for the World Series champs during the 2011 regular season.
He'll be expected to spell Kevin Youkilis, Marco Scutaro and Dustin Pedroia on occasion and if needed be a late inning defensive replacement should that need arise.
Still no big splash in the free agent pool yet by Cherington but this is a solid signing that should be benefit the Red Sox over the next two years.
Follow Ian on Twitter @soxanddawgs. And be sure to like us on Facebook as well.
Photo credit: Getty Images