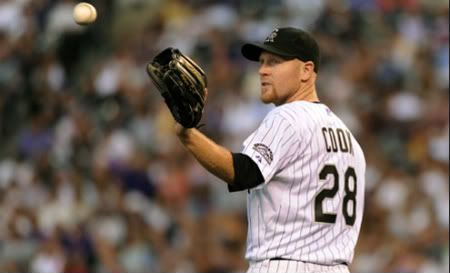 As the Boston Red Sox found out during the 2011 season, you can never have enough starting pitching.
According to multiple reports, the Red Sox have added some pitching depth by signing former Colorado Rockies pitcher Aaron Cook to a minor league deal. Alex Speier of WEEI.com reports that Cook will make $1.5 million if he makes the big league roster.
Cook has spent his entire 10 year career as a member of the Rockies. In that time, he was 72-68 with a 4.53 ERA.
He was hurt for part of the 2011 season and only made 18 appearances (17 starts). In those 18 appearances (17 starts), Cook was 3-10 with a 6.03 ERA.
If Cook can rebound from his injuries, he could be a valuable addition to the Red Sox staff. At the very least, he could probably start the season with the Pawtucket Red Sox and be one of the first callups if an injury were to happen to any of the Red Sox starters.
Follow Ian on Twitter @soxanddawgs. And be sure to like us on Facebook as well.

Photo credit: Denver Post