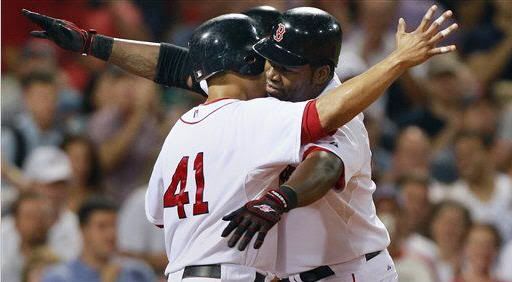 Well what do you know, John Lackey can actually pitch and show us why Boston Red Sox general manager Theo Epstein gave him the five year, $82 million deal. I guess all it took was for Lackey to realize that if he blew up, his record might drop to .500 at 12-12.
Instead, he finds himself at 13-11 after throwing seven strong innings where allowed just one run on five hits with four strikeouts. The big kicker, he didn't walk anyone. He had good command on all of his pitches, especially his cutter. And his curveball was tight and nasty. It was definitely one of his better outings of the season.
Daniel Bard had two strikeouts out of the bullpen and Jonathan Papelbon rebounded from his shellacking on Tuesday night to strikeout the side despite allowing a hit.
Many people on Twitter questioned why Bard and Papelbon pitched last night. Well folks, it's quite simple. We all saw what happened when they didn't get to pitch for a few days. And with the Red Sox having an off day today, it made perfect sense to let them get some work in and yet still be fresh for the weekend series with the New York Yankees.
David Ortiz continues to bash the ball like the Big Papi of old. His three-run homer last night got things started for the Red Sox. The home run was his 31st of the season and he ended the night with four RBIs to bring his season total to 96. He should easily top 100 RBIs for the sixth time in his Red Sox career and the first time since 2007.
Adrian Beltre should also top 100 RBIs on the season as he drove in his 99th run of the season with a double in the 6th. No matter where he ends up next season, this year's Red Sox MVP will be earning a nice little contract that will make him flush for the rest of his life. Same goes for Victor Martinez who added two more hits to his season total.
Even the kids got into the act last night as Josh Reddick hit his first home run of the season and just the third of his career. Of course all three of his home runs have come against the Orioles. And Ryan Kalish, who has struggled a little as of late, knocked out two more hits.
Despite winning last night, the Red Sox magic number to elimination from the wild card dropped to five games since the Tampa Bay Rays beat the Yankees last night. The Red Sox magic number for elimination from the AL East title is just three games.
It's not going to be easy to get there and while it's highly unlikely to happen, it still could. After the Yanks and Rays finish up their series tonight, both teams could collapse and with the Red Sox having six games left against the Yankees, they could make a run at it.
Yes I know that's probably not going to happen but I refuse to give up on this team. They go out and fight hard every night despite all of the issues they've gone through this season. Don't they deserve our support!?!?!
The Red Sox are off today and it wouldn't surprise me if we get some pictures from Fenway when the team leaves for New York since after all, it is the final road trip of the season, which means it's rookie hazing time.
We'll be back later with the pitching matchups for the series with the Yanks.
For more slices of Red Sox goodness, head over to the Boston Globe, Boston Herald, ESPN Boston, NESN, Providence Journal and WEEI websites.
And if you must read the enemy paper, head over to the Baltimore Sun website. Or you can check out our Bloguin brother, the Oriole Post.
Photo credit: AP Photo