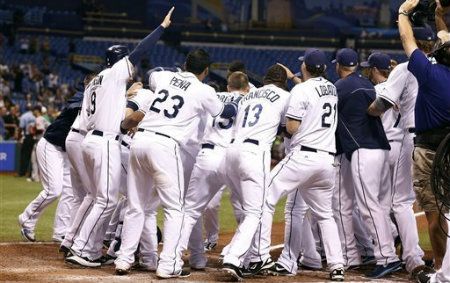 Yup after entering the bottom of the 9th last night with a 4-1 lead, that happened to the Boston Red Sox.
At this point, do we even need to say anything else about 2012?
We'll be back later today with today's lineups, batter/pitcher matchups and links from the day. So for now, let's take at look at the overnight links from the media by clicking on the read more button below if you're on the home page.
To open the links up in a new tab or window, use Control+click
2012 disaster all on Bobby Valentine [boston herald]
Clay Buchholz back at it [boston herald]
Jose Iglesias gives his backers a boost [boston herald]
Daniel Bard has good idea where his problems started, and when they might turn around [rob bradford – weei.com]
Rays stun Red Sox with ninth inning rally, win 7-4 [csn new england]
Iglesias finds success at the plate [csn new england]
Sox stumbling home after Rays walk off [espn boston]
Andrew Bailey, Vicente Padilla Spoil Chance to Cap Memorable Game for Red Sox [nesn.com]
Aviles returns to lineup, shifts over to hot corner [redsox.com]
Atchison's back to old self since returning [redsox.com]
Ciriaco struggles during first start in center field [redsox.com]
Iglesias caps three-hit night with first career homer [redsox.com]
Must-lose situation? How losing now could help Red Sox reload [alex speier – weei.com]
MINOR LEAGUE LINKS
Beyeler proud of PawSox at season's end [csn new england]
Reaping the rewards: Beyeler, Sauveur to join Red Sox' staff for rest of season [pawtucket times]
SoxProspects.com celebrates its ninth anniversary today [soxprospects.com]
For more slices of Red Sox goodness, head over to the Boston Globe, Boston Herald, CSN New England, ESPN Boston, NESN, Providence Journal, RedSox.com and WEEI websites.
And if you must check out the enemy news, head over to the Tampa Bay Times and Tampa Tribune websites.
Follow Ian on Twitter @soxanddawgs. And be sure to like us on Facebook as well.
photo credit: ap photo