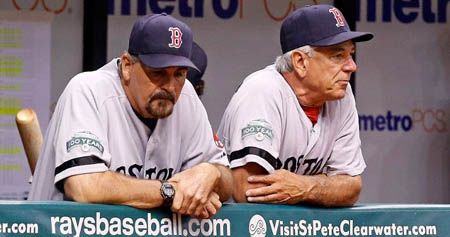 For the first time since 1997, the Boston Red Sox will finish with a record under .500. That year they ended up at 78-84. Since then the least amount of wins they've had was 82 in 2001.
Thanks to the Tampa Bay Rays and their 13-3 shellacking, the Red Sox will probably finish with their least amount of wins since that 1997 team although 1992's 73 wins seems more appropriate. We won't count the 54 wins in the 1994 season which was shortened by the strike.
If Daisuke Matsuzaka was hoping to make an impression on the Red Sox brass in regards to sticking around next season and maybe beyond (he is a free agent after the year), he has a really funny way of showing it.
He loaded up the bases in the 2nd inning by allowing three straight singles to start it. In the past, we've seen Dice-K work some magic and escape these types of situations. That didn't happen last night as he walked Matthew Joyce to bring in the first run of the game for the Rays. However, he recovered to strike out Carlos Pena and then forced the fleet of foot Jose Molina to ground into an inning-ending double play.
After the offense had given him a 3-1 lead in the top half of the 3rd on a Jacoby Ellsbury single then a Dustin Pedroia fielder's choice, Dice-K gave them back one run on a Ben Zobrist single. The 4th inning would be Dice-K's undoing though.
Jeff Keppinger led off with a solo home run to tie the game. Joyce followed with a single and then came around to score when Pena exacted his revenge with a two-run blast. Molina knocked Dice-K from the game with a double. Alfredo Aceves came on and got the three outs in the inning but that was his only bright spot as well.
Aceves and Daniel Bard both came unglued in the 6th when the Rays scored seven runs. Andrew Miller was also at fault later in the inning as he walked the only two batters he faced.
Here's the issue with Aceves and Bard.
I'm not blaming them at all. It's not their fault they haven't pitched in almost a week although it could be Aceves' because of his antics. We all know that Aceves in the doghouse of skipper Bobby Valentine and hadn't pitched because of what transpired last week. We all know the troubles Bard has had this season.
My 100% blame on this goes to Valentine.
If he's not pitching them, you can't expect them to be sharp no matter how much bullpen work they do. It's just not the same as game action facing live hitters.
I think we are all sick and tired of the decisions Valentine has made as of late. This just compounds the situation.
I hope for our sakes that his sorry ass is fired at the end of the season.
We'll be back later today with today's lineups, batter/pitcher matchups and links from the day. So for now, let's take at look at the overnight links from the media by clicking on the read more button below if you're on the home page.
To open the links up in a new tab or window, use Control+click
Daniel Bard blows up again [boston herald]
John Lackey could be answer [boston herald]
Evan Longoria relates to Sox rookie Will Middlebrooks [boston herald]
Valentine: Red Sox pitching 'tough to look at' [rob bradford – weei.com]
Rays rout Red Sox, 13-3 [csn new england]
Aceves, Bard struggle in loss to Rays [csn new england]
Rapid Reaction: Rays 13, Red Sox 3 [espn boston]
Ugly defeat assures losing season [espn boston]
Sox look to add heavy hitter in front office [espn boston]
Unraveling the mystery of Bobby Valentine and his bench coach [full count]
Opinion: Time to shut down Daniel Bard [full count]
Red Sox Bullpen Victimized by Six Walks in Sixth Inning, Ensuring Losing Season [nesn.com]
Bogar interviews with Astros [projo sox blog]
How soon might Red Sox sign Middlebrooks long-term? [projo sox blog]
Cut 4: Ross wears son's pants for BP [redsox.com]
Aceves stays upbeat despite demotion in 'pen [redsox.com]
Bogar interviews with Astros, will let process play out [redsox.com]
With Iglesias' arrival, Aviles short on playing time [redsox.com]
Ciriaco to get another look in outfield [redsox.com]
For more slices of Red Sox goodness, head over to the Boston Globe, Boston Herald, CSN New England, ESPN Boston, NESN, Providence Journal, RedSox.com and WEEI websites.
And if you must check out the enemy news, head over to the Tampa Bay Times and Tampa Tribune websites.
Follow Ian on Twitter @soxanddawgs. And be sure to like us on Facebook as well.
photo credit: getty images