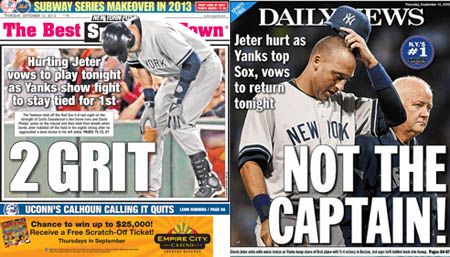 If the Boston Red Sox want to play spoiler over the final three weeks of the season, they're going to need to stop throwing out mediocre pitchers at the New York Yankees and their other AL East brethren not named the Toronto Blue Jays.
Of course that's pretty much what the Red Sox have in their starting rotation right now with the exception of Clay Buchholz and Jon Lester.
Once Aaron Cook lost his sinker last night, that was it for the Red Sox as the Yankees took advantage and went on to a 5-4 win over the local nine. It was a big win for the Yankees as it keep them even in the AL East race with the Baltimore Orioles who walked off with a win over the Tampa Bay Rays.
It wasn't all that bad for Cook in the early part of his start. In the first two innings, he had retired five of the first six batters on ground balls with the other being a strikeout. In the 3rd inning, he worked around a leadoff double by Eric Chavez by getting a ground out, a fly out and a strikeout.
But the 4th inning was his undoing.
Curtis Granderson led off with the first of two home runs on the night. Alex Rodriguez followed with a single and came around to score on a Robinson Cano two-run homer. Three batters in, three sinkers up in the zone and just like that the Red Sox found themselves trailing 3-0.
The Sox managed to get a run back in the bottom half of the inning when James Loney singled in Dustin Pedroia who had reached on a 1-out double.
Alfredo Aceves was tagged with Granderson's second home run of the game after he allowed Derek Jeter to reach on a lead off single. Once again the Red Sox battled back with two runs off of three different Yankees relievers in the 7th. But other than a Jarrod Saltalamacchia home run in the 9th, the Red Sox really couldn't mount another challenge.
Pedroia had one of those "oh shi*" moments last night when he found out his wife had gone into labor at the end of the 6th inning. He had two hits in the game before having to leave.
I'm really at the point now where I've run out of good things to say except for this.
It was nice to see Cody Ross arguing with the umpire about a blown strike call late in the game. Bobby Valentine and Jerry Royster were also both ejected as well. I say this because of the following reason.
Sometimes we look at this team and think they've given up. I may not like Valentine and as embattled as he is, he's out there sticking up for the players in a situation where they were probably right.
Now if only the whole entire roster could show that much fight, they might actually be able to spoil the dreams of at least one of those three AL East teams fighting for the playoffs.
We'll be back later with today's lineups, batter/pitcher matchups and links from the day. So for now, let's take a look at the overnight links from the media.
To open the links up in a new tab or window, use Control+click
Sox fight back but fall short [boston herald]
Bobby Valentine can't argue this mark [boston herald]
James Loney unsettles in [boston herald]
Finding cash value in Sox situation [boston herald]
Granderson leads Yankees over Red Sox, 5-4 [csn new england]
Valentine: Tazawa an integral part of Red Sox [csn new england]
Red Sox tempers flare in loss to Yankees [csn new england]
Valentine: Saltalamacchia 'did a very good job tonight' [csn new england]
Sox lose; Ross loses it; Aceves, Bobby V. downplay latest dustup [csn new england]
Dodgers' Gonzalez struggling since trade [espn boston]
Pedroia exits game, with wife in labor [espn boston]
Rapid Reaction: Yankees 5, Red Sox 4 [espn boston]
Red Sox manager Bobby Valentine: Don't blame me for Kevin Youkilis' struggles [espn boston]
Boston Red Sox still showing some fight, for better (Cody Ross) and worse (Alfredo Aceves) [espn boston]
Bobby Valentine introduces Aceves-ology to Harvard curriculum [full count]
Pedro Ciriaco Credits Training With Robinson Cano for Yankee-Killing Reputation, Career Year [nesn.com]
Bobby Valentine Brings Fire to Red Sox Team That Couldn't Ask for More Care, Fight From Manager [nesn.com]
Derek Lowe Says 'I've Brought a Lot of Losing' to Yankees, Agrees 2004 Red Sox Were Something Special [nesn.com]
Manny Ramirez 'Sometimes' Misses Baseball, But Now Has 'Incredible Peace' [nesn.com]
Alfredo Aceves' Strange Exit, Cody Ross' Displeasure With Umpire Highlight Feisty Night for Red Sox [nesn.com]
Kevin Youkilis, Bobby Valentine and the strange free-agent class of first basemen [alex speier – weei.com]
For more slices of Red Sox goodness, head over to the Boston Globe, Boston Herald, CSN New England, ESPN Boston, NESN, Providence Journal, RedSox.com and WEEI websites.
And if you must check out the enemy news, head over to the ESPN New York, New York Daily News, New York Post, New York Times and The Journal News websites. You can also check out our Bloguin brother, NYY Stadium Insider.
Follow Ian on Twitter @soxanddawgs. And be sure to like us on Facebook as well.