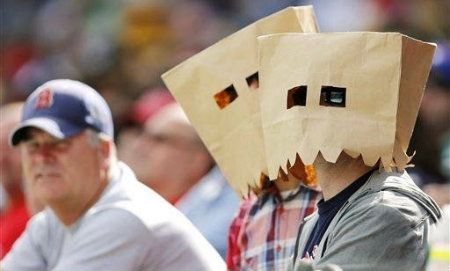 It turned out to be the worst case scenario for the Boston Red Sox this weekend. Be swept by the Toronto Blue Jays and occupy the AL East basement all by yourself.
Yes folks that's how far the once mighty Red Sox have fallen. Or as Steve put in a post on Sunday, "From Champions to Laughingstocks".
The Red Sox had a chance to win this one but one bad inning from Clay Buchholz turned out to be the difference in the Jays 4-3 win in front of announced sell out crowd of 37,226 at historic Fenway Park. There was definitely not that many people there though as it was also the opener for the New England Patriots and judging by the crowd shots through out the game, most were home watching it.
Yes the Red Sox are now playing second fiddle to the Patriots during a month where they used to share the spotlight. Now no one even seems to care about the Red Sox (yes I watched the Patriots game while flipping to the Red Sox at commercials until the Pats game was over).
I know I've said it before but they aren't even fun to watch even when a guy like Buchholz is having a good game.
I don't think any of us ever expected this from the Red Sox. After all, the ownership group when they took over promised us good teams and championship baseball. I'm pretty sure they weren't talking about winning the basement championship.
There's a lot of clamoring on Twitter for them to fire manager Bobby Valentine, myself included. It's obvious that he won't be here in 2013 so why even let him finish the season. I figured if they were swept by the Jays (which we know happened) that the Red Sox would use this day to can Valentine and let Tim Bogar finish out the song.
As of right now, there's nothing brewing on that front yet. But the day is the young so we'll see what happens.
Anyways, the Red Sox are off today before they welcome the New York Yankees to town. The Yanks are in the fight of their lives for a playoff spot right now and it would be great to see the Red Sox have some fun against them in this three game set.
We'll be back in a a bit with the pitching matchups for the Yanks series.
For more slices of Red Sox goodness, head over to the Boston Globe, Boston Herald, CSN New England, ESPN Boston, NESN, Providence Journal, RedSox.com and WEEI websites.
And if you must check out the enemy news, head over to the Toronto Star and Toronto Sun websites.
Follow Ian on Twitter @soxanddawgs. And be sure to like us on Facebook as well.
photo credit: ap photo