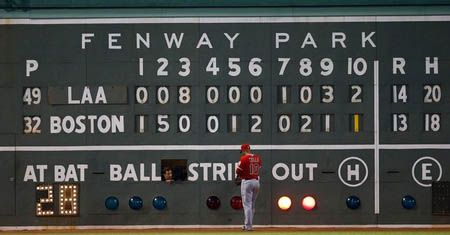 As I was gathering my thoughts to write about last night's Boston Red Sox and Los Angeles Angels of Anaheim game, I didn't really know what to say. I thought about not writing anything at all because I wasn't sure if there were any words to describe what happened.
Then I thought about it some more.
If you wanted to know how the 2012 season has gone for the Red Sox, all you needed to do is watch last night's game.
Things started out swimmingly for them as they got off to a 6-0 lead. And if you turned off the channel and came back 20 minutes or so later, the Red Sox were losing 8-6. By the time all was said and done, the Angels walked out of historic Fenway Park with a 14-13 win in 10 innings and a three game sweep of the local nine.
So what did the Red Sox in last night?
Obviously it wasn't the offense. They did their collective jobs.
Dustin Pedroia led the way with four hits and five RBIs, including a 3-run blast in the 2nd inning. Pedro Ciriaco had a four-hit effort while Jacoby Ellsbury had three hits and three RBIs. Cody Ross had two hits and two RBIs, including a solo home run in the 9th that forced extra innings. The only member of the starting nine without a hit was Ryan Lavarnway.
So what did the Red Sox in last night?
It was the pitching and defense.
Franklin Morales has pitched well in a starting role for the Red Sox with his only downfalls coming against the New York Yankees. He got through the first two innings unscathed only to not make it out of the 3rd.
It was so bad for the Red Sox in the 3rd that they needed three pitchers including Morales to get out of the inning. They were hurt by a Pedro Ciriaco error and the fact that Morales lost focus on the mound. Clayton Mortensen had his first bad outing as he didn't retire any of the four batters he faced and allowed all three inherited runners to score. Junichi Tazawa finally got them out of the inning by getting the 13th batter of the inning, Howie Kendrick, to ground out.
Tazawa and Mark Melancon kept the Angels at eight runs while the offense battled back to take a 9-8 lead. But it didn't last long as Andrew Bailey was tagged for a run in the 7th that knotted it back up.
Ellsbury and Pedroia came up big in the 8th to give the Red Sox the lead and with the way Alfredo Aceves had been pitching as of late, one would think this gmae was over. But with the way this game had been going all night for the Red Sox, you knew it wouldn't.
And if you thought that that, you were right as the Angels got three in the top of the 9th to take the one-run lead. A Ross error was part of that in the inning and obviously he atoned for that with the game-tying home run.
But in a curious decision, Bobby Valentine sent Aceves back out for the 10th after throwing over 30 pitches in the fateful 9th. It backfired as Kendry Morales homered. He allowed another single to Erick Aybar and was pulled from the game. Craig Breslow came in and gave up a double to Vernon Wells that brought in Aybar.
The offense once again battled back in the 10th when Pedroia singled in Ciriaco but the game ended as Adrian Gonzalez struck out.
So as I said above, what can you say about this?
It wasn't just one thing that went wrong, it was a myriad of things.
Give the Red Sox credit for not quitting. That's about all I got.
We'll be back later with today's lineups, batter/pitcher matchups and links from the day.
For more slices of Red Sox goodness, head over to the Boston Globe, Boston Herald, CSN New England, ESPN Boston, NESN, Providence Journal, RedSox.com and WEEI websites.
And if you must check out the enemy news, head over to the LA Daily News, LA Times and Orange County Register websites. You can also check out our Bloguin brother Monkey With a Halo.
Follow Ian on Twitter @soxanddawgs. And be sure to like us on Facebook as well.
photo credit: getty images