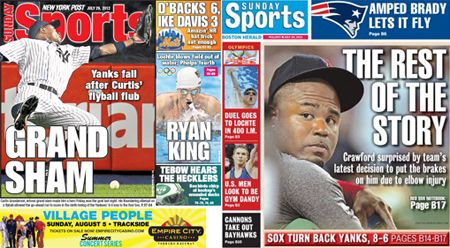 There have been moments where we are ready to give up on the 2012 version of the Boston Red Sox. Then there have been moments where they show us just a glimmer of hope.
Last night's game was a mixture of both of them.
After watching the New York Yankees overcome a 6-1 deficit in the 8th when Mark Teixeira homered off of his nemesis Vicente Padilla to tie the game up, we were ready to give up on them and the season. But thanks to Curtis Granderson misplaying a Pedro Ciriaco flyball into a triple, the 2012 season was saved again, albeit temporarily.
The misplay allowed Jacoby Ellsbury to score from first and put the Red Sox out front. Dustin Pedroia brought in Ciriaco with a sac fly to give Alfredo Aceves an insurance run. Aceves wouldn't need it though as he set the Yanks down in order to pick up his 22nd save of 2012 and give the Red Sox life for another day.
Ciriaco had a nice day at the plate with three hits but it was Adrian Gonzalez who powered the Red Sox offense to the lead. He had three hits including a RBI double in the first off of CC Sabathia. He also hit a three-run homer in the 5th to push the Sox lead to 6-1. Will Middlebrooks also had two hits including a big two-run double in the 1st inning.
It's really tough to get a good read on the outing for Jon Lester just one start after being embarrassed on the bump.
While he looked dominant at times, he also allowed the Yankees to get within striking distance. He did only allow four hits but the Yanks made the most of them as two of them were longballs.
He left a fastball out over the plate that Chris Stewart crushed for his first home run of the season. In the 5th after Gonzo's home run had given Lester a five-run lead, he gave three of them back. Two of them came on a Jayson Nix two-run blast and a Derek Jeter groundout.
Overall though, you have to be proud of the way he bounced back. He really had no where to go but up after that last stop. And while he didn't completely get there last night, he made some steps in the right direction. Hopefully he uses the time between starts to figure out what worked and what went wrong.
If the Red Sox are going to make that push, they'll need Lester and of course Josh Beckett to figure things out. If that happens, there's no telling what can happen.
With the trade deadline coming up in two days, the result of tonight's game will probably go a long way in determining where the Red Sox stand. Hopefully it's a Red Sox win and we don't have to watch the band break up.
We'll be back later with today's lineups, batter/pitcher matchups and links from the day. So for now, let's take a look at the overnight links from the media.
To open the links up in a new tab or window, use Control+click
No 'W', but a winning effort for Lester [boston globe]
Designated hero [boston globe]
Latest controversy came out of left field [boston globe]
Crawford's schedule requires managing [boston globe]
Keeping the rivalry heated [boston globe]
Red Sox resilient in NY [boston herald]
Jon Lester shows flashes [boston herald]
Carl Crawford told to rest [boston herald]
Felix Doubront still feels strong [boston herald]
Typical crazy day for Bobby V's bipolar boys [boston herald]
Amidst the chaos, Jon Lester delivers the Red Sox' most important story [rob bradford – weei.com]
Sox regain fighting spirit, 8-6 [csn new england]
Lester, Gonzalez walk the walk [csn new england]
Red Sox notes: Ciriaco continues mastery of Yankees [csn new england]
Bailey, Dice-K on rehab; Atchison setback [espn boston]
Rapid Reaction: Red Sox 8, Yankees 6 [espn boston]
Bobby Valentine's leadership of the Boston Red Sox isn't working [espn boston]
Closing Time: Adrian Gonzalez, Pedro Ciriaco lead Red Sox to late win over Yankees [full count]
Andrew Bailey Willing to Let Alfredo Aceves Finish the Season as the Red Sox Closer If Needed [nesn.com]
Scott Atchison Hits Setback in Pawtucket, And Will Have More Tests On His Forearm [nesn.com]
Daisuke Matsuzaka Slated to Start Minor League Rehab Assignment in Pawtucket on Monday [nesn.com]
Terry Francona Gathers Red Sox Players in Visiting Clubhouse for Jokes, Chatter [nesn.com]
Adrian Gonzalez Catches Fire, Regains Power Punch at Right Time for Red Sox [nesn.com]
Jon Lester Records 1,000th Career Strikeout in Bottom of Sixth Inning Against Robinson Cano [nesn.com]
Red Sox Could Yet Make a Deal, Says Ken Rosenthal, In Midst of Hectic Trade Deadline Season [nesn.com]
Red Sox Get a Little Luck on Their Side in Series-Tying Defeat of Yankees [nesn.com]
Lester caps rough July with strong performance [redsox.com]
Crawford usage latest 'drama' for Bobby V [redsox.com]
Sox get positive news on Bailey, Dice-K [redsox.com]
Crawford gets medically mandated day off [redsox.com]
For more slices of Red Sox goodness, head over to the Boston Globe, Boston Herald, CSN New England, ESPN Boston, NESN, Providence Journal, RedSox.com and WEEI websites.
And if you must check out the enemy news, head over to the ESPN New York, New York Daily News, New York Post, New York Times and The Journal News websites. You can also check out our Bloguin brother, NYY Stadium Insider.
Follow Ian on Twitter @soxanddawgs. And be sure to like us on Facebook as well.