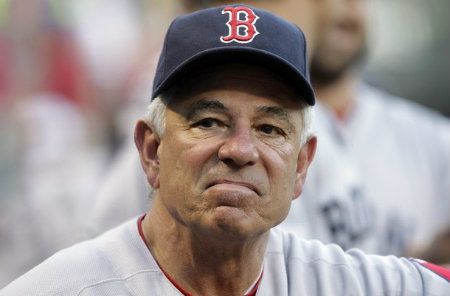 With the Roy Oswalt battling a back injury, the Texas Rangers threw out Scott Feldman to make the spot start against the Boston Red Sox last night. Feldman had struggled this season but the Red Sox made him look like Cy Young last night in a 9-1 loss.
The only run the Red Sox would manage off of Feldman over his seven innings was a Jarrod Saltalmacchia solo home run in the 2nd inning. They did manage to get seven hits in total off of him but were unable to produce any more runs. And if you were wondering, yes we've seen this happen to the Red Sox recently. Aaron Laffey did the same thing for the Toronto Blue Jays last homestand.
Felix Doubront started this one for the Red Sox and despite taking the loss, he didn't pitch all that badly. He wasn't great either but we'll call it a serviceable outing.
He was done in by a Dustin Pedroia throwing error in the 3rd inning that allowed a run to score. Then Josh Hamilton followed that up with an RBI double and two batters later, Michael Young brought in Hamilton with a single. And that's basically when the momentum of the game shifted for the Red Sox.
Doubront's night ended when he allowed a leadoff walk to Nelson Cruz and then a two run blast by Mike Napoli. Doubront seemed to become unnerved in Napoli's at-bat after the call on 0-2 pitch didn't go his way. The next one was sent out of the park.
Franklin Morales came in and was tagged as well no thanks to Carl Crawford watching the ball go under his glove. That folks is an unexcusable mistake.
Offensively besides, the Salty home run, Pedroia went 3-for-4 and has at least one hit in every game since he returned from the disabled list. Salty, Jacoby Ellsbury and Will Middlebrooks also each had two hits with Cody Ross adding one.
One of the moves Bobby Valentine made last night I actually agreed with.
After giving up a few runs on Sunday, Valentine threw Mark Melancon back out there and Monday. Melancon responded with a clean inning to erase the memory of Sunday's outing. To me that is huge for Melancon as it gives him the confidence to go out there and do it again.
Right now we are at that point where the Red Sox are once again frustrating to watch. It did seem to me like they just gave up last night. I'm not saying everyone on the team had given up but it just looked like some did. Their fourth straight loss brought them back below the .500 mark.
Unless there's some radical changes to the 25-man roster, it looks like the 2012 season will end up being a mediocre one and one that will be remembered by all of the injuries that could be part of the reason why.
They are only four games out of the second wild card spot but with the way they are playing, that four game deficit feels more like 10. Mediocre doesn't fly with Red Sox Nation. So something needs to change and quickly.
We'll be back later with today's lineups, batter/pitcher matchups and links from the day. So for now, let's take a look at the overnight links from the media.
To open the links up in a new tab or window, use Control+click
Texas-sized beating [boston globe]
Plan for Lester is unveiled [boston globe]
Their only move: Going backward [boston globe]
Red Sox pounded as rivals stock up [boston herald]
Jon Lester remains in the rotation [boston herald]
Left at a loss to explain [boston herald]
Sox open road trip with 9-1 loss to Rangers [csn new england]
First pitch: Nothing a trade or two can fix [csn new england]
State of the Sox: Our weekly Red Sox notebook [csn new england]
Despite losses, Saltalamacchia finding his swing again [csn new england]
Doubront can't get Sox back on track [csn new england]
Rapid Reaction: Rangers 9, Red Sox 1 [espn boston]
Bobby Valentine talks with struggling Boston Red Sox ace Jon Lester [espn boston]
Closing Time: Red Sox drop below .500 with loss to Rangers [full count]
Carl Crawford wouldn't mind if Matt Garza became a Red Sox [full count]
Tim Wakefield Reflects on Relationship With Jason Varitek, Praises Him For His Dedication (Video) [nesn.com]
Red Sox Need Swift Turnaround From Rotation to Regain Momentum in Wild Card Chase [nesn.com]
Ryan Sweeney Turns to Laser Eye Surgery to Improve Hitting, Fielding [nesn.com]
Bobby Valentine Says Jon Lester Will Start Against Yankees, That Red Sox Have 'Proactive Plan' to Fix His Form [nesn.com]
Lester's contract more friendly to Red Sox than to other teams [projo sox blog]
Bobby V believes in Lester, to keep him on turn [redsox.com]
Dice-K, Big Papi making progess with injuries [redsox.com]
Middlebrooks, Bobby V return to Texas [redsox.com]
Pedroia: 'I think we're all miserable' [alex speier – weei.com]
Reality check: Why the Red Sox must look beyond 2012 at the trade deadline [alex speier – weei.com]
For more slices of Red Sox goodness, head over to the Boston Globe, Boston Herald, CSN New England, ESPN Boston, NESN, Providence Journal, RedSox.com and WEEI websites.
And if you must check out the enemy news, head over to the Dallas Morning News and Fort Worth Star-Telegram websites.
Follow Ian on Twitter @soxanddawgs. And be sure to like us on Facebook as well.
photo credit: ap photo