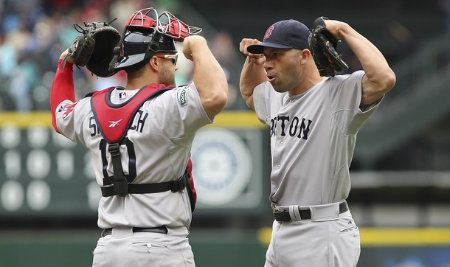 Something tells me that the Boston Red Sox are probably just a little bit happy that they were able to escape the Emerald City with a split of the four-game set with the Seattle Mariners. If they hadn't, it probably wouldn't have been good for their psyches.
The 2-1 win in 10 innings almost didn't happen either.
The offense was being shut down by Jason Vargas through the first 7.1 innings as they managed just four hits and a walk up to that point. Things began to look a little brighter when Dustin Pedroia smacked a home run in the 8th to tie the game up at one.
The bullpen did its job to keep the game tied and force some more bonus baseball for the second time in as many days. You almost didn't want to see extra innings because the Red Sox were 0-5 so far this season.
But they made sure to take care of business right away.
Ryan Kalish, who was pinch-hitting for Brent Lillibridge, laced a double to right off of Brandon League. He would go to third on a Pedroia single to Ichiro Suzuki in right as Kalish was wisely held up at third. Lucas Luetge took over for League and gave up a long sacrifice fly to the only representative the Red Sox will have in the 2012 MLB All-Star Game in David Ortiz.
With Cody Ross at the plate, Pedroia stole second before Ross worked a walk. But Luetge got out of trouble when Adrian Gonzalez flew out to left. Alfredo Aceves came on in the bottom of the 10th and was drama free as he set the side down in order to pick up his 19th save of the season.
If it weren't for the Red Sox bullpen yesterday afternoon, they may have been sent to their second straight defeat instead of earning the split.
Felix Doubront wasn't all that effective on the mound as it looks as though he could use a break. He's entering uncharted territory as far as innings pitched and it's beginning to show. Doubront had been the most consistent starting pitcher the Red Sox have had this season but with five walks in 4.1 innings this outing on top of allowing 11 hits his last time out before yesterday, it makes you wonder if Bobby Valentine will stick with the six-man rotation until the All-Star break or will he go with Jon Lester on regular rest this weekend.
Matt Albers bailed out Doubront on the 5th with just one pitch in a bases loaded situation. He induced a grounder off the bat of Jesus Montero to Will Middlebrooks at third. WMB stepped on the third base bag and threw across the diamond to get Montero and complete the inning-ending double play. Albers would end up walking one in his 1.2 innings of work while Scott Atchison was perfect in his two innings.
Vicente Padilla worked out of a jam he created in the 9th to set the stage for the 10th inning heroics.
The Mariners pitching staff isn't exactly the greatest (with the exception of Felix Hernandez) but for the most part of the series, the Red Sox offense made them all look like Cy Young candidates (yes, I know King Felix has won one). Whether it was the long trip out to Seattle or just the normal struggles that an offense hits remains to be seen.
One thing's for sure, they don't want it to happen again in Oakland this week.
As down and out as the Red Sox have looked at times this season, yesterday's win got them to within a half game of the second place Baltimore Orioles. Sure they are 6.5 games out behind the New York Yankees for first place in the AL East but it looks like there's a good chance the Red Sox could enter the All-Star break in second.
A good week of baseball will ensure that. Let's hope it happens.
We'll be back later with today's lineups, batter/pitcher matchups and links from the day. So for now, let's take at look at the overnight links from the media by clicking on the read more button below if you're on the home page.
To open the links up in a new tab or window, use Control+click
Their fly guy [boston globe]
Excited Ortiz is team's lone Star [boston globe]
Split-second observation: They have to be a bit better [boston globe]
Red Sox win despite shaky Doubront [boston herald]
No Sox can match lone All-Star Ortiz [boston herald]
Dustin Pedroia helps Sox salvage split [boston herald]
Andrew Bailey still seeking relief [boston herald]
Salty diet lacks 1st Star taste [boston herald]
Will Middlebrooks adjusts to life outside shadow of Kevin Youkilis [rob bradford – weei.com]
Sox come out on top in 10th, top Mariners, 2-1 [csn new england]
First Pitch: Phils show Sox just how bad things could be [csn new england]
Doubront's struggles continue against Mariners [csn new england]
Kalish happy to help Sox with pinch-hit in 10th [csn new england]
Middlebrooks leaves game in 9th with tight hamstring [csn new england]
Bailey throws from 150 feet [espn boston]
Rapid Reaction: Red Sox 2, Mariners 1 [espn boston]
Middlebrooks leaves with hamstring issue [espn boston]
Pedroia shakes Sox, self out of doldrums [espn boston]
Closing Time: Sox finally get an extra-inning win [full count]
A man alone: After carrying Red Sox for first half, David Ortiz prepares for solo journey to All-Star Game [full count]
Jiana McDonald Puts Larry Lucchino on the Hot Seat One Last Time (Video) [nesn.com]
Bobby Valentine 'Couldn't Be Happier' With Dominant Red Sox Bullpen [nesn.com]
Will Middlebrooks Injures Left Hamstring, May Leave Hole at Third Base for Red Sox [nesn.com]
After Middlebrooks tweaks hammy, ill Aviles fills in [redsox.com]
Although deserving, Salty not named All-Star [redsox.com]
Crawford, Ellsbury nearing next step in rehab [redsox.com]
Papi only a spectator at this year's Derby [redsox.com]
For more slices of Red Sox goodness, head over to the Boston Globe, Boston Herald, CSN New England, ESPN Boston, NESN, Providence Journal, RedSox.com and WEEI websites.
And if you must check out the enemy news, head over to the Everett Herald, Seattle Times and Tacoma News Tribune websites.
Follow Ian on Twitter @soxanddawgs. And be sure to like us on Facebook as well.
photo credit: getty images