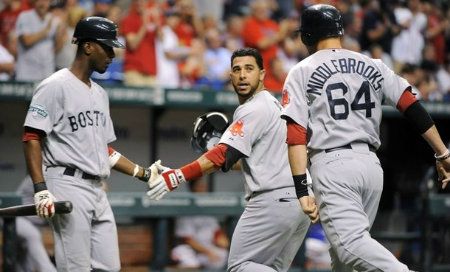 When you look at the grand scheme of things, taking two-of-three from the Tampa Bay Rays was a good thing for the Boston Red Sox. It almost didn't happen though.
Josh Beckett, who it turns out was battling flu-like symptons, gave up three runs in a 1st inning that seemed like it took an hour. Fortunately, he was able to fight through the illness and the offense picked him up in a 7-3 win.
Beckett apparently had been sick during the week and said after the game made him dizzy. That would explain the time it took to throw a pitch in the 1st inning. He had trouble with the command of just about of all his pitches. But as the game went on, Beckett began to find his curveball along with the command of his fastball.
His turnaround in the game was huge. As the offense battled back, he was busy striking guys out. He ended up going six innings, allowing the three runs on eight hits and two walks with seven strikeouts. In the end though it was a quality start and his fifth win of the season.
Sickness aside, if Beckett can get past his first inning woes as of late, he could be a difference maker for the Red Sox going forward.
Jacoby Ellsbury has been nothing short of a fresh breath of sunshine since returning from the disabled list. He went 3-for-5 with a double and went 6-for-15 over the three game series.
Will Middlebrooks had himself a nice game as well. He also had three hits including a big two-run single in the 5th. The nice part about his three hits were that two of them came on offspeed pitches. He's been seeing a lot more of those lately as the league adjusts to him. But as evidenced yesterday, he's made some adjustments of his own.
As he gains experience, he'll continue to do this as pitchers look for other ways to get him out.
Adrian Gonzalez returned to the lineup after missing two games with back spasms with two hits and an RBI. David Ortiz and Mike Aviles also both had two hits with Aviles hitting a two-run homer in the 2nd that tied the game at three in the 2nd inning off of Rays starter James Shields. Daniel Nava also added a solo blast in the 5th that gave the Red Sox the lead for good.
It was a nice weekend as the visiting nine from Boston was able to pick up one game on the Rays and the second place Baltimore Orioles. They sit one game behind the Rays and 1.5 games behind the Orioles for second place in the AL East as well as the second wild card spot.
Tonight will be a very emotional one for all parties involved as Kevin Youkilis makes his return to Fenway Park just a few weeks after being traded to Chicago White Sox. I'd expect there to be some waterworks as well as one heck of a huge ovation for Youk. We'll be sure to have video of that moment up on the site tonight.
We'll be back later today with today's lineups, batter/pitcher matchups and links from the day. So for now, let's take at look at the overnight links from the media by clicking on the read more button below if you're on the home page.
To open the links up in a new tab or window, use Control+click
Beckett and Sox rally past Rays [boston globe]
Team executed a nice pick at third [boston globe]
Crawford set to make return [boston globe]
Red Sox down Rays [boston herald]
Kevin Youkilis braces for first trip to Boston since being traded [boston herald]
Carl Crawford 'ready to go' for tonight [boston herald]
Josh Beckett fights off flu [boston herald]
Red Sox on right road [boston herald]
Firing up Youk [boston herald]
Youk anticipates an emotional return [csn chicago]
Red Sox take rubber game from Tampa Bay, 7-3 [csn new england]
Beckett settles down after shaky first [csn new england]
With Ellsbury, Middlebrooks, lineup nearly whole [csn new england]
Youkilis passes on reacting to Bobby V [espn boston]
Rapid reaction: Red Sox 7, Rays 3 [espn boston]
No last-minute signings for Sox [espn boston]
Bailey's return drawing closer [espn boston]
Nuggetpalooza: Weekend Red Sox nuggets [full count]
Mike Aviles' Track Record Shows He's On the Verge of Starting Offensive Streak [nesn.com]
Kevin Youkilis, Ray Allen Should Both Be Cheered in Returns to Boston [nesn..com]
Josh Beckett Felt Strong With Extended Rest Between Starts, Helped Red Sox Take Down Rays (Video) [nesn.com]
Carl Crawford's Former Coach Believes Pride, Change in Market Affected Slugger's Composure [nesn.com]
Josh Beckett Shows Glimpses of 'Pitcher We Need Him to Be' Says Bobby Valentine [nesn.com]
Kevin Youkilis' Return to Fenway Park Should Bring Cheers, Unlike Visits From Other Former Players (Photos) [nesn.com]
Will You Root for Kevin Youkilis Against the Red Sox? [nesn.com]
Crawford set to be activated by Red Sox [redsox.com]
Red Sox place Atchison on DL, recall Tazawa [redsox.com]
Bobby V talks Youk returning to Fenway [redsox.com]
Adrian makes unexpected return to lineup [redsox.com]
What's the deal? A 'blow it up'-free primer to the Red Sox and this year's trade deadline [alex speier – weei.com]
For more slices of Red Sox goodness, head over to the Boston Globe, Boston Herald, CSN New England, ESPN Boston, NESN, Providence Journal, RedSox.com and WEEI websites.
And if you must check out the enemy news, head over to the Tampa Bay Times and Tampa Tribune websites.
Follow Ian on Twitter @soxanddawgs. And be sure to like us on Facebook as well.
photo credit: ap photo