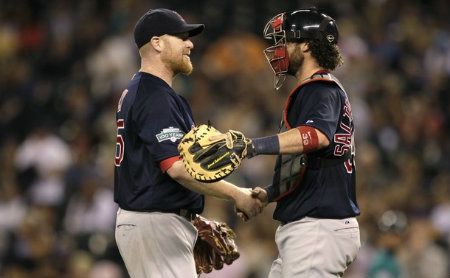 Given how Aaron Cook and Hector Noesi were dealing through the first four innings, we were shaping up for a repeat of the Seattle Mariners 1-0 win over the Boston Red Sox on Thursday night. But on Friday night, the results were just a little different.
The Red Sox finally broke through with three home runs off of Noesi in the 5th while Cook continued pounded his sinker into the zone as visiting nine went on to a 5-0 win over the home team.
You could argue that any one of the four guys to hit home runs, Will Middlebrooks, Cody Ross, Daniel Nava or Jarrod Saltalamacchia, were the stars of the game. To me there's no question that star was Cook.
He needed just 81 pitches to shut down the Mariners anemic offense last night. He threw primarily sinkers last night (73) while mixing in the occasional curveball (8). His sinker stayed down in the zone for the entire night and the result of that was 15 ground ball outs. Of the two hits he allowed on the night, only one was hard hit. The other was a bang bang play at first on Ichiro Suzuki after Dustin Pedroia made a great stop.
The highest amount of pitches Cook had to throw in an inning was 12 and he did that twice (3rd and 7th innings). The least amount of pitches he need in an inning was five (4th inning).
When Cook pitches like he did last night, there's no telling how good he can be. The good news for him is that Bobby Valentine is going with a six-man rotation until at least the All-Star break. After that, Cook along with Franklin Morales are going to make Valentine's decision making process all the much harder especially when Clay Buchholz returns from the disabled list.
It was Middlebrooks who broke through first against the Noesi with a solo home run in the 5th. Ross followed that up with one of his own to give the Red Sox back-to-back home runs. Two outs later, Nava connected for a solo home run of his own to make it 3-0.
The Red Sox chased Noesi in the 6th after David Ortiz led off with a double and came into score on Salty's opposite field home run in the 6th. The Mariners bullpen was solid after Noesi left the game until 9th when the Red Sox loaded the bases up on Oliver Perez. But he got Pedey to line out to right to end the threat.
With the way Cook pitched last night, the Red Sox really only needed one run. But after basically being shutdown for 13 straight innings, it was nice to see the offense break out.
We'll be back later with today's lineups, batter/pitcher matchups and links from the day. So for now, let's take at look at the overnight links from the media by clicking on the read more button below if you're on the home page.
To open the links up in a new tab or window, use Control+click
Cook makes quick work of Mariners [boston globe]
Hernandez would be King in Boston [boston globe]
Morales continues to impress [boston globe]
Aaron Cook dazzles as Red Sox power past Mariners [boston herald]
Josh Beckett to the rescue [boston herald]
Aaron Cook gives Mariners sinking feeling in dominant show [boston herald]
Jacoby Ellsbury, Carl Crawford back in action [boston herald]
Cook dazzles, hurling two-hitter [csn new england]
Closing on 400 homers, Ortiz is more than a slugger [csn new england]
Different recipe, same result for Cook [csn new england]
First Pitch: A starless summer in Boston [csn new england]
Rapid Reaction: Red Sox 5, Mariners 0 [espn boston]
Cook makes quick work of M's in shutout [espn boston]
Closing Time: Aaron Cook cruises in masterful shutout effort [full count]
Aaron Cook May Be Working Into Solid Role in Red Sox Rotation [nesn.com]
Cook's two-hit shutout grounds Mariners [redsox.com]
Bard struggles yet again at Triple-A Pawtucket [redsox.com]
Valentine expecting strong outing from Beckett [redsox.com]
Ellsbury gets a hit in Minors rehab opener [redsox.com]
No regrets: With Cody Ross flourishing, Red Sox getting better end of trading Marco Scutaro [alex speier – weei.com]
For more slices of Red Sox goodness, head over to the Boston Globe, Boston Herald, CSN New England, ESPN Boston, NESN, Providence Journal, RedSox.com and WEEI websites.
And if you must check out the enemy news, head over to the Everett Herald, Seattle Times and Tacoma News Tribune websites.
Follow Ian on Twitter @soxanddawgs. And be sure to like us on Facebook as well.
photo credit: ap photo