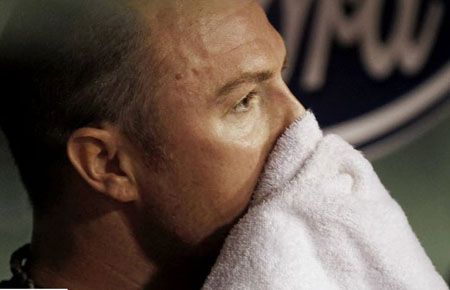 Well folks, the five-game winning streak is over after the Atlanta Braves came into Fenway Park last night and beat the Boston Red Sox 4-1. It also appears that the days of Kevin Youkilis wearing the local nine's uniform are just about over too.
The Red Sox offense, which had been hot as of late, was shutdown last night by a pitcher in Jair Jurrjens who had come into the game allowing more runs than inning pitched this season. They managed just three hits on the night.
The first one came in the 1st inning when Adrian Gonzalez singled. After that, only Daniel Nava (walk) and Will Middlebrooks (hit by pitch) reached base until Middlebrooks doubled in the 8th inning. Two batters later, the Red Sox got their only run of the night when Nava doubled in WMB. That was it for base runners on the night.
Jon Lester started this one for the Red Sox and while he made his pitches, he got hit around. All told on the night, he allowed 10 hits.
Honestly though, it wasn't as if Lester was leaving pitches up in zone or out over the meat of the plate. He made some good ones. Unfortunately the Braves bats find the ball and the openings.
Lastly, as I said at the beginning, Youk's day are numbered in Beantown.
He's all been all but replaced in the lineup by the hotter hitting Middlebrooks and there's rumors out there that he'll be traded shortly. It's a matter of when, not if it'll happen.
Sorry for this being short and sweet. I have some personal things to take care that will take up most of the day.
We'll be back later with today's lineups, batter/pitcher matchups and links from the day. So for now, let's take at look at the overnight links from the media by clicking on the read more button below if you're on the home page.
To open the links up in a new tab or window, use Control+click
Red Sox' win streak ends [boston globe]
Youkilis sits, Middlebrooks remains in lineup [boston globe]
Close to end, but still chipper [boston globe]
Bard will be back in bullpen when he returns [boston globe]
Streakin' no more: Jon Lester's frustrations grow, bats struggle [boston herald]
Michael Bourn backs Carl Crawford [boston herald]
Lester, Pedroia woes worthy of concern [boston herald]
Scott Atchison's role merits Star status [boston herald]
Daniel Bard, team agree: 'Pen his place [boston herald]
Hill ready to throw after second opinion [rob bradford – weei.com]
What becoming a full-time first baseman might mean for Adrian Gonzalez [rob bradford – weei.com]
Source: Red Sox will trade Kevin Youkilis 'sooner rather than later' [clubhouse insider]
Jurrjens silences Sox bats in return to Majors [csn new england]
Lester: 'I don't know what else to do' [csn new england]
Frustrated Lester searching for answers [csn new england]
Rally fizzles; Pedroia scuffles [csn new england]
Report: Sox close to trading Youkilis [csn new england]
Bard's thoughts on closing, velocity drop [espn boston]
Bobby Valentine on Michael Kay show [espn boston]
White Sox leading Youkilis sweepstakes? [espn boston]
Rapid Reaction: Braves 4, Red Sox 1 [espn boston]
Takeaways from stormy and dark Fenway [espn boston]
Kevin Youkilis on WAAF: Players 'tired' of redundant questions [full count]
Daniel Bard's Return to Bullpen Smart Move, Will Prevent Him From Becoming Next Joba Chamberlain [nesn.com]
Dustin Pedroia Must Get 'Hotter Than a Firecracker' for Red Sox to Sustain Success [nesn.com]
Jon Lester Insists He's Healthy, Can't Explain Reasoning Behind Subpar String of Starts [nesn.com]
After Cody Ross Planned to Lure Dan Uggla to San Francisco, Uggla Now Hopes to Recruit Ross to Braves [nesn.com]
Chipper Jones on Will Middlebrooks: "I'm starting to take notice" [projo sox blog]
Despite slump, Pedroia staying in two-hole [redsox.com]
Crawford set for Minors action Saturday [redsox.com]
Red-hot Middlebrooks starts over Youkilis [redsox.com]
Bard moving back to bullpen for rest of season [redsox.com]
Atchison pitching his case for All-Star nod [redsox.com]
For more slices of Red Sox goodness, head over to the Boston Globe, Boston Herald, CSN New England, ESPN Boston, NESN, Providence Journal, RedSox.com and WEEI websites.
And if you must check out the enemy news, be sure to head over to the Atlanta Journal-Constitution and Macon Telegraph websites. Also be sure to check out our Bloguin brother Chop-N-Change for all of your Braves needs.
Follow Ian on Twitter @soxanddawgs. And be sure to like us on Facebook as well.
photo credit: Getty Images