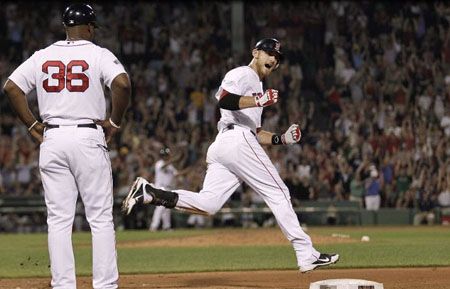 Don't look now folks but this "toxic" Boston Red Sox team is playing some good baseball right now.
The Red Sox rallied last night behind the "youth" of the organization for a 6-5 win over the Miami Marlins. The win gave the local nine a sweep of the three-game set with the Marlins and it was also their fifth straight win.
They now hold a one-game lead on last place over the Toronto Blue Jays and are just two games behind the Tampa Bay Rays for third and three games behind the Baltimore Orioles for second. By the way, those games behind the Rays is how close they are to the second wild card spot (yes, I know. It's way too early to be talking about the playoffs).
When I say "youth", I only say it that way because Daniel Nava is almost 30 years old. The other two principals of that "youth" though are 23 (Will Middlebrooks) and 24 (Ryan Kalish).
Middlebrooks did most of the damage last night with four RBIs including a huge two-run homer in the 8th that tied the game and also set the stage for the other stars of the show.
After WMB hit his 449 foot game tying homer, Kalish followed with a single. Instead of bunting, Mike Aviles grounded out to first on a hit and run play. Somehow though because of some aggressive base running by Kalish, he ended up at third base on an infield ground out. Nava came to the plate and the thought of another squeeze play was definitely there. Instead he roped Edward Mujica offering to center for a single that brought in the eventual winning run.
Since taking over for the Kevin Youkilis in the blow out win on Wednesday night, Middlebrooks is 4-for-5 with two home runs and six RBIs. Over the course of the three-game series with the Marlins, he went 6-for-8 with two home runs and seven RBIs. On the season now, WMB is hitting .316 with eight home runs and 31 RBIs in 38 games
And to think he's been raking at the plate with sporadic playing time since Youk has returned.
Now I know that friend of the site and friend in real life FC won't want to hear this as she is a huge Youk fan but his time is slowly but surely running out in Boston. In 41 games this season, Youk is hitting .225 with four home runs and 13 RBIs.
You tell me who you want in the lineup? Youk or WMB?
For me it's easy and it's nothing against Youk but I'd want Middlebrooks in my lineup every day. Sure Youk is proven in this league but Middlebrooks battled through a slump after his callup and has been nothing but consistent. The threat is there for him to get a hit every time he steps into the batter's box. With Youk at the plate, you're just not sure what you're going to get anymore.
Daisuke Matsuzaka started this one and it was the same old story. One bad inning followed by four shutdown innings. Maybe someone needs to tell Dice-K that when he takes the mound to start a game, he's already given up two-three runs.
In all seriousness though, whatever he is doing to prepare for the games probably needs to change. Because if he can get past that one bad early inning, he has the potential to stablize the rotation going forward.
This team is fun to watch again right now. Hopefully their good play continues in the final interleague series of the season when the Chipper Jones farewell tour hits the Fens for the weekend with the Atlanta Braves in town.
We'll be back later with today's lineups, batter/pitcher matchups and links from the day. So for now, let's take at look at the overnight links from the media by clicking on the read more button below if you're on the home page.
To open the links up in a new tab or window, use Control+click
Sox stay hot with sweep [boston globe]
Marrero eager to get started [boston globe]
A big blast from Ortiz [boston globe]
Energetic Kalish providing dash of excitement [boston globe]
Sox rally propelled by youth [boston herald]
Ryan Kalish gives an energy boost [boston herald]
Mixed roll for Dice [boston herald]
Ryan Kalish turns to Cody Ross for veteran advice [boston herald]
David Ortiz: I'm tired of the drama [boston herald]
John Henry happy with Sox' response [boston herald]
David Ortiz's Rant Against Media In Line With Big Papi's Character, Team's Changing Climate [nesn.com]
Middlebrooks leads Sox to 6-5 victory over Marlins, series sweep [csn new england]
Valentine: Middlebrooks is 'developing nicely' [csn new england]
Saltalamacchia: Matsuzaka 'battled' [csn new england]
Video: State of the Nation [espn boston]
Rapid Reaction: Sox 6, Marlins 5 [espn boston]
Video: BBTN on what's wrong with Sox [espn boston]
Andrew Bailey: 'I definitely see the light at the end of the tunnel' [full count]
Closing Time: Will and a way — Middlebrooks leads Red Sox to comeback victory [full count]
Opinion: David Ortiz wrong guy to deliver message [full count]
Daniel Nava and Ryan Kalish just worried about the here and now [full count]
David Ortiz's Outburst Another Sign of Leadership as He Deflects Attention From Clubhouse to Himself [nesn.com]
Red Sox Youth Movement Starts With Will Middlebrooks, But Ryan Kalish, Daniel Nava Key to Success [nesn.com]
Will Middlebrooks Proves to Be Consistent Threat Despite Inconsistent Playing Time [nesn.com]
Cody Ross Impressed With Red Sox Ability to Finish Off Comeback Win (Video) [nesn.com]
Curt Schilling 'Tapped Out' Financially, Says Money From Baseball Probably 'All Gone' [nesn.com]
Feeling the pain of David Ortiz [mike petraglia – weei.com]
Youkilis sits, Middlebrooks starts at third [redsox.com]
Bailey takes big step, throws bullpen session [redsox.com]
Crawford may play in Minors game Saturday [redsox.com]
Making it work: How Will Middlebrooks is making the most of a complicated situation [alex speier – weei.com]
For more slices of Red Sox goodness, head over to the Boston Globe, Boston Herald, CSN New England, ESPN Boston, NESN, Providence Journal, RedSox.com and WEEI websites.
And if you must check out the enemy news, be sure to head over to the Miami Herald, Palm Beach Post and South Florida Sun-Sentinel websites. Also be sure to check out our Bloguin brother Marlins Big Catch for all of your Marlins needs.
Follow Ian on Twitter @soxanddawgs. And be sure to like us on Facebook as well.
photo credit: Getty Images