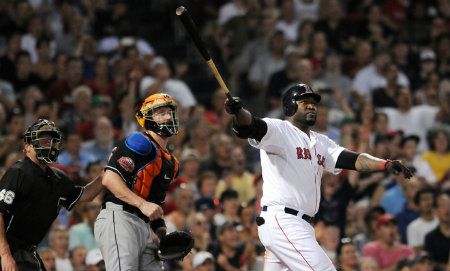 For at least today, the Boston Red Sox are no longer a last place team thanks to their 15-5 butt whopping of the Miami Marlins coupled with the Toronto Blue Jays losing on Wednesday.
We have seen this before and it didn't last long. Hopefully this time things are different and we watch the local nine climb the standings instead of yo-yoing back and forth between last and fourth place.
Felix Doubront was facing the Marlins for the second time in as many starts and like Clay Buchholz the previous night, the Marlins figured him out but not enough to cause as much damage. Sure Doubront gave up four runs in his six innings of work but the offense got him 13 runs while he was on the mound.
Since Daniel Nava was called up, he's been a catalyst when he's in the lineup. The Red Sox didn't play that bad while he was out with hand injury but in making his first start last night in a while, he responded with four hits atop the lineup.
Ryan Kalish, Jarrod Saltalamacchia, Kevin Youkilis and Mike Aviles all had two hits. Both David Ortiz, Cody Ross and Will Middlebrooks made their one hits count.
Ross' bases clearing double in the 3rd inning pushed the Red Sox lead to 6-2 after Mike Aviles had made it 3-2 good guys in the 2nd with a three-run blast. Big Papi put the game out of the reach in the 4th with a grand slam and that followed two batters later by Salty's solo home run.
Middlebrooks came in as a defensive replacement for Youk and made his one at-bat count with an absolute laser no-doubt two-run homer in the 8th.
If the Red Sox clubhouse is "toxic', it definitely didn't show last night. There were smiles all across the Red Sox dugout last night.
When things are going well for the Red Sox, they are undoubtedly one of the better teams in the league. What they need to do now is sustain what's been happening over this four-game win streak.
As you saw, the starting pitching hasn't been great. But the offense and bullpen have picked them up. And that's what makes a successful ball team.
We'll be back later with today's lineups, batter/pitcher matchups and links from the day. So for now, let's take at look at the overnight links from the media by clicking on the read more button below if you're on the home page.
To open the links up in a new tab or window, use Control+click
Sox pound Marlins [Boston Globe]
Efforts stepped up to trade Youkilis [Boston Globe]
Second heater showed Ortiz to be fast learner [Boston Globe]
Bats back Felix Doubront [Boston Herald]
Marlins' porous pitching staff also to blame for June swoon [Boston Herald]
David Ortiz the sole star in Sox' sky [Boston Herald]
Daniel Nava goes above, beyond [Boston Herald]
Dustin Pedroia OK after scare [Boston Herald]
Deven Marrero gets right to work [Boston Herald]
Kids have a ball with Red Sox [Boston Herald]
Where would the Red Sox be without David Ortiz? [Rob Bradford – WEEI.com]
Sox bats bash Marlins, 15-5 [CSN New England]
Marrero: 'I get to start my dream' [CSN New England]
Red Sox a house divided? [CSN New England]
Saltalamacchia: Doubront 'is doing a great job' [CSN New England]
Aviles: 'Everything's clicking' [CSN New England]
Boras pleased with Ellsbury's progress [ESPN Boston]
Boras 'very encouraged' by Dice-K [ESPN Boston]
Rapid Reaction: Red Sox 15, Marlins 5 [ESPN Boston]
Top pick Marrero signs, assigned to Lowell [ESPN Boston]
Nava shines in return to lineup [ESPN Boston]
David Ortiz keeps producing for Boston Red Sox [ESPN Boston]
Red Sox first-round pick Deven Marrero: 'This is real now — I get to start my dream' [Full Count]
Closing Time: David Ortiz leads Red Sox to rout of Marlins [Full Count]
Mike Aviles, Cody Ross and Daniel Nava are making David Ortiz really dangerous [Full Count]
Red Sox first-rounder Brian Johnson, third-rounder Austin Maddox close to deals [Full Count]
Dustin Pedroia Feels Confident He'll Return to Sox Lineup, Says He Didn't Re-Aggravate His Thumb Injury [NESN.com]
Bobby Valentine Has No Advice for Draftee Deven Marrero, But He Does Have Memories of Buying a Camaro [NESN.com]
Red Sox May Have More Experience Than Marlins When It Comes to Playing in Nasty Heat [NESN.com]
David Ortiz' Clutch Hitting, Leadership Continue to Strengthen Case for AL MVP [NESN.com]
Deven Marrero Savors First Moment As Professional Baseball Player, Will Report to Lowell To Start Sox Career [NESN.com]
Red Sox Unleash Three Weeks' Worth of Hitting Frustrations With Offensive Explosion Against Marlins [NESN.com]
David Ortiz Endorsed Hanley Ramirez's Switch From Shortstop to Third Base, Feels Proud of Protege's Sacrifice [NESN.com]
Crawford heads to Florida to continue rehab [RedSox.com]
Boras discusses Ellsbury deal, Dice-K's future [RedSox.com]
For more slices of Red Sox goodness, head over to the Boston Globe, Boston Herald, CSN New England, ESPN Boston, NESN, Providence Journal, RedSox.com and WEEI websites.
And if you must check out the enemy news, be sure to head over to the Miami Herald, Palm Beach Post and South Florida Sun-Sentinel websites. Also be sure to check out our Bloguin brother Marlins Big Catch for all of your Marlins needs.
Follow Ian on Twitter @soxanddawgs. And be sure to like us on Facebook as well.
photo credit: Getty Images