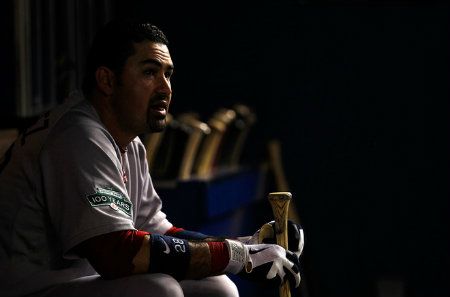 The Miami Marlins had lost six straight games. The Boston Red Sox had lost four straight games and five of their last six. The Marlins had an elite pitcher on the mound in Josh Johnson, the Red Sox in Josh Beckett.
Well, we all know what happens when the Red Sox face an elite pitcher. The bats go silent. And that's exactly what happened in last night's 4-1 loss to the Marlins at Marlins Park in the Little Havana section of Miami.
The Red Sox managed just four hits off of Johnson and then got the other one off of reliever Steve Cishek. They really only had Johnson on the ropes twice during the game and only managed just the one run.
They had him on the ropes in the 1st inning after Scott Podsednik singled and then he stole second before a walk to Dustin Pedroia. Johnson battled back though to strikeout Adrian Gonzalez, got David Ortiz to fly out and finished it off by getting Jarrod Saltalamacchia to fly out as well.
After Beckett struck out to start the 6th, Podsednik singled and went to third on a Pedroia double. Trailing 4-0 at the time, this would be a prime opportunity to get back in the game. Gonzalez would bring in the only run of the game for the Red Sox though with a sacrifice fly. Johnson avoided any more damage by getting Big Papi to fly out.
If you take away the 1st inning from Beckett's game, he was outstanding as he settled in. But, he gave up three runs in the 1st and after not taking advantage of Johnson the half inning before, the Red Sox were in a hole they wouldn't dig out of.
This Red Sox team, as good as it might be, just can't seem to string together a good run. And with the improved pitching they've been facing, if they can't hit it, they won't go anywhere.
It's shaping up to be a disappointing season for the Red Sox. Let's hope it turns around starting tonight.
We'll be back later with today's lineups, batter/pitcher matchups and links from the day. So for now, let's take at look at the overnight links from the media by clicking on the read more button below if you're on the home page.
To open the links up in a new tab or window, use Control+click
Johnson, Marlins keep Sox reeling [Boston Globe]
An equal exchange [Boston Globe]
Hill avoids surgery, but will miss a few weeks [Boston Globe]
Red Sox can't back Josh Beckett [Boston Herald]
Josh Johnson dominates under blue skies [Boston Herald]
Red Sox bats fail to do much damage [Boston Herald]
Bobby Valentine replays rant against umps [Boston Herald]
How Dustin Pedroia put concerns about his thumb in the rear-view mirror [Boston Herald]
First inning does Beckett, Sox in against Marlins [CSN New England]
Melancon perfect in one-inning return for Red Sox [CSN New England]
Beckett silent after mixed results vs. Marlins [CSN New England]
Bard gives up run in one inning out of PawSox pen [CSN New England]
State of the Sox: Our weekly notebook [CSN New England]
First pitch: Silent nights (and days) for Red Sox [CSN New England]
Rapid Reaction: Marlins 4, Red Sox 1 [ESPN Boston]
Beckett, Sox feel more frustration [ESPN Boston]
Salty: 'We know we're better than that' [ESPN Boston]
Bard not giving up on being a starter [ESPN Boston]
Closing Time: Too little, too late for Josh Beckett and Red Sox against Marlins [Full Count]
Ozzie Guillen is Even More Insane Than We All Thought [NESN.com]
Red Sox Need to Look Inwards, Not at Umpires, to Straighten Out Offensive Woes [NESN.com]
Mark Melancon Glad to Be Back in Big Leagues, Aims to Be More Aggressive (Video) [NESN.com]
Josh Beckett's Performance Could Suffer if Red Sox Offense Keeps Him in Pitcher's Purgatory [NESN.com]
Andrew Miller Overcomes Lack of Confidence, Returns to Face Former Team As Valuable Piece of Red Sox Bullpen [NESN.com]
Salty's game not generating All-Star votes [RedSox.com]
Ahead of schedule, Ross could return soon [RedSox.com]
Bobby V wants technology for balls and strikes [RedSox.com]
For more slices of Red Sox goodness, head over to the Boston Globe, Boston Herald, CSN New England, ESPN Boston, NESN, Providence Journal, RedSox.com and WEEI websites.
And if you must check out the enemy news, be sure to head over to the Miami Herald, Palm Beach Post and South Florida Sun-Sentinel websites. Also be sure to check out our Bloguin brother Marlins Big Catch for all of your Nationals needs.
Follow Ian on Twitter @soxanddawgs. And be sure to like us on Facebook as well.
photo credit: Getty Images