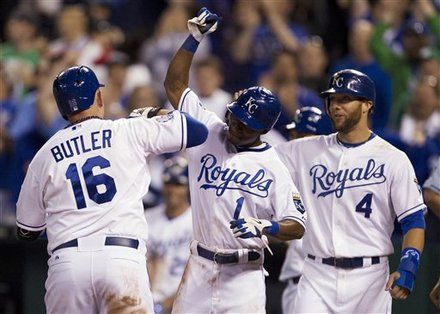 One big fat meatball pitch from Matt Albers was the final difference from keeping Daniel Bard from picking up his second win as a starter for the Boston Red Sox and third overall this season last night in Kansas City.
Look, I'm not going to bash Albers at all even with him serving up a three-run homer to Billy Butler that gave the Kansas City Royals the 6-4 win.
The Red Sox bullpen has been outstanding as of late despite the fact the local nine has lost six of their last seven games. If we were to get on anything at all, it should be the starting pitching.
Bard ventured to a place where he's normally comfortable, if he was still a reliever. For the first time this season, Bard pitched into the 8th inning. Take away his meltdown in the 2nd inning and the two walks to the last two batters he faced in the 8th, Bard threw the ball well and continued to be one of the, if not the only, consistent starter the Red Sox have had this season.
The 2nd inning runs were mostly his doing. Bard became too worried with the runners on base and lost his focus. He balked in a run and then committed another balk to move the runner to third only to see him come around to score on a Chris Getz single. Then he uncorked a wild pitch to move Getz into scoring position. Getz would score the third run of the inning on a Humberto Quintero single.
After that, Bard settled down as he retired 13 of the next 14 batters. He ran into some trouble in the 7th inning but was bailed out when the Royals tried a safety squeeze with runners on 2nd and 3rd. Alcides Escobar's bunt went right to Adrian Gonzalez who threw home to nail Jeff Francouer with Kelly Shoppach doing an excellent job of blocking the plate.
Will Middlebrooks got the Red Sox going offensively in the 2nd inning when he doubled and eventually scored on a Kelly Shoppach single. Unfortunately for the Red Sox and Middlebrooks, he had to leave with hamstring tightness, the same ailment that caused him to miss a game last week. The Red Sox added another run that inning when Dustin Pedroia reached on a bases loaded walk.
Pedroia provided the tying run in the 4th when he brought in former Royals SS Mike Aviles who had doubled the batter before. They took the lead in the 5th when Gonzalez scored on a throwing error.
Sure Gonzo has been struggling off and on for the past week or so. But if you watched his swing on his two hits last night, you could tell that he's found it again. Hopefully it sticks around for a while longer. For those of you worried about his numbers, I wouldn't be. He's one of the best hitters in the game and his numbers will come. Marlon Byrd also added two hits in the game.
This was definitely a game the Red Sox should have won. You could question as to why Bobby Valentine didn't bring in a reliever to start the 8th clean. But with Bard's pitch count under 100 at the time, it might be hard to second guess him.
A win tonight though against one of the worst teams in baseball would go a long way right now before heading back home to Fenway Park where they have struggled this season.
We'll be back later with today's lineups, batter/pitcher matchups and links from the day. So for now, let's take at look at the overnight links from the media by clicking on the read more button below if you're on the home page.
To open the links up in a new tab or window, use Control+click
No finishing touch as Royals top Sox [Boston Globe]
Gonzalez's birthday a Royal pain [Boston Globe]
Leg woes slow Middlebrooks [Boston Globe]
Times Co. reported near deal on Sox [Boston Globe]
No relief for Red Sox [Boston Herald]
Rare Daniel Bard balks come at bad time [Boston Herald]
Will-ing to be creative [Boston Herald]
Will Middlebrooks up, down [Boston Herald]
The search is still on for Daniel Bard's eighth-inning replacement [Rob Bradford – WEEI.com]
Butler's home run leads Royals to 6-4 win [CSN New England]
Middlebrooks leaves game with hamstring tightness [CSN New England]
Bard's late-inning control problems doom Red Sox [CSN New England]
Rapid Reaction: Royals 6, Red Sox 4 [ESPN Boston]
Middlebrooks: Hamstring 'not a big deal' [ESPN Boston]
Bard, Sox were smelling victory too soon [ESPN Boston]
Video: Kruk on what Sox need to improve [ESPN Boston]
Closing Time: Billy Butler, Royals spoil night for Daniel Bard, Red Sox [Full Count]
Will Middlebrooks Downplays Severity of Cramping Issue, Explains Team Just Playing It Safe [NESN.com]
Daniel Bard Still Learning How To Finish Games While Mixing Longevity With Efficiency [NESN.com]
Daisuke Matsuzaka Could Be Miracle Elixir for Red Sox Rotation Struggles [NESN.com]
Adrian Gonzalez Looks Like He May Be 'Rolling,' and That's Good for Red Sox [NESN.com]
Chat Live With Will Middlebrooks on NESN.com on Friday at Noon ET [NESN.com]
Brunansky's 'still in awe' over honor from Red Sox [Pawtucket Times]
Pena, Greenville 'pen combine on historic no-hitter [RedSox.com]
Valentine visits Negro Leagues Museum [RedSox.com]
Facing another lefty, Salty, Sweeney sit again [RedSox.com]
Red Sox enthused by Ellsbury's progress [RedSox.com]
Middlebrooks: Hamstring tightness not serious [RedSox.com]
Eighth-inning fatigue caps Bard's erratic night [RedSox.com]
For more slices of Red Sox goodness, head over to the Boston Globe, Boston Herald, CSN New England, ESPN Boston, NESN, Providence Journal, RedSox.com and WEEI websites.
And if you must check out the enemy news, be sure to head over to the Kansas City Star and Topeka Capital-Journal websites.
Follow Ian on Twitter @soxanddawgs. And be sure to like us on Facebook as well.
photo credit: AP Photo