The Boston Red Sox might want to think about moving all of the rest of their home games to the road.
With their 11-5 win last night against the Kansas City Royals, they are now 8-6 on the road. On the contrary, they are just 4-10 at home.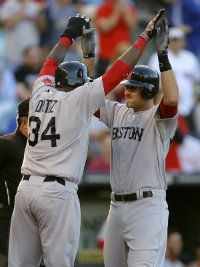 A big reason for their win on Monday night was the bat of Will Middlebrooks.
After connecting for his first home run, a grand slam on Sunday afternoon, he hit two more on Monday. The first one, an opposite field shot just inside the right field foul pole, gave the Red Sox a 4-0 lead in the 1st inning. His second home run came in the 8th inning when he provided the final margin of 11-5 with a two run homer.
In his first four games in the big leagues, Middlebrooks has three home runs and nine RBIs. He's hitting .382 with a slugging percentage of .952. There's been some clamoring amongst Red Sox fans on Twitter that Middlebrooks is quickly making Kevin Youkilis expendable.
Folks, that might not happen right away. It will eventually happen but four games is not a big enough sample size. As NESportsfan1317 put it on Twitter, "Keep in mind this is the first time pitchers are seeing #Middlebrooks. He will eventually need to make adjustments."
She's 100% right about that.
If Adrian Gonzalez can go through a rough patch, odds are Middlebrooks will too. But I will say this, the future for Middlebrooks is bright.
I really don't envy Bobby Valentine and Ben Cherington when they have to tell Middlebrooks he's going back to the PawSox when Youk returns.
The Red Sox needed Felix Doubront to pitch as long as he could last night with the bullpen being spent in Sunday's 17 inning affair. Well he made it into the 7th inning for the first time all season long but left with the bases loaded after walking in a run. Fortunately for him, Vicente Padilla bailed him out by getting a double play ball from Billy Butler.
And after throwing 31 pitches on Sunday, Padilla stayed in and pitched the final two innings to pick up the save. It was only shocking to me because Clayton Mortensen was the only reliever not to pitch on Sunday and yet he never even got up in the game.
Either way, Doubront was just good enough to get the win because the offensive helped him out.
After going 0-for-8 on Sunday, Gonzo went 2-for-5 with an RBI. Dustin Pedroia had a nice night at the plate going 2-for-3, including a two run homer with three RBIs and also walked three times. David Ortiz also reached base five times with three hits and two walks. One of his hits was a solo home run that tied him for 56th all-time in MLB with former Red Sox RF Dwight Evans.
Sure the Royals aren't a great team but this is what we expected from the Red Sox over the last home stanza. Winning three-games in Kansas City would be a nice way to return home with some confidence heading into their weekend set with the Cleveland Indians.
But for now, they do need to take things one day a time and hope for a nice outing from Daniel Bard tonight.
We'll be back later with today's lineups, batter/pitcher matchups and links from the day. So for now, let's take at look at the overnight links from the media by clicking on the read more button below if you're on the home page.
To open the links up in a new tab or window, use Control+click
Royal treatment [Boston Globe]
Coming out swinging [Boston Globe]
Doubront's outing is a big relief [Boston Globe]
Matsuzaka not wild about it [Boston Globe]
Beckett set to start Thursday [Boston Globe]
Sox take to road [Boston Herald]
Middlebrooks: Sox' Roy Hobbs [Boston Herald]
Aviles back on familiar ground [Boston Herald]
Sox hope time heals Buchholz [Boston Herald]
Red Sox slug way to win in Kansas City, 11-5 [CSN New England]
Doubront answers bell in win over Royals [CSN New England]
Middlebrooks credits hot start to approach at plate [CSN New England]
Matsuzaka pitches 4.2 scoreless innings for PawSox [CSN New England]
Matsuzaka has scoreless outing for PawSox [ESPN Boston]
Rapid Reaction: Red Sox 11, Royals 5 [ESPN Boston]
Doubront gives Sox what they need [ESPN Boston]
Middlebrooks siblings hit simultaneous homers [ESPN Boston]
Closing Time: Will Middlebrooks does it again, helps lead Red Sox to rout of Royals [Full Count]
Nuggetpalooza: A few Red Sox statistical nuggets from their win over the Royals [Full Count]
Red Sox Decline To Recall Reliever After Taxing Bullpen in Sunday's 17 Innings [NESN.com]
Felix Doubront Protects Exhausted Bullpen With Improved Efficiency on Mound [NESN.com]
Will Middlebrooks Continues Rapid Progression, Showing Power to All Fields During Historic Run [NESN.com]
Will Middlebrooks Reminding Red Sox What It Looks Like When Baseball Is Easy [NESN.com]
Dice-K still very much a big deal in Japan [Pawtucket Times]
Shoppach crosses triple off his to-do list [RedSox.com]
Twice as nice: Middlebrooks powers Red Sox [RedSox.com]
Beckett cleared for Thursday start against Tribe [RedSox.com]
Adrian not overly frustrated by 0-for-8 game [RedSox.com]
Melancon red-hot in Minors, but Sox stand pat [RedSox.com]
Aviles deal worked out for both Red Sox, Royals [RedSox.com]
Aviles enjoys return trip to Kansas City [RedSox.com]
Lavarnway making progress behind the plate [RedSox.com]
Improving on greatness: Dustin Pedroia looks poised for career year in 2012 [Alex Speier – WEEI.com]
For more slices of Red Sox goodness, head over to the Boston Globe, Boston Herald, CSN New England, ESPN Boston, NESN, Providence Journal, RedSox.com and WEEI websites.
And if you must check out the enemy news, be sure to head over to the Kansas City Star and Topeka Capital-Journal websites.
Follow Ian on Twitter @soxanddawgs. And be sure to like us on Facebook as well.
photo credit: Getty Images