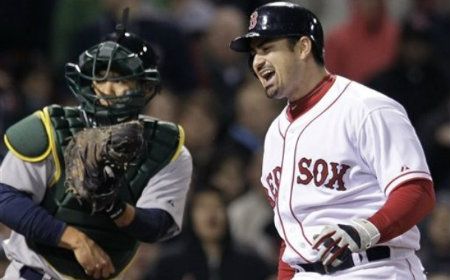 The cold, damp weather plus some good pitching in the last two games hasn't been kind to the Boston Red Sox at Fenway Park this week. And it's not expected to change until Sunday at the earliest. The weather that is.
Hopefully the weather along with some good Red Sox pitching cools off the surprising Baltimore Orioles who come to the Fens for a three-game weekend set. Sure it's early in the season but the Orioles are playing some good baseball right now as they sit at 16-9 and 1.5 games out of first place.
The last time the Red Sox faced the Orioles, the fortunes of the local nine changed. It was the Orioles who eliminated the Red Sox from a playoff spot in the last game of the 2011 season.
So while the players may not say this publicly, you have to think they would love nothing more than getting some revenge by picking up a weekend sweep. The Red Sox definitely could need that right now after dropping two straight games to fall back below .500 at 11-13.
The landscape of the AL East did change a little yesterday after the New York Yankees announced that closer Mariano Rivera would miss the rest of the season after tearing his ACL during batting practice. Yes he plays for the Yankees but Rivera has earned the respect of everyone. He's one of the few Yankees to get an "ovation" at Fenway Park.
But back to the Red Sox.
Right now Adrian Gonzalez is mired in a slump for the ages for him. He's 0 for his last 17 at the plate. We all know he's way too good of a hitter for this to happen. You can bet that he spent sometime yesterday on the off day analyzing his swing and I'd say he'll probably do more of that this afternoon before the game.
The Red Sox do have the right guy on the mound tonight in Jon Lester to turn things around. Lester has owned the Orioles in his career as he is 14-0 with 2.36 ERA in 18 career starts. We need his dominance of them to continue tonight.
As expected, the Red Sox called up Aaron Cook last night. He'll take the place of Josh Beckett on Saturday. The Red Sox sent down Jose Iglesias to make room for Cook. Iglesias had been called up to provide depth for Kevin Youkilis before he was placed on the DL and Will Middlebrooks came up.
We'll be back later with today's lineups, batter/pitcher matchups and links from the day. So for now, let's take at look at the overnight links from the media by clicking on the read more button below if you're on the home page.
To open the links up in a new tab or window, use Control+click
Red Sox sellout streak a real numbers game [Boston Globe]
Again, a Remy red flag [Boston Globe]
Hot spring [Boston Globe]
Barnes headed the right way [Boston Globe]
Iglesias down, Cook up [Boston Globe]
Few holes in new O's [Boston Herald]
LF Carl Crawford craves return to Sox lineup [Boston Herald]
NESN: Jerry Remy taking week off due to sinus infection [Boston Herald]
Welcome to Bobby Valentine Day! [CSN New England]
Still waiting on A-Gon [CSN New England]
Best and worst of April [ESPN Boston]
Things looking up for Red Sox bullpen [ESPN Boston]
Video: Exclusive with Oil Can Boyd [ESPN Boston]
It sure feels like a bridge year for Red Sox [Tony Massarotti – Boston Globe]
Daisuke Matsuzaka's Return Would Pose 'Million Dollar Question' for Red Sox Rotation (Podcast) [NESN.com]
Nick Punto Rocks Out to Zac Brown Band, Details the Origin of the Punto Slush and 'The Shredder' [NESN.com]
Middlebrooks' debut receives high marks [RedSox.com]
'Buckner ball' will be up for auction Friday [RedSox.com]
Full circle at Fenway: The making of Will Middlebrooks [Alex Speier – WEEI.com]
For more slices of Red Sox goodness, head over to the Boston Globe, Boston Herald, CSN New England, ESPN Boston, NESN, Providence Journal, RedSox.com and WEEI websites.
Follow Ian on Twitter @soxanddawgs. And be sure to like us on Facebook as well.
photo credit: AP Photo