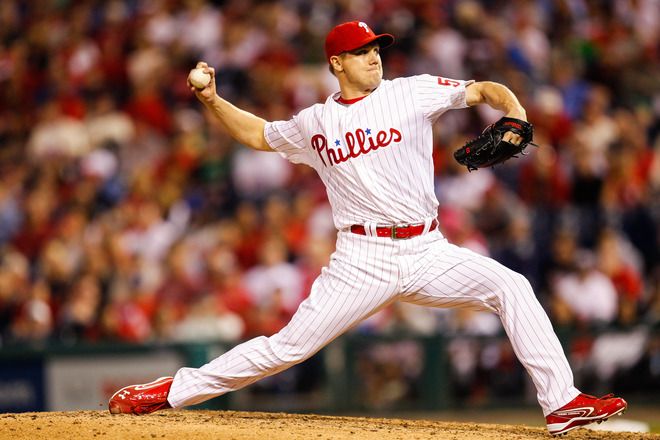 While Jonathan Papelbon and his Cinco Ocho alter-ego were hoping they would get a chance to shutdown his former Boston Red Sox teammates, I think collectively we were all hoping the new Philadelphia Phillies closer wouldn't get that chance. It's either that or we were hoping that if he did, he gave Phillies fans a heart attack like he did to us over the past six years.
It turned out Paps did get his chance and although it wasn't against the guys he really wanted to face, he got the job done to secure a 6-4 win for the Phillies on Friday night.
Despite out-hitting the Phillies 8-6 and out homering them 3-2, the Red Sox were done in by the inability of Daniel Bard to find the strike zone in the 1st inning. Actually he struggled with his command and location all game long but it was the that 1st inning where the Phillies did most of their damage.
He walked three of the first four batters he faced with the third one loading up the bases. The one who didn't reach, Juan Pierre, grounded out to second. Carlos Ruiz then singled in two runs, Ty Wigginton followed with a sac fly and that was followed by a John Mayberry RBI double. And just like that the Red Sox were trailing 4-0.
The Red Sox would claw back to within two runs when Mike Aviles homered off a Cole Hamels changeup in the 3rd inning and on Daniel Nava's sac fly in the 4th. But Hunter Pence would give the Phillies a three-run cushion with a monstrous solo blast in the 5th. Cody Ross (6th inning) and Adrian Gonzalez (8th inning) would add solo home runs of their own to cut the lead to 5-4.
But Franklin Morales finally turned mortal on the road and allowed a solo home run to Freddy Galvis that was enough cushion for Paps to do his job in the 9th.
I know that Daisuke Matsuzaka is supposedly not close enough to returning but the Red Sox do need to make a decision on what to do with him. Not only that but they'll also have Aaron Cook returning from the 15-day DL in a few days. Given the way the bullpen has pitched, it's hard to justify any one of them going down and unless an injury situation pops up for a starter, they decision won't be any easier.
I really don't see the Red Sox going with a six-man rotation at all. My personal feelings are that someone in the bullpen will have to be sent down with Bard going back down there, at least for the rest of the season. I think Bard can be a fine starter down the road but until he can workout his command issues, he's not really helping the Red Sox any more.
He was one of the most consistent starters earlier in the season but that's not the case now. He hasn't been able to strikeout as many batters as he did early on. Part of that is command and location, the other part is velocity.
We all knew there was going to be growing pains with him but there comes a time and a place where something needs to be done. If they do decide Dice-K is ready to contribute in the big leagues, it only makes sense to put Bard and not Felix Doubront back in the pen.
We'll be back later on today with today's lineups, batter/pitcher matchups and links from the day. So for now, let's take at look at the overnight links from the media by clicking on the read more button below if you're on the home page.
To open the links up in a new tab or window, use Control+click
With Bard wild, Red Sox quickly lose control [Boston Globe]
Papelbon saved his best for after the game [Boston Globe]
Injuries take out Saltalamacchia and Ross [Boston Globe]
Ticket shock [Boston Globe]
Wild Daniel Bard, ump rile up ejected Bobby Valentine [Boston Herald]
Same old Jonathan Papelbon rings up Sox [Boston Herald]
Will Middlebrooks soaks it all in [Boston Herald]
Give Kevin Youkilis a chance [Boston Herald]
The education of Daniel Bard marches on [Rob Bradford – WEEI.com]
Red Sox can't climb out of early hole, fall 6-4 to Phils [CSN New England]
Bard's control issue out of control [CSN New England]
Injuries continue to pile up for Red Sox [CSN New England]
Rapid Reaction: Phillies 6, Red Sox 4 [ESPN Boston]
Sox running out of time on Dice-K decision [ESPN Boston]
Boston Red Sox suffer litany of indignities at Philadelphia Phillies [ESPN Boston]
Closing Time: Jonathan Papelbon, Cinco Ocho, rest of Phillies top Red Sox [Full Count]
Jarrod Saltalamacchia 'Shook Up' After Ear Laceration, Leaving Red Sox Uncertain of Next Move [NESN.com]
Jenny Dell Sparks 'Best Cheesesteak in Philly' Debate on Twitter [NESN.com]
Daniel Bard Admits to Being in Funk, Bobby Valentine Frustrated With Pitcher's Walk Total [NESN.com]
Cody Ross Undergoes X-Rays After Fouling Ball Off Foot, Hoping for the Best Regarding Injury [NESN.com]
Daniel Bard Shoulders Blame for Loss to Phillies, Still Working Out Some Kinks in Delivery (Video) [NESN.com]
Bobby Valentine's Ejection Could Trigger Emergence of Whole New Side of Red Sox Skipper [NESN.com]
Jonathan Papelbon Brags That He Has 'Ice in His Veins' Closing Against Former Team [NESN.com]
Results aside, Dice-K pleased with outing [RedSox.com]
Hill has nothing but high praise for Wood [RedSox.com]
Close play at first leads to Valentine's ejection [RedSox.com]
Salty, Ross get banged up in loss to Phillies [RedSox.com]
Papi out of lineup, but pinch-hits in eighth [RedSox.com]
Bard's wildness, Papelbon's gas sink Red Sox [RedSox.com]
As Youk progress, Middlebrooks struggling [RedSox.com]
La Russa presents Punto with World Series ring [RedSox.com]
For more slices of Red Sox goodness, head over to the Boston Globe, Boston Herald, CSN New England, ESPN Boston, NESN, Providence Journal, RedSox.com and WEEI websites.
And if you must check out the enemy news, head over to the Philadelphia Daily News and Philadelphia Inquirer websites. You can also check out out Bloguin brother Macho Row.
Follow Ian on Twitter @soxanddawgs. And be sure to like us on Facebook as well.
photo credit: Getty Images