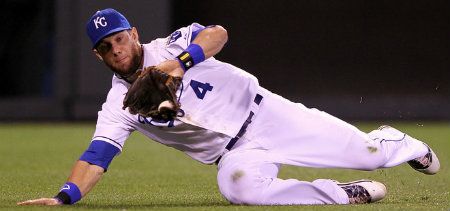 On paper, this was supposed to be a relatively easy stretch of nine games for the Boston Red Sox. They had three games each with the Oakland A's, Baltimore Orioles and Kansas City Royals.
Their record in those nine games was 2-7.
The Royals had been struggling at home having won their first two games of the season there in their previous series against the New York Yankees. And after the Red Sox came to town, they had two more wins.
A majority of baseball games are won on pitching and defense. Last night the Royals won the game on their defense while the Red Sox lost it on defense.
Sox starter Jon Lester was done in by his defense in the 1st inning when Marlon Byrd misplayed a line drive that allowed a run to score. Then Cody Ross made a catch in left and as he went to brace himself, the ball popped out of his glove and off the wall where he caught it again. The inning should have been over but the umpire ruled no catch and that allowed two more Royals to score.
In the 9th, the Royals defense saved the day.
With runners on second and third, Ryan Sweeney hit a liner to left that Alex Gordon made a sliding catch on. He quickly got up and threw the ball in preventing Darnell McDonald from tagging up and scoring the tying run. Had DMac tried to score, he probably would have been out by at least 45 feet. Royals closer Jonathan Broxton then got former Royals SS Mike Aviles to ground out to end the game.
After consistently being among the leaders in strikeouts, Lester's ability to finish off hitters just isn't there right now. He ended up with just three strikeouts on the night.
With the exception of a bad pitch by Matt Albers on Tuesday night, the Red Sox bullpen has been outstanding. That continued last night when Clayton Mortensen scattered three hits over the final three innings striking out one along the way.
Offensively, Aviles did lead the way for the visiting nine with a two-hit effort. Adrian Gonzalez ended up going 1-for-4 but his one hit was huge. It was his three-run double in the 3rd inning that tied the game up.
The Red Sox did play last night's game with a heavy heart as they lost a member of their family.
Fenway Park public address announcer Carl Beane passed away after suffering a heart attack while driving on Wednesday afternoon. It'll never be the same going to a game at the Fens.
Things won't be an easier for the Red Sox this weekend. The Cleveland Indians are playing some good baseball right now and hold the lead in the AL Central. They'll send former Red Sox pitcher Derek Lowe to the mound. The Red Sox will counter with Josh Beckett, who will probably have to answer a thousand questions on whether he went golfing before missing his last start after the game.
We'll be back later with today's lineups, batter/pitcher matchups and links from the day. So for now, let's take at look at the overnight links from the media by clicking on the read more button below if you're on the home page.
To open the links up in a new tab or window, use Control+click
Sox falter vs. Royals once again [Boston Globe]
Fenway voice Beane dies while driving [Boston Globe]
Beckett's golf game is at issue [Boston Globe]
This Ross 'pop out' really hurt [Boston Globe]
Jon Lester adds to woes atop Sox rotation [Boston Herald]
Fenway announcer's golden voice silenced [Boston Herald]
Bobby Valentine boils over [Boston Herald]
Can Josh Beckett swing this? [Boston Herald]
Will Middlebrooks hits, Kevin Youkilis sits [Boston Herald]
Red Sox let one slip through their fingers, 4-3 [CSN New England]
Lester: 'Just too many pitches' [CSN New England]
Valentine voices displeasure with umpires [CSN New England]
Rapid Reaction: Royals 4, Red Sox 3 [ESPN Boston]
Boston Red Sox's Bobby Valentine blasts umpires after loss at Kansas City Royals [ESPN Boston]
Closing Time: Jon Lester and the Red Sox lack finish in loss to Royals [Full Count]
Bobby Valentine Says Josh Beckett Wouldn't 'Jeopardize His Team or His Season' With Golf Outing [NESN.com]
Terry Francona, Curt Schilling Among Past Red Sox Remembering Carl Beane Fondly [NESN.com]
Jenny Dell Gets a Taste of Midwest Barbecue at Oklahoma Joe's in Kansas City (Video) [NESN.com]
Bobby Valentine Channels Inner 80's Rock Fan in Attempt to Instill Life in Red Sox [NESN.com]
David Ortiz's 10th Career Grand Slam and 1,000th RBI Earn Ketel One Honorable Moment [NESN.com]
Bobby Valentine Rips Umpiring Crew About Call on Marlon Byrd [NESN.com]
Cody Ross Thought He Caught Bobbled Ball That Resulted in Two Runs, Rule Book Says Otherwise [NESN.com]
Red Sox Need to Be Much Better at Fenway Park If They're Going to Turn Things Around [NESN.com]
How Should the Red Sox Honor Carl Beane During Thursday Night's Game? [NESN.com]
Carl Beane Was a Good Man Who Loved His Job, Will Be Remembered as Part of Red Sox Family [NESN.com]
Carl Beane was much more than the 'Voice of Fenway Park' [Mike Petraglia – WEEI.com]
Valentine lambastes umps following tough loss [RedSox.com]
Two non-catches result in three runs for Royals [RedSox.com]
Francoeur, Bard glad to help Joplin, Tuscaloosa [RedSox.com]
Boggs on Boyd: 'Delusional drug addict' [Alex Speier – WEEI.com]
For more slices of Red Sox goodness, head over to the Boston Globe, Boston Herald, CSN New England, ESPN Boston, NESN, Providence Journal, RedSox.com and WEEI websites.
And if you must check out the enemy news, be sure to head over to the Kansas City Star and Topeka Capital-Journal websites.
Follow Ian on Twitter @soxanddawgs. And be sure to like us on Facebook as well.
photo credit: Getty Images