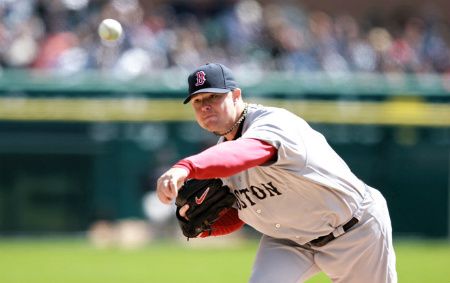 The 2012 season started it off the way it ended in 2011 for the Boston Red Sox; with a walkoff loss. This time around it was the Detroit Tigers instead of the Baltimore Orioles.
I'm not going to fault anyone here for the loss yesterday. It was game one of the 162 and the Red Sox weren't going to go through the season undefeated. Plus despite facing the reigning AL Cy Young and AL MVP, they didn't give up and fought hard to the end.
As you might have expected, the heavyweight pitching matchup between Jon Lester and Justin Verlander lived up to its advance billing. Both pitchers were outstanding. If you had to give an edge to either one of them, a slight one would go to Verlander.
He looked as though as he was in midseason form, that's not to say Lester wasn't but Verlander had all of his pitches working for him. His curveball was downright filthy as sent a few Red Sox players back to the dugout shaking their heads.
I told my dad last night that I'd rather face the New York Yankees 18 times in a season rather than see Verlander three or four more times if the Red Sox were in the same division as him. He's going to be a nightmare for other teams all season long.
As for Lester, he didn't really have a good feel of his curveball or changeup. But his fastball and cutter were nasty and that helped him match zeroes with Verlander. If it weren't for a Ryan Sweeney miscue, Lester may have not given up a run.
He ended up going seven innings, allowing one run on six hits and three walks. He did have four strikeouts. Vicente Padilla allowed a run on a hit and a walk in 1/3 of an inning while Franklin Morales was perfect in 2/3 of an inning.
Mark Melancon took the loss after allowing a run on two hits although it was Alfredo Aceves who allowed the game winning hit that drove in the winning run.
Offensively. the Red Sox managed just two hits off of Verlander, a David Ortiz double and a Sweeney single. They did manage to get to Jose Valverde in the 9th when Dustin Pedroia lead off with a double and went to third on an Adrian Gonzalez single. Pedey would come around to score on a Big Papi sac fly.
Sweeney would atone for his miscue in right when he tripled in pinch-runner Darnell McDonald to tie the game. But Valverde got Cody Ross to lineup setting up the Tigers heroics in the 9th.
This is going to be an interesting season for the Red Sox bullpen.
With Aceves as the closer, new guys are going to have to step up. For the most part last night that didn't happen. But it leads to an interesting thought.
Last year in a tight game like the one yesterday, Aceves probably would have been brought in for the 8th inning. But with him as the closer, that eliminates that option, at least for now.
The Red Sox are off today and return to the diamond on Saturday afternoon against the Tigers. So let's take at look at the overnight links from the media by clicking on the read more button below if you're on the home page.
To open the links up in a new tab or window, use Control+click
Eckersley mum on this subject [Boston Globe]
Close, but no [Boston Globe]
For starter Lester, it was back to the grind [Boston Globe]
Valued moment from Verlander, Ellsbury [Boston Globe]
Sweeney's debut a little hit and miss [Boston Globe]
On Day 1, a 2011 echo [Boston Globe]
Skipper able to manage his emotions [Boston Globe]
Justin Verlander comes with the right stuff on opening day [Boston Herald]
Jon Lester start all for nothing [Boston Herald]
'Pen in an Opening Daze [Boston Herald]
Red Sox open same way they close [Boston Herald]
New year, same fate [Boston Herald]
Ryan Sweeney's Red Sox debut is real three-for-all [Boston Herald]
Mark Melancon accepts a quick exit [Boston Herald]
Sox lost, but they're not hopeless [Boston Herald]
Dustin Pedroia still tops for Sox jersey sales [Boston Herald]
Life without Jonathan Papelbon a work in progress for Red Sox [Rob Bradford – WEEI.com]
Sweeney busy in Red Sox debut [CSN New England]
Lester does 'terrific' job against Tigers [CSN New England]
Rapid Reaction: Tigers 3, Red Sox 2 [ESPN Boston]
Cook getting work in at Pawtucket [ESPN Boston]
Middlebrooks off to strong start [ESPN Boston]
Lester gets no-decision vs. MVP Verlander [ESPN Boston]
Wall space wasn't reserved for Sweeney [ESPN Boston]
Boston Red Sox face closing controversy on Opening Day? [ESPN Boston]
Closing Time: Bullpen does in Sox in 3-2 Opening Day loss to Tigers [Full Count]
A loss with character? Red Sox take some solace in Opening Day defeat [Full Count]
This time, Jon Lester found his opening [Full Count]
Alfredo Aceves Plans to Draw Lessons From Hero Dennis Rodman As He Inherits Closing Duties [NESN.com]
Bullpen falters in loss to Tigers [Providence Journal]
Lester's stellar outing undone by one mistake [Providence Journal]
Red Sox Journal: Verlander picks up where he left [Providence Journal]
Bobby V. relishes being back in dugout [RedSox.com]
Ellsbury returns to familiar role in lineup [RedSox.com]
In Opening Day defeat, Sox put up good fight [RedSox.com]
New man in charge: Breaking down Bobby Valentine's first game as Red Sox manager [Alex Speier – WEEI.com]
Familiar opening scene for Red Sox [Touching All The Bases]
For more slices of Red Sox goodness, head over to the Boston Globe, Boston Herald, CSN New England, ESPN Boston, NESN, Providence Journal, RedSox.com and WEEI websites.
Follow Ian on Twitter @soxanddawgs. And be sure to like us on Facebook as well.
Photo credit: Getty Images