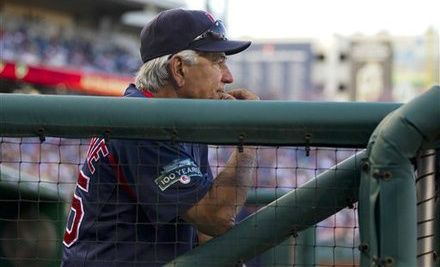 The 2012 season hasn't even started yet and it's already gotten off on the wrong thumb for the Boston Red Sox.
With rosters being due at 5 p.m. today into the MLB offices, one thing is for certain. Andrew Bailey will start the season on the disabled list. Heck, there's even a chance he might not be activated until September.
The early reports state that Bailey will miss at least three months while some say at least four months. Either way that's not a good thing.
One thing we do know is that Daniel Bard will not move from the rotation back to the bullpen. As far as who the closer is that's anyone's guess as well. New skipper Bobby Valentine has said that he will keep Bard in the bullpen and that the Red Sox won't go with a closer by committee.
That will leave the honors of closing out games for the Red Sox to Mark Melancon, Alfredo Aceves or quite possibly Vicente Padilla. Honestly, we just won't know until the roster is released who will be in the bullpen and from that we won't be able to figure it out. We can only hope that Valentine will meet with the media in Detroit tomorrow and make an announcement.
Otherwise, it's all speculation.
The Red Sox finished up their first spring training under Valentine with a record of 16-11 on the heels of a 8-7 win yesterday over the Washington Nationals at Nationals Park in Washington, DC.
Clay Buchholz made his final tuneup start before his regular turn on Sunday and pitched great for the first four innings as he shut down the first 12 batters he faced. He was tagged for a three-run homer in the 5th to Wilson Ramos and a solo home run in the 6th to Ian Desmond. But all in all, it was a good outing for him.
Justin Thomas had a rough go of things in his final audition to make the Red Sox bullpen. He allowed three runs on three hits and a walk in 2/3 of an inning. Michael Bowden walked two in 2/3 of an inning while Alfredo Aceves picked up the win after striking out two in an inning of work. Chorye Spoone picked up the save despite allowing a hit and a walk.
Spoone was bailed out by Jason Repko who threw out Desmond at the plate to end the game. Repko had driven in the winning run for the Red Sox in the top of the 9th with a double.
Depending on what Valentine decides to do, Repko may have played his way on the roster. But with the uncertainty of the bullpen right now, we can't be sure how the opening day roster will look except for the regulars.
So while we wait for Valentine to release his opening day roster, let's take at look at the overnight links from the media by clicking on the read more button below if you're on the home page.
To open the links up in a new tab or window, use Control+click
Buchholz on target in exhibition finale [Boston Globe]
Opportunity knocks [Boston Globe]
Surgery for Bailey; he's out 3-4 months [Boston Globe]
Closer job open again [Boston Herald]
Decisions looming for Red Sox [Boston Herald]
Surgery for Sox Bailey [Boston Herald]
Lester: Not being included in elite 'frustrating' [Rob Bradford – WEEI.com]
Analysis: Why Red Sox aren't replacing Andrew Bailey with Daniel Bard … yet [Clubhouse Insider]
With Bailey needing surgery, Red Sox bullpen unstable [CSN New England]
Sox going down to last minute on roster decisions [CSN New England]
Lucchino: Bobby's 'right guy at right time' [ESPN Boston]
Video: Edes on who will be Sox closer [ESPN Boston]
BBTN Video: Will Red Sox make playoffs? [ESPN Boston]
For openers, a quiz about Opening Day [ESPN Boston]
Should Daniel Bard be the closer? [Extra Bases]
No, Daniel Bard should not be the closer [Extra Bases]
Video: Cafardo discusses Bailey situation [Extra Bases]
Ben Cherington talks Andrew Bailey, Josh Beckett [Full Count]
Nuggetpalooza Red Sox preview: 25 guys, 25 nuggets [Full Count]
Here's an idea: Make Padilla the closer [Tony Massarotti – Boston Globe]
Adrian Gonzalez, Jacoby Ellsbury Have Best Odds for Red Sox Players to Win American League MVP [NESN.com]
Mark Melancon, Alfredo Aceves, Vicente Padilla Each Confident They Can Close If Necessary [NESN.com]
Pedro Ciriaco Sent Down to Triple-A Pawtucket, Still 'Very Happy' About Sensational Spring [NESN.com]
Jon Lester Has Best Odds Among Red Sox Pitchers to Win American League Cy Young This Season [NESN.com]
Alfredo Aceves Could Become Closer Due to Andrew Bailey's Injury, Will Be Big Part of Red Sox Success in 2012 [Don Orsillo – NESN.com]
New pitching coach McClure careful not to come on too strong [Providence Journal]
Amid all the changes, Magadan a steady presence [Providence Journal]
Red Sox Journal: Closing options mulled as Bailey faces surgery [Providence Journal]
Are Sox any better off this season? I don't see it [Providence Journal]
Lester growing into role as Boston's ace [RedSox.com]
Status seeker: After 'step back' in '11, Jon Lester looks to secure place among game's elite [Alex Speier – WEEI.com]
For more slices of Red Sox goodness, head over to the Boston Globe, Boston Herald, CSN New England, ESPN Boston, NESN, Providence Journal, RedSox.com and WEEI websites.
Follow Ian on Twitter @soxanddawgs. And be sure to like us on Facebook as well.
Photo credit: AP Photo