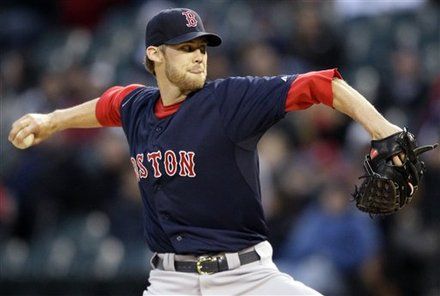 With Aaron Cook making his final start tonight for the Pawtucket Red Sox before his opt-out date on Monday, there have been whispers that Daniel Bard could be heading back to the Boston Red Sox bullpen for the rest of the season.
But after his seven inning performance last night in the 10-3 win over the Chicago White Sox, Bard is not making things easy on the Red Sox at all.
How do you justify taking him out of the rotation when he's thrown two straight quality starts, is tied for the team lead in wins at two (one came in relief) and leads the Red Sox starters with an ERA of 3.72? The next closest starter to him in ERA is Felix Doubront at 4.09.
Honestly, you can't justify at all.
The Red Sox have never come and said they wanted to limit his innings as a starting pitcher. He's thrown 19.1 so far this season. So you can throw that argument into the trash.
Sure he can help the bullpen out but the Red Sox bullpen has been a 1000 times better over the past five games. And with Rich Hill back from Tommy John surgery, the bullpen is much stronger now.
I highly doubt Cook would accept a bullpen role with the Red Sox but you never know. He's pitched well enough in Triple-A to earn a starting spot and if they don't offer him one on Monday, he could bolt to another team who needs a starter.
The Red Sox also have Daisuke Matsuzaka coming back in a month so a decision will have to be made about him as well. But at least that's another three weeks from coming to fruition.
So if you're the Red Sox, what do you do? Do you say Clay Buchholz, who's been the worst of the starters, has some weakness in his shoulder or some other phantom injury and send him out on a rehab assignment and bring up Cook? Do you put Doubront in the pen despite the fact he's pitched pretty well too? Or do they just tell Bard, look we need you in the bullpen?
One other option is a six-man rotation but I just don't see that fitting into the philosophy of what the Red Sox are doing.
Once again, the offense was outstanding.
David Ortiz continues to tear the cover off the baseball as he added another two hits including a two-run homer. Cody Ross returned from his sore knee after missing a game and had two hits and two RBIs while Dustin Pedroia added two hits.
Even Darnell McDonald got into the action last night with a career-high tying four RBIs that included a solo home run. It also looks like the change of scenery has done Marlon Byrd wonders as he had another two hits making him 7-for-22 since coming over from the Chicago Cubs.
Of the regulars on offense, Kevin Youkilis has the lowest batting average at .230. Everyone else is above .300. Given the fact the Red Sox started slowly this season, you wouldn't think that to be the case.
It may be cold in Chicago and New England for that matter but right now the offense is hot and things appear to be clicking on all cylinders.
Hopefully Jon Lester can continue that tonight in the Windy City.
We'll be back later with today's lineups, batter/pitcher matchups and links from the day. So for now, let's take at look at the overnight links from the media by clicking on the read more button below if you're on the home page.
To open the links up in a new tab or window, use Control+click
Red Sox win fifth straight [Boston Globe]
Reliever Hill back on the hill [Boston Globe]
They're on the road to redemption [Boston Globe]
Red Sox hot in cold [Boston Herald]
Crawford tries 'rich' idea [Boston Herald]
Big Papi equals Rice on HR list [Boston Herald]
Bard has rotation locked up [Boston Herald]
A look at why this starting thing is working out for Daniel Bard [Rob Bradford – WEEI.com]
Bard hangs White Sox out to dry [CSN New England]
McDonald gets hot in chilly Chi-Town [CSN New England]
Bard delivers best performance as starter [CSN New England]
Baldelli feels Crawford's pain [ESPN Boston]
Rapid Reaction: Red Sox 10, White Sox 3 [ESPN Boston]
Bard picks up 1st career win as starter [ESPN Boston]
Bard proving his worth as a starter [Extra Bases]
Closing Time: Darnell McDonald, Daniel Bard lift Red Sox to fifth straight win [Full Count]
Ski masks, big bats the order of the day for Cody Ross, Darnell McDonald [Full Count]
Darnell McDonald Shines As He Attempts To Continue Contributing Key Hits For Red Sox [NESN.com]
Daniel Bard Continues to Prove He Belongs in Red Sox Starting Rotation [NESN.com]
Daniel Bard Shows Mental Toughness in Friday's Start Amid Chatter About Relief Role [NESN.com]
Bard states convincing case for rotation [RedSox.com]
Ortiz taking what opposition gives him [RedSox.com]
Southpaw Hill returns to Red Sox bullpen [RedSox.com]
For more slices of Red Sox goodness, head over to the Boston Globe, Boston Herald, CSN New England, ESPN Boston, NESN, Providence Journal, RedSox.com and WEEI websites.
And if you must check out the enemy news, be sure to head over to the Arlington Heights Daily Herald, Chicago Sun-Times, Chicago Tribune and ESPN Chicago websites.
Follow Ian on Twitter @soxanddawgs. And be sure to like us on Facebook as well.
photo credit: AP Photo