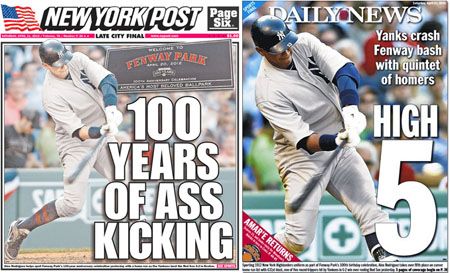 Given all the hoopla of the day with the events surrounding Fenway Park's 100th Anniversary celebration on Friday, that the Boston Red Sox would have put a better fight than they did. After all, there were some pretty famous alumni, legends if you will, on the field with them before the game.
The players of the past helped shape the Fenway Park into what it is now. A place where the dreams of baseball players and fans can come alive and be kids again.
Instead though, the New York Highlanders (Yankees) decided to spoil the party as they took a 6-2 win over the Red Sox behind five home runs and Ivan Nova's right arm.
All five of the home runs that the Yankees hit yesterday came off off Clay Buchholz. It's the second time this season a Red Sox starting pitcher has allowed five home runs in an outing. The other was Josh Beckett in his first start of 2012.
Buchholz certainly didn't do himself any favors as the home runs were hit on pitches that missed the location he was aiming for. It was like he was grooving them into the wheelhouse of the Yankees hitter during batting practice. They were perfectly located for a home run swing. The only good thing to come from the home runs if you were a Red Sox fan is that they were all of the solo variety so the Yankees weren't exactly blowing the local nine out.
But with Ivan Nova keeping the Red Sox hitters at bay by attacking the strike zone all afternoon, those solo home runs could have been two-run or three-run blasts as far as the scoreboard was concerned.
The start for Buchholz is concerning. It was his third straight start of 2012 that he hasn't performed up to expectations. Of course all the blame can't solely be placed on him as the offense is in a bit of a funk too.
Bobby Valentine tried to shake up his lineup on Friday afternoon in his first foray into the Red Sox/Yankees rivalry. While his "new" lineup resulted in ten hits on the afternoon, it only was able to push two runs across the plate.
The first run came off the bat of David Ortiz who hit a solo home run that was initially ruled a double before the umpires gave him a home run after looking at the replay. The other came when Mike Aviles doubled in Cody Ross after Nick Swisher lost the ball in the sun in right field. And by the way, both Ortiz and Aviles were the only members of the team with two hits on the afternoon.
Something needs to change with the Red Sox offense right now. Both Ryan Lavarnway and Will Middlebrooks are off to good starts in Triple-A Pawtucket. It is hard to make the case for Middlebrooks to come up though with Kevin Youkilis entrenched at third base despite his struggles. Youk did pick up a hit on the day to raise his average to .195.
But Lavarnway is a different story.
Jarrod Saltalamacchia has looked lost at the plate as his .103 average suggests. His OBP of .161 isn't helping matters either. Salty does have an option left on his contract so it's quite possible the Red Sox could send him down to let him work out the kinks with a little less pressure and have Lavarnway come up.
Whatever Ben Cherington and Valentine decide to do to get more out of this team, they need to do something quickly before things get out of hand.
On a different note, it was great to see all of the Red Sox legends past and present on the field at the same time. For me though, it was awesome to see Terry Francona put aside his differences and let the fans give him one final ovation. He definitely deserved it for all he did for the Red Sox during his time as skipper.
We'll be back later with today's lineups, batter/pitcher matchups and links from the day. So for now, let's take at look at the overnight links from the media by clicking on the read more button below if you're on the home page.
To open the links up in a new tab or window, use Control+click
Birthday bash [Boston Globe]
For longtime foes, nothing rivals in comparison [Boston Globe]
Not much fun being had by Buchholz this season [Boston Globe]
Some surprise names among the no-shows [Boston Globe]
Francona manages to put it aside [Boston Globe]
Vintage moments [Boston Globe]
Happy to be back, Martinez has ducks in a row [Boston Globe]
Fenway celebrates its first 100 years [Boston Herald]
Red Sox fall to Yankees, spoil Fenway centennial celebration [Boston Herald]
'Tito, Tito' gets his due [Boston Herald]
Hub's endless love for Pedro Martinez [Boston Herald]
Red Sox survive uniform evolution [Boston Herald]
Struggling Sox a real drag on Fenway bash [Boston Herald]
Double tear-jerker at Fenway Park [Boston Herald]
Blasts turn Clay's day to bust [Boston Herald]
Ancient rivals put damper on party [Boston Herald]
In these tough times, the Red Sox are still looking for their leader [Rob Bradford – WEEI.com]
Yankees crack five homers off Buchholz in 6-2 win over Red Sox [CSN New England]
Sox can't shake losing feeling [CSN New England]
Buchholz shelled by homers [CSN New England]
Salty's roster spot could be in danger [CSN New England]
Millar, Martinez revel in Fenway celebration [CSN New England]
Video essay: What makes Fenway special [ESPN Boston]
Sox players talk about Fenway [ESPN Boston]
Rapid Reaction: Yankees 6, Red Sox 2 [ESPN Boston]
Valentine: Buchholz is 'still building' [ESPN Boston]
Hurst brings attention to teen suicide [ESPN Boston]
Special day for Hurst, ex-teammates [ESPN Boston]
Video: Pedro's fond memories [ESPN Boston]
Video: Olney, Ravech on party, letdown [ESPN Boston]
Heart and soul return to Fenway Park [ESPN Boston]
Party poopers [ESPN Boston]
Pedro Martinez, Kevin Millar reflect on Fenway Park: 'There's nothing you can compare it to' [Full Count]
Closing Time: Yankees spoil birthday bash for Red Sox, Fenway Park [Full Count]
Clay Buchholz is off to a 'perplexing' start [Full Count]
In 100 Years, There Has Only Been One Tito [Hartford Courant]
Cody Ross, Red Sox, Struggling With 'Million-Dollar Question' [NESN.com]
Red Sox Stars in Awe of Pregame Ceremony, Thankful Team Legends 'Paved the Way' [NESN.com]
Which Injured Red Sox Player Will Have the Biggest Impact Upon Returning? [NESN.com]
Bobby Valentine, Red Sox Still Off the Mark As Early-Season Struggles Continue [NESN.com]
Red Sox Offense Must Produce More to Help Keep Pressure Off Pitching Staff [NESN.com]
Pedroia seeking return trip to All-Star Game [RedSox.com]
Loss dampens Red Sox's celebration [RedSox.com]
Return of 'family' sparks emotions at Fenway [RedSox.com]
Memories are what sets Fenway apart [RedSox.com]
Red Sox honor 100-year-old fan [RedSox.com]
Red Sox, Yankees transport back in time [RedSox.com]
Sox alums revel in Fenway's joyous spirit [RedSox.com]
For Buchholz and Red Sox rotation, trouble is starting early [Alex Speier – WEEI.com]
An appropriate birthday bash for Fenway [Touching All The Bases]
For more slices of Red Sox goodness, head over to the Boston Globe, Boston Herald, CSN New England, ESPN Boston, NESN, Providence Journal, RedSox.com and WEEI websites.
And if you must check out the enemy news, head over to the ESPN New York, New York Daily News, New York Post, New York Times and The Journal News websites. You can also check out our Bloguin brother, NYY Stadium Insider.
Follow Ian on Twitter @soxanddawgs. And be sure to like us on Facebook as well.