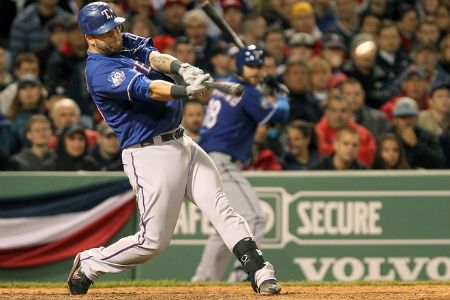 The nine-game homestand started out with such promise for the Boston Red Sox.
They took the first three games from the Tampa Bay Rays before falling in the finale. And now, after the Texas Rangers came in and swept the local nine, they now sit at 3-3 for the first six game and their AL East rivals the New York Yankees are looming over the weekend.
Someone in the front office might want to go out and spread some rumors about Mike Napoli so that he doesn't re-sign with the Texas Rangers or anywhere in the American League for that matter. Simply put, he's been a Red Sox killer over the years.
Coming off of a two home run night in the rout on Tuesday, all Napoli did last night was add a single, double and home run with 4 RBIs. His two run blast off of Josh Beckett turned out to be the difference in the game.
In 35 career games against the Red Sox, Napoli his hitting .302/.383/.716 with 14 home runs and 31 RBIs. 18 of those games have come at the Fens where he is hitting .328/.450/.759 with seven home runs and 17 RBIs.
Despite the fact that Beckett took the loss last night, he did everything in his power to keep the Red Sox in the game. His velocity was up a MPH or two on his fastball and while not as dominating as his last start, it was still a solid effort from the Texan.
He ran into some trouble in the 4th when former Red Sox David Murphy led off with a single and then Napoli crushed one out of Fenway to put the Rangers in front for good at 3-2. After that though, Beckett was dominating.
After the Napoli home run, he retired the next three batters along the way to retiring the final 12 he faced in the game. He seemed to work in more cutters and curves and they kept the Rangers hitters off of balance the rest of the way.
He also worked again with Kelly Shoppach again, hoping to keep the synergy up from the last start. My best guess is that this pair continues to work together as the season progresses.
Once again, Bobby Valentine made some questionable decision in regards to the bullpen. Of course, right now, there's not really any one person he can trust down there other than maybe Alfredo Aceves.
Franklin Morales was one of the bright spots so far down there as well but last night brought us a totally different story. He gave up a single, intentional walk and a walk of the conventional variety to load up the bases to face a righty in Craig Gentry. Instead of Valentine bringing in Matt Albers to face Gentry, he stood pat with Morales, who got 0-2 on him before plunking him in the foot to bring home a run.
After that happened, Morales gave up a double to the right-handed hitting Napoli and then intentionally walked the left-handed hitting Mitch Moreland. Valentine then finally went to Albers who got Brandon Snyder to ground into a double play to end the inning.
Ryan Sweeney continued his hot hitting coming off the bench this time to drive in a run in the 9th. Unfortunately though, pinch-hitter Jarrod Saltlamacchia lined in to a double play to end the rally and the game.
Valentine is having a really tough homestand. He's made a few made decisions and they've cost his team the game. You have to wonder if he's having trouble adjusting to managing the game, one that's changed a lot since he last managed in the big leagues in 2002.
The Red Sox are off today so we'll be back later on today with the pitching matchups for the series with the Yankees. So for now, let's take at look at the overnight links from the media by clicking on the read more button below if you're on the home page.
To open the links up in a new tab or window, use Control+click
Rangers rap Sox again [Boston Globe]
Francona changeup: He will be at Fenway [Boston Globe]
Their share of fond memories [Boston Globe]
Red Sox are sorely lacking [Boston Globe]
Ellsbury: no surgery needed [Boston Globe]
A tick up,then down for Josh Beckett [Boston Herald]
Terry Francona changes his mind [Boston Herald]
Valentine stands by, Red Sox lose [Boston Herald]
Offseason choices bring Red Sox no relief [Boston Herald]
Fenway ticket seekers 'pop' to it for centennial [Boston Herald]
When it comes to the Red Sox' bullpen, who do you trust? [Clubhouse Insider]
Rangers hand Red Sox third straight loss, 6-3 [CSN New England]
Sox offense continues unpredictable streak [CSN New England]
Valentine defends slow hook with Morales [CSN New England]
Valentine: Beckett 'pitched plenty good to win a game' [CSN New England]
Britton learns the hard way [ESPN Boston]
Rapid reaction: Rangers 6, Red Sox 3 [ESPN Boston]
Sox running hot-and-cold on homestand [ESPN Boston]
Boston Red Sox manager Bobby Valentine's not helping his cause [ESPN Boston]
Video: Cafardo analyzes Sox-Rangers [Extra Bases]
Closing Time: Mike Napoli, Rangers hand Red Sox another loss [Full Count]
Mike Napoli continues to be the toughest of outs for the Red Sox [Full Count]
Bobby Valentine is having to adjust to a whole new (Twitter-driven) world [Full Count]
Kevin Youkilis Unloads First Homer, Points To Jeff Bagwell's Example Of Snapping Slumps [NESN.com]
Jon Lester May Replace Daniel Bard In Rotation for Weekend Series Against Yankees [NESN.com]
Bullpen Woes Plague the Red Sox Once Again And Highlight Concern Heading Into Yankees' Series [NESN.com]
Bobby Valentine Continues to Shake Off Managerial Rust With Questionable Bullpen Decisions [NESN.com]
Tris Speaker and David Ortiz, Czar Nicholas II and Vladimir Putin Among Famous Faces From Then and Now as Fenway Park Turns 100 [NESN.com]
Fenway Park Has Seen Changes, But Bears Plenty of Resemblance to Its 1912 Self (Photos) [NESN.com]
Upbeat Ellsbury focused on rehab of shoulder [RedSox.com]
The renovations that did not reshape Fenway Park: Wild ideas left on the cutting-room floor [Alex Speier – WEEI.com]
Looking forward to the Red Sox reunion [Touching All The Bases]
For more slices of Red Sox goodness, head over to the Boston Globe, Boston Herald, CSN New England, ESPN Boston, NESN, Providence Journal, RedSox.com and WEEI websites.
Follow Ian on Twitter @soxanddawgs. And be sure to like us on Facebook as well.
photo credit: Getty Images