When Josh Beckett was introduced during the opening ceremonies for the 2012 Boston Red Sox home opener at Historic Fenway Park, there were a smattering of boos mixed in with some cheers. By the time he walked off the mound in the 8th inning, there were no boos heading his way.
Just a standing ovation from the crowd.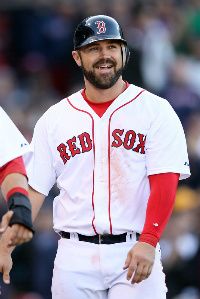 Beckett's pitching along with the day his batterymate Kelly Shoppach had were the big reasons the Red Sox won their home opener 12-2 over their AL East rivals the Tampa Bay Rays.
Of course this was all overshadowed by the injury suffered by Jacoby Ellsbury when he tried to break up a double play and Rays shortstop Reid Brignac came down on his right shoulder. The initial reports are that Ellsbury has a shoulder dislocation and will miss 6-8 weeks. An official announcement from the Red Sox should come at some point today.
For the second straight start, Beckett's velocity was down a few miles per hour from where it normally is. But that really didn't matter on Friday.
Beckett was able to mix in all of his pitches and command all of them. His changeup might have been his best pitch of the afternoon. With his velocity down so were the strikeouts. Beckett had at least one strikeout in his 280 career games and he almost didn't get there until he struck out Carlos Pena in the 8th inning which turned out to be his final inning.
Beckett would have probably gotten the chance to go for the complete game win since he had thrown an economical 94 pitches through eight innings. He didn't get that chance though as his teammates put up an eight spot in the bottom half of the inning.
Given that Beckett did so well with Shoppach behind the plate, it wouldn't surprise me to see the two paired up again in his next start. Of course it also didn't hurt that Shoppach was 3-for-4 with three RBIs, three runs scored and his first career stolen base in his first attempt. And it was a stolen base that he'll never forget due to the ugliest slide and steal of second you'll ever see.
Shoppach was the catalyst on the offense though.
He started off the 3rd inning by getting hit with a David Price pitch and came around to score one of three runs the Red Sox put up in the inning. With one out in the 4th, he doubled off of Burke Badenhop and came around to score on an Ellsbury single. And in the 8th, he doubled in two of the eight runs on the inning.
Of the starting nine players on offense, only Cody Ross didn't have a hit. Ross however did knock in a run with a sacrifice fly and was outstanding defensively in center after Ellsbury left the game. Adrian Gonzalez joined Shoppach with three hits on the afternoon with an RBI. Kevin Youkilis looks to be warming up offensively as he had two hits and three RBIs while David Ortiz knocked in two runs on two hits as well.
Given the poor start, it was nice to see the Red Sox come out and make Price work. They got him out of the game after three innings. We're used to seeing the Red Sox do that to pitchers and that was something they hadn't done in the first six games.
Hopefully they can do that again this afternoon.
We'll be back later on today with this afternoon's lineups, batter/pitcher matchups and links from the day. So for now, let's take at look at the overnight links from the media by clicking on the read more button below if you're on the home page.
To open the links up in a new tab or window, use Control+click
Rays of light for Beckett [Boston Globe]
Gain and pain [Boston Globe]
Shoppach thrilled to bag his first stolen base [Boston Globe]
Lengthy absence would really hurt [Boston Globe]
Safe at home [Boston Globe]
As if one were needed, reminder of a fried season [Boston Globe]
Pair are masters of the ceremony [Boston Globe]
Crawford close to seeing game action [Boston Globe]
Scott stands behind comments about Fenway [Boston Globe]
Much lost in win [Boston Herald]
Hard play, harder hurt [Boston Herald]
Shopp 'til he flops [Boston Herald]
No twiddling Sox' thumbs [Boston Herald]
Cody Ross now man in middle [Boston Herald]
Optimism shines through at Fenway [Boston Herald]
Center of concern [Boston Herald]
Last mound visit for Wake, Tek [Boston Herald]
Jacoby Ellsbury injury a reminder of '10 nightmare [Boston Herald]
Varitek, Wakefield honored with first pitch at Opening Day [CSN New England]
Beckett, Sox blow away Tampa Bay, 12-2 [CSN New England]
Shoppach gets first steal; keeps base [CSN New England]
Beckett flips script, dominates Rays [CSN New England]
Beckett, Shoppach groove together [CSN New England]
Rapid reaction: Red Sox 12, Rays 2 [ESPN Boston]
SB makes Shoppach's great day historic [ESPN Boston]
Best guess for Ells? 6 weeks minimum [ESPN Boston]
Josh Beckett aces Boston Red Sox home opener test [ESPN Boston]
Hill continues his progress [Extra Bases]
What are the potential implications of Jacoby Ellsbury's injury? [Full Count]
Closing Time: Josh Beckett dominates Rays; Jacoby Ellsbury injured [Full Count]
Worst-case scenario for Jacoby Ellsbury? Very, very bad [Full Count]
Josh Beckett Far From A Punch Line In Fenway Opener [Hartford Courant]
Does Tampa Bay Have the Best Starting Rotation in Baseball? [NESN.com]
Red Sox Worried About Jacoby Ellsbury's Injury, Prepared to Adapt If It's Deemed Serious [NESN.com]
Josh Beckett's 'Perfect Outing' Jump-Starts Red Sox Season and Pitcher's Possible Cy Young Candidacy [NESN.com]
Cherington takes Red Sox's slow start in stride [RedSox.com]
Shoppach steals show with stolen base [RedSox.com]
Bittersweet first Fenway opener for Bailey [RedSox.com]
Crawford set to start extended spring games [RedSox.com]
Red Sox staff uses off-day for good cause [RedSox.com]
Wake, 'Tek enjoy emotional day at Fenway [RedSox.com]
Sox fan to celebrate his and Fenway's 100th [RedSox.com]
Everything's not Jake: Sox prepare for life without Jacoby Ellsbury [Alex Speier – WEEI.com]
Red Sox find the comforts of home [Touching All The Bases]
For more slices of Red Sox goodness, head over to the Boston Globe, Boston Herald, CSN New England, ESPN Boston, NESN, Providence Journal, RedSox.com and WEEI websites.
And if you must check out the enemy news, head over to the Tampa Bay Times and Tampa Tribune websites.
Follow Ian on Twitter @soxanddawgs. And be sure to like us on Facebook as well.
photo credit: Elsa – Getty Images