The Boston Red Sox look to keep their slim playoff hopes alive and at the same time play spoilers as they take on the New York Yankees tonight in the first game of a three-game set at Yankee Stadium.
This evening's game will start at 7:05 p.m. and will be shown on NESN in the Red Sox television market. The game can be seen in the Yankees television market on YES. If you don't live in either market you are in luck as the game will also be shown on the MLB Network. If you can't catch the television broadcast, you can always listen to the game on the 2010 Red Sox radio network.
Josh Beckett looks to improve his string of consecutive quality starts to six in his 20th start of 2010. In his previous 19 starts, Beckett is 5-5 with a 5.71 ERA. He hasn't had much success against the Yankees in 2010 as he is 0-2 with an 11.17 ERA in four starts. Beckett has made 21 career regular season starts against the Bronx Bombers and is 9-7 with a 6.23 ERA. He's made ten career start in the Bronx and is 5-3 with a 5.49 ERA.
Andy Pettitte makes his second start since returning from the DL as he looks to keep his team on top in the AL East. Pettitte has made 19 starts this season and sports a record of 11-2 with a 2.81 ERA. He's made only one start against the Red Sox in 2010 back on April 7th where he received a no decision after allowing one run in six innings. He's made 37 career appearances (35 starts) against the Red Sox in his career and is 18-9 with a 3.68 ERA.
If you're on the home page, click the read more button below for the lineups, batter/pitcher matchups and pregame links.
And here is how hitters have fared against this evening's starting pitchers: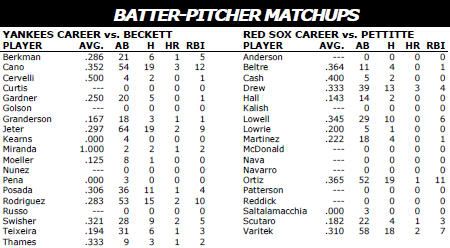 Check back often or refresh the page as more links will be added if/when they become available up to game time.
To open the links up in a new tab or window, use Control+click
Red Sox' Saltalamacchia out for rest of season [CSN New England]
Send a birthday greeting to Johnny Pesky [ESPN Boston]
Will Red Sox play the spoiler to Yankees? [ESPN Boston]
Beckett, Dice-K look to reverse trends [ESPN Boston]
Two old rivals pretty much even [Extra Bases]
Yankees bump Hughes, will start Moseley [Extra Bases]
David Ortiz won't feel 'comfortable' with one-year deal [Full Count]
Can Josh Beckett Deliver 20-Win Season Again? [NESN.com]
Heidi Watney Lights Up Camera During Red Sox Games [NESN.com]
Jon Lester Eyes Career Year Even as Playoff Hopes Dwindle [NESN.com]
Report: CC Sabathia Doesn't Think Victor Martinez Will Remain With Red Sox [NESN.com]