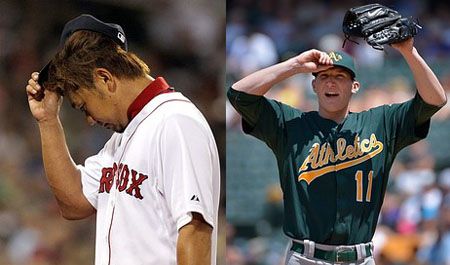 After splitting the four-game set with the Seattle Mariners, the Boston Red Sox travel down the left coast to finish up their seven-game west coast road trip. They'll kick that off tonight with the first of a three-game set with the Oakland Athletics at O.co Coliseum.
First pitch is scheduled for 10:05 p.m. and will be broadcast on NESN in the Red Sox television market. If you live in the Athletics television market, you can catch the game on CSN California. If you can't catch the television broadcast, you can always listen to it on the Red Sox radio network.
Daisuke Matsuzaka looks to get his first win of the season in his fifth start of 2012. In his previous four starts, Matsuzaka is 0-2 with a 4.91 ERA. He last faced the A's in 2010 when he went 2-0 with a 2.70 ERA (4 ER/13.1 IP) in two starts. He's made seven career starts against the A's and is 4-1 with a 3.69 ERA. Five of those starts have come on the road where he is 2-1 with a 3.76 ERA. Four of those starts have come at O.co Coliseum where he is 2-1 with a 3.80 ERA. The other road start against A's came in the Toyko Dome in 2008.
Jarrod Parker toes the rubber for the 13th time in 2012 for the A's. In his previous 12 starts, Parker is 4-3 with a 2.57 ERA. His lone career start against the Red Sox came earlier this season when he picked up the win after allowing one earned run in 6.1 innings of work back on May 1st.
Click on the read more button below to see today's lineups, batter/pitcher matchups and links from the overnight and day if you're on the home page.
Here are today's lineups:
And here is how the hitters have fared against today's starting pitchers: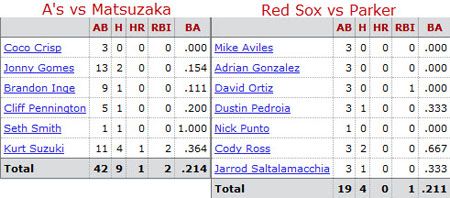 NOTES:

REFRESH OR CHECK BACK OFTEN AS MORE LINKS WILL BE ADDED BEFORE GAMETIME IF/WHEN THEY BECOME AVAILABLE AND WILL BE BOLDED
To open the links up in a new tab or window, use Control+click
Red Sox Sign No. 17 International Prospect Jose Almonte [baseball america]
Jacoby Ellsbury homers in GCL; Carl Crawford headed for Portland [clubhouse insider]
Will Middlebrooks feeling better, but DL remains possible [clubhouse insider]
Crawford to continue rehab in Portland Tuesday [csn new england]
First Pitch: Phils show Sox just how bad things could be [csn new england]
Sox' Middlebrooks (hamstring) out Monday against A's [csn new england]
Crawford heads to Portland, Ellsbury not far behind [csn new england]
Sox face impressive A's rookie Parker tonight [espn boston]
SoxProspects: Bogaerts hot stuff in June [espn boston]
PawSox ace Germano mulling his options [espn boston]
Prior (oblique) working his way back [espn boston]
Ellsbury homers in rehab game [espn boston]
Ask Nick: Will Red Sox trade for an ace? [extra bases]
Jacoby Ellsbury homers in GCL game; Carl Crawford shifted to Portland [extra bases]
Middlebrooks not on DL, at least not yet [extra bases]
David Ortiz still proving doubters wrong [tony massarotti – boston globe]
Adrian Gonzalez, Eastern Bank Launch 'Mentoring Wins' Sweepstakes With $2,500 Grand Prize [nesn.com]
David Ortiz Swats Away Media as Red Sox Continue to Surge [nesn.com]
Red Sox Could Use Extended Dustin Pedroia Laser Show and Other Thoughts From the Week in Baseball [nesn.com]
Which Red Sox Call-Up's Success Has Been Most Surprising? [nesn.com]
Will Middlebrooks Sits as Red Sox Play With Thin Bench (Video) [nesn.com]
DL a possibility for Middlebrooks [projo sox blog]
Ellsbury homers, Crawford to Portland [projo sox blog]
Righty Mortensen a lefty specialist? [projo sox blog]
Hill on schedule with rehab [projo sox blog]
Making fifth start, Dice-K aiming for first win [redsox.com]
DL stint possible for Middlebrooks [alex speier – weei.com]
Follow Ian on Twitter @soxanddawgs. And be sure to like us on Facebook as well.
photo credits: getty images, getty images