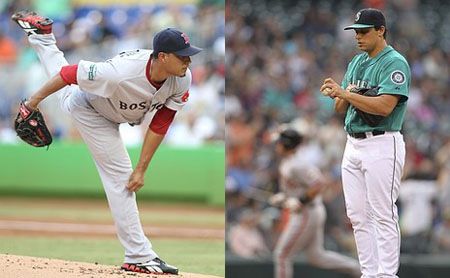 After falling 3-2 in 11 innings last night, the Boston Red Sox will try this afternoon to gain a split in the finale of a four-game set with the Seattle Mariners at Safeco Field in Seattle, WA.
First pitch is scheduled for 4:10 p.m. and will be broadcast on NESN in the Red Sox television market. If you live in the Mariners television market, you can catch the game on ROOT Sports. If you can't catch the television broadcast, you can always listen to it on the Red Sox radio network.
Felix Doubront looks to help the Red Sox gain that split of the series in his 16th start of 2012. In his previous 15 starts, Doubront is 8-4 with a 4.54 ERA. His only career appearance against the Mariners came into 2010 out of the bullpen when he didn't allow a run in 1.1 innings of work. This afternoon's start will mark his first appearance at Safeco Field.
Jason Vargas will make his 18th start of 2012 this afternoon. In his previous 17 starts, Vargas is 7-7 with a 4.54 ERA. He's made one start against the Red Sox this season and took the loss after allowing five runs in six innings back on May 12th. He's made four starts against the Red Sox in his career and is 1-2 with a 4.26 ERA. Two of those starts have come at Safeco Field where he is 0-1 with a 2.19 ERA (3 ER/12.1 IP).
Click on the read more button below to see today's lineups, batter/pitcher matchups and links from the overnight and day if you're on the home page.
Here are today's lineups:
And here is how the hitters have fared against today's starting pitchers: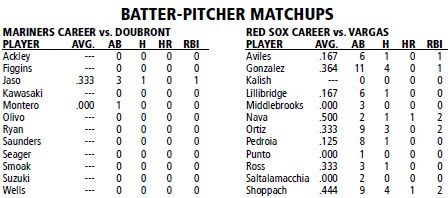 NOTES: Mike Aviles was in the original lineup but was scratched due to illness. He was replaced by Punto at short.

REFRESH OR CHECK BACK OFTEN AS MORE LINKS WILL BE ADDED BEFORE GAMETIME IF/WHEN THEY BECOME AVAILABLE AND WILL BE BOLDED
To open the links up in a new tab or window, use Control+click
Jarrod Saltalamacchia: 'I felt like I deserved' to be an All-Star [clubhouse insider]
Ortiz only Red Sox named to All-Star Game [csn new england]
Saltalamacchia disappointed in All-Star snub [csn new england]
Starter Ortiz lone Sox player on All-Star team [espn boston]
Pitchers, Saltalamacchia establishing strong rapport [projo sox blog]
The Best and Worst of June [projo sox blog]
Saltalamacchia disappointed to not make All-Star team [projo sox blog]
Ortiz Boston's lone Star [projo sox blog]
Doubront looks to bounce back against Seattle [redsox.com]
Follow Ian on Twitter @soxanddawgs. And be sure to like us on Facebook as well.
photo credits: getty images, getty images