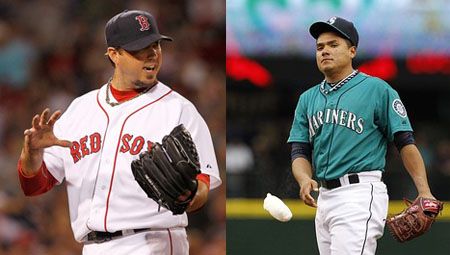 After winning 5-0 last night, the Boston Red Sox look to secure a least a split of the series tonight in the third game of a four-game set with the Seattle Mariners at Safeco Field in Seattle, WA.
First pitch is scheduled for 10:10 p.m. and will be broadcast on NESN in the Red Sox television market. If you live in the Mariners television market, you can catch the game on ROOT Sports. And if you don't live in either market, you're in luck as the MLB Network will have coverage of the game (not in Red Sox or Mariners television markets). If you can't catch the television broadcast, you can always listen to it on the Red Sox radio network.
After being placed on the 15-day DL with shoulder inflammation, Josh Beckett returns to make his 13th start of the 2012 season. In his previous 12 starts, Beckett is 4-7 with a 4.14 ERA. He's made one start against the Mariners this season picking up the win after throwing seven shutout innings back on May 15th. In his career, Beckett is 7-2 with a 3.03 ERA in 10 career starts. Four of those starts have come at Safeco Field where he is 2-1 with a 3.33 ERA.
Erasmo Ramirez makes his fourth start (11th appearance) of 2012 tonight for the struggling Mariners. In his previous 10 appearances (three starts), Ramirez is 0-2 with a 4.18 ERA. In his three starts, he is 0-2 with a 5.29 ERA. Tonight marks his first career start and appearance against the Red Sox.
Click on the read more button below to see today's lineups, batter/pitcher matchups and links from the overnight and day if you're on the home page.
Here are today's lineups:
And here is how the hitters have fared against today's starting pitchers:
NOTES: With Beckett returning from the disabled list, Darnell McDonald was designated for assignment. DMac broke the news himself on Twitter.

REFRESH OR CHECK BACK OFTEN AS MORE LINKS WILL BE ADDED BEFORE GAMETIME IF/WHEN THEY BECOME AVAILABLE AND WILL BE BOLDED
To open the links up in a new tab or window, use Control+click
Jarrod Saltalamacchia on possible All-Star nod: 'I'm hoping it happens' [clubhouse insider]
Red Sox notes: Aceves looking to get some work [csn new england]
Beckett off DL to start [espn boston]
Roster decisions are coming for the Red Sox [extra bases]
Crawford and Ellsbury play again in GCL [extra bases]
Valentine: McDonald's number was up [extra bases]
Aaron Cook's unique complete game [extra bases]
Is Daniel Bard a lost cause? [full count]
Do You Want David Ortiz to Hit His 400th Career Home Run at Fenway Park? [nesn.com]
Aaron Cook Earns Amica Pitcher of the Week Honors With Third Career Shutout [nesn.com]
Rehab update: Ellsbury, Crawford [projo sox blog]
Valentine looking to get Aceves and Padilla some work [projo sox blog]
Making third start, Ramirez to face Red Sox [redsox.com]
Follow Ian on Twitter @soxanddawgs. And be sure to like us on Facebook as well.
photo credits: getty images, ap photo