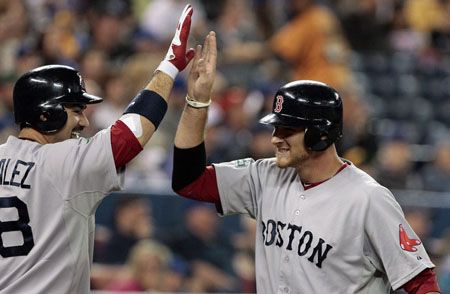 Mom, pack up our stuff from the basement. We're moving out, hopefully for good on our way to a higher place in the brick house that is called the AL East.
That's right folks, after beating the Toronto Blue Jays 7-4 on Saturday afternoon, the Boston Red Sox are no longer in place. That belongs to the Jays now. Meanwhile, the Red Sox are just a half game out of third and just two games out of first.
So how did the Red Sox get out of the basement on Saturday afternoon? They did it behind the bat of oft-used Nick Punto and their most consistent starter all season, Felix Doubront.
Punto has rarely seen the field for the Red Sox this season but with Dustin Pedroia still out with the thumb injury, Punto has been playing second base. While his defense has been good, his bat hasn't helped out at all. But on Saturday afternoon north of the border, his bat got the job done.
His first at-bat of the afternoon was good for an RBI double that brought in the second run of the game for the Red Sox. He singled in the 7th and his third hit of the game was a solo home run that gave the visiting nine a little breathing room.
Daniel Nava also contributed offensively as he had two-run single in 2nd gave the Red Sox a 4-0 lead. Will Middlebrooks had made it 1-0 with an RBI single earlier in the inning.
Honestly Doubront wasn't at his best on Saturday afternoon but made adjustments that allowed him to attack the Jays hitters. He did give up solo home runs to Jeff Mathis and Jose Bautista.
He was able to work out of jams when he needed to. He tied his season long high of 6.1 innings while allowing three runs (two earned) on seven hits and a walk while striking out seven. With the win, he improves to 6-2 on the season and is 5-1 over his last six starts.
Given that Doubront wasn't on the radar until a start against the Yankees during Grapefruit League action, you probably wouldn't expect this from him. But he's exceeded the expectations of everyone. As long as he goes out and pitches like he did on Saturday, good things will be ahead for him and the Red Sox.
Now all the eyes of Red Sox Nation will be on Daniel Bard as he looks to keep the Red Sox from having to move back into the basement.
Click on the read more button below to see today's lineups, batter/pitcher matchups and links from the day if you're on the home page.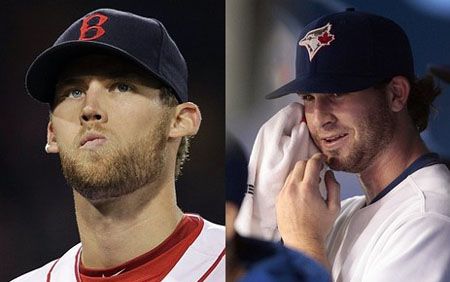 After winning sealing the series with a 7-4 win, the Boston Red Sox look for a sweep of the three-game series this afternoon against the the Toronto Blue Jays at Rogers Centre in Toronto, Ontario, Canada.
First pitch is scheduled for 1:07 p.m. and the game will be broadcast on NESN in the Red Sox television market. If you live in the Blue Jays television market, you can catch the game on SportsNet. If you can't catch the television broadcast, you can always listen to it on the Red Sox radio network.
Daniel Bard looks to keep the Red Sox out of the basement in his 11th appearance (10th start) of 2012. In his previous 10 appearances (nine starts), Bard is 5-5 with a 4.56 ERA. Bard took the loss in his only start against the Blue Jays this season after allowing five runs in five innings back on April 10th. Bard has made 22 career appearances (one start) against the Jays and is 0-3 with a 4.91 ERA. 12 of those appearances (one start) have come at Rogers Centre where he is 0-2 with a 6.38 ERA.
Rookie Drew Hutchison makes his ninth start of 2012 for the Blue Jays. In his previous eight starts, Hutchison is 4-2 with a 4.84 ERA. This afternoon's start marks his first career start and appearance against the Red Sox.
Here are today's lineups:
And here is how the hitters have fared against today's starting pitchers: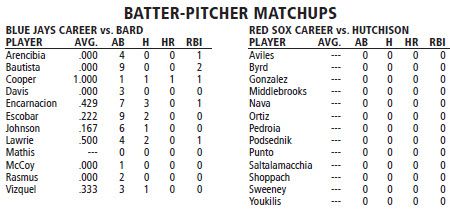 NOTES:

REFRESH OR CHECK BACK OFTEN AS MORE LINKS WILL BE ADDED BEFORE GAMETIME IF/WHEN THEY BECOME AVAILABLE AND WILL BE BOLDED
To open the links up in a new tab or window, use Control+click
Felix Doubront helps Red Sox climb out of last place [Boston Globe]
As baseball trade deadline nears, buyers and sellers will be sorted out [Boston Globe]
Bobby Valentine excels at running of the bullpen with Red Sox [Boston Globe]
Dustin Pedroia may return Tuesday for Red Sox [Boston Globe]
For starters, Felix wins [Boston Herald]
Thumb's up for Dustin Pedroia return to field [Boston Herald]
No 2nd guessing Nick Punto [Boston Herald]
Kevin Youkilis too good to give away [Boston Herald]
Valentine: No sense sitting Nava [Clubhouse Insider]
Punto, Red Sox beat Blue Jays 7-4 [CSN New England]
Aviles gives Sox a scare [CSN New England]
Extra works pays off for Punto [CSN New England]
Doubront remains most reliable starter [CSN New England]
Notes: Pedroia to receive treatment Monday [CSN New England]
Rapid Reaction: Red Sox 7, Blue Jays 4 [ESPN Boston]
Sox answer Punto's breakout with silence [ESPN Boston]
Doubront continues to exceed expectations [ESPN Boston]
Brett Lawrie of the Toronto Blue Jays sprints from mall after shots fired [ESPN Boston]
Pedroia still out but on standby [ESPN Boston]
Phillies, Diamondbacks watching Youkilis [Extra Bases]
Closing Time: Nick Punto's bat, Felix Doubront's arm carry Red Sox out of last-place [Full Count]
Félix Doubront Talks Pitching Mechanics, Mound Mindset After Win Over Blue Jays (Video) [NESN.com]
Red Sox Succeed While Turning to Back End of Roster, Don't Sweat Lineup Card [NESN.com]
Daniel Nava Heats Up Against Blue Jays, Leads Red Sox After Call-Up [NESN.com]
Ben Cherington 'Bets There's A Big Leaguer' in New England, Hopes to Snag Sleeper in MLB Draft [NESN.com]
Major League Baseball Draft Has New Rules, New Talent This Year [NESN.com]
They're out of the woods, they're out of the dark [Projo Sox Blog]
Prior trying to be latest feel-good story [RedSox.com]
Pedroia takes big step toward return to lineup [RedSox.com]
Red-hot Nava stays in, will rest on Sunday [RedSox.com]
Red Sox can sweep if Bard can solve Jays [RedSox.com]
Draft Special: Q&A with Gavin Cecchini [SoxProspects.com]
For more slices of Red Sox goodness, head over to the Boston Globe, Boston Herald, CSN New England, ESPN Boston, NESN, Providence Journal, RedSox.com and WEEI websites.
And if you must check out the enemy news, head over to the Toronto Star and Toronto Sun websites.
Follow Ian on Twitter @soxanddawgs. And be sure to like us on Facebook as well.
photo credits: Getty Images, AP Photo, Getty Images