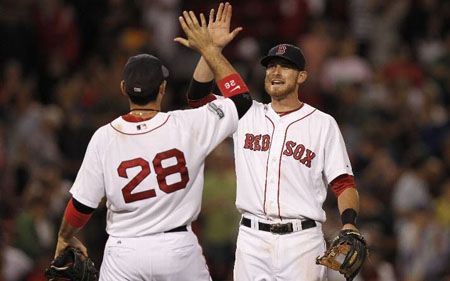 Given everything that's happening around the Boston Red Sox right now, you'd think they were about 10 games under .500. That's simply not the case.
After last night's 8-4 win over the Atlanta Braves, the Red Sox are still a last place team but are three games above .500 at 37-34. And as I said the other day, it's still too early to talk about the wild card but they are two games out of the final wild card spot in the AL.
The problem is the distractions surrounding the rumors about Kevin Youkilis and the possible trade from the Red Sox. As you look at the rumors from yesterday and this morning, it's not a matter of if he'll be traded, but when. That's half the problem. The other is the communication between Bobby Valentine and Youk.
Before yesterday's game, Youk said he hadn't been told about why he's not playing. Valentine said the opposite. I think we all know why Youk's not playing.
It's the hot bat of Will Middlebrooks who now appears to be the every day third baseman for the Red Sox. And obviously with no room for Youk, he needs to be moved.
Look, it's going to be a sad day when Youkilis gets traded. He's been an integral part of this team since the 2004 season and a part of the every day lineup since 2006. As much as he means to this team on the field, he means just as much to the city of Boston off the field.
Youk has been pretty much a class act, in my opinion, in handling this. He's been a mentor to WMB and hasn't stopped that. He always seems to be the first one to congratulate Middlebrooks when he gets back to the dugout. You really couldn't ask any more from him in regards to that.
It seems like that's happening a lot lately too.
Middlebrooks was a big reason why the RedSox won last night as he went 3-for-4, finishing a triple short of the cycle.
He doubled in the 1st inning to give the Red Sox a 2-1 lead. His home run in the 3rd inning made it 5-1. He's now hitting .331 and slugging at .592 which would lead the team if he qualified based on plate appearances. Nonetheless, he's been outstanding all around.
Teams adjusted to him after his callup and hot start but he made the adjustments and is back to raking at the plate. Now that'll he'll be playing every day, we'll see what happens.
Franklin Morales got off to a slow start in the game but then turned things around and was pretty much lights out. While he did allow three runs in six innings, he mowed down eight batters last night. In his two starts, he's now struck out 17. Bobby V said after the game that Morales will make another start.
This is interesting since when the next Morales comes up in the rotation, Josh Beckett will return from the disabled list. But given how Morales is pitching while a starter, how can you not give him another shot.
Click on the read more button below to see today's lineups, batter/pitcher matchups and links from the overnight and day if you're on the home page.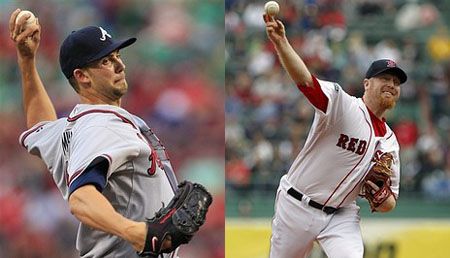 After winning 8-4 last night, the Boston Red Sox look to take the series this afternoon as they finish off interleague play with the finale of a three-game set with the Atlanta Braves at historic Fenway Park.
First pitch is scheduled for 1:35 p.m. and the game will be broadcast on NESN in the Red Sox television market. If you live in the Braves television market, you can catch the game on Fox Sports South. If you don't live in either market, you're in luck as TBS will have coverage of the game as well (not in Red Sox or Braves television markets). If you can't catch the television broadcast, you can always listen to it on the Red Sox radio network.
Aaron Cook returns to the Red Sox after spending time on the disabled list to make his second start of 2012. In his only start before going on the DL, Cook took the loss after allowing seven runs (six earned) in 2.2 innings of work. He made one start against the Braves in 2011 as a member of the Colorado Rockies and took the loss after allowing seven runs in five innings of work. Overall in his career, he's made 12 appearances (10 starts) against the Braves and is 1-2 with a 5.18 ERA.
Mike Minor makes his 14th start of 2012 for the Braves. In his previous 13 starts, Minor is 3-5 with a 6.04 ERA. Today marks his first career start against the Red Sox and obviously at the Fens as well.
Here are today's lineups:
And here is how the hitters have fared against today's starting pitchers: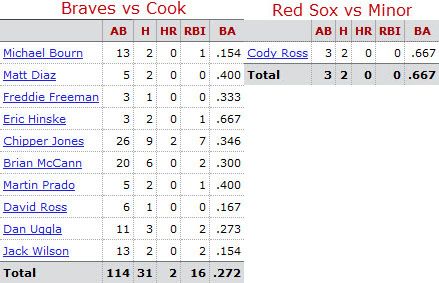 NOTES: With Cook being activated from the 15-day DL, Clay Buchholz has been placed on the 15-day DL with an undisclosed illness and is in the hospital.

REFRESH OR CHECK BACK OFTEN AS MORE LINKS WILL BE ADDED BEFORE GAMETIME IF/WHEN THEY BECOME AVAILABLE AND WILL BE BOLDED
To open the links up in a new tab or window, use Control+click
Off to a good start [boston globe]
Ace and king [boston globe]
In position for a change [boston globe]
Youkilis deal expected soon [boston globe]
Pedroia ready to leave slump behind [boston globe]
What they were thinking: Back from the DL [boston globe]
Dustin Pedroia, Adrian Gonzalez lead Sox [boston herald]
Kevin Youkilis bides time as trade looms [boston herald]
Chipper Jones keeps eye on Will Middlebrooks [boston herald]
Will Middlebrooks in to stay [boston herald]
Clay Buchholz placed on disabled list by Red Sox [clubhouse insider]
Morales, balanced offense beat Braves, 8-4 [csn new england]
Heyward recognized Kalish's talent [csn new england]
Morales made impression on Prado [csn new england]
Morales exceeding expectations [csn new england]
Clean shaven Pedroia heats up [csn new england]
Middlebrooks continues to rake [csn new england]
Red Sox still discussing Youkilis deal with five teams [csn new england]
Buchholz on 15-day DL with 'gastrointestinal situation' [csn new england]
Takeaways: Red Sox 8, Braves 4 [espn boston]
MLB New Englanders [espn boston]
Boston Red Sox's Kevin Youkilis has actually helped heir apparent Will Middlebrooks but just wants to play [espn boston]
Middlebrooks DH as Ortiz gets day off [espn boston]
Boston Red Sox's Clay Buchholz in hospital, placed on DL [espn boston]
Pitching coach McClure back from family leave [espn boston]
Red Sox place Buchholz on disabled list [extra bases]
Red Sox still discussing trades for Youkilis [extra bases]
Closing Time: Franklin Morales, Will Middlebrooks dominate Braves [full count]
Red Sox Already Benefitting From MLB's New Two Wild-Card Format [nesn.com]
Aaron Cook Plans to Turn Heads In Return to the Red Sox With New Secret Weapon [nesn.com]
Dustin Pedroia's Three-Hit Game Could Be the Trigger Needed for a Hot Stretch [nesn.com]
Dustin Pedroia's Potential Return to Form a Boon for Red Sox' Lineup [nesn.com]
Should the Red Sox Pursue More Starting Pitching Before the Trade Deadline? [nesn.com]
Clay Buchholz Headed to Disabled List With Gastrointestinal Issue [nesn.com]
Theo Epstein's Stats and Data No Match for Problems of Chicago Cubs [nesn.com]
Franklin Morales' Second Consecutive Strong Outing Enough to Win Amica Pitcher of the Week [nesn.com]
Andrew Bailey Encounters Hiccup in Bullpen Session But Cites Slight Arm Tightness, Not Thumb Issues [nesn.com]
Red Sox Intend to Sort Out Rotation Schedule With Surplus of Pitchers That Include Aaron Cook, Franklin Morales [nesn.com]
Buchholz to the DL [projo sox blog]
With trade discussions ongoing, Youkilis back in the lineup [projo sox blog]
Sox hold Health and Fitness day for kids [redsox.com]
Middlebrooks' three-hit night powers Red Sox [redsox.com]
Bailey feels arm discomfort during bullpen session [redsox.com]
Sox look to keep on cooking on homestand [redsox.com]
Multiple teams remain involved in Youkilis rumors [redsox.com]
'Gastrointestinal situation' lands Buchholz on DL [redsox.com]
Middlebrooks starts at DH, Youk mans hot corner [redsox.com]
McClure returns, resumes pitching coach duties [redsox.com]
A quest fulfilled: In Middlebrooks, Red Sox found their homegrown power hitter [alex speier – weei.com]
For more slices of Red Sox goodness, head over to the Boston Globe, Boston Herald, CSN New England, ESPN Boston, NESN, Providence Journal, RedSox.com and WEEI websites.
And if you must check out the enemy news, be sure to head over to the Atlanta Journal-Constitution and Macon Telegraph websites. Also be sure to check out our Bloguin brother Chop-N-Change for all of your Braves needs.
Follow Ian on Twitter @soxanddawgs. And be sure to like us on Facebook as well.
photo credits: getty images, ap photo, reuters picutres